THE 10 TRANSFORMATIONAL BUSINESS LEADERS TO LOOK OUT: 2021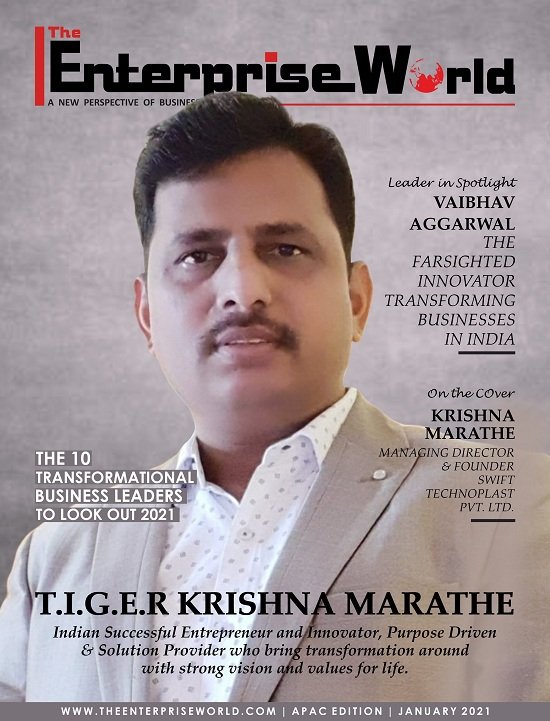 THE 10 TRANSFORMATIONAL BUSINESS LEADERS TO LOOK OUT: 2021 features,
Featuring for the cover story is Mr. Krishna Marathe, Managing Director & Founder at Swift Technoplast Pvt Ltd. Swift is a Unique and technologically advanced industrial Rotomolding & injection Molding plastic products manufacturer in India. Today Swift is the best-known brand for dedicated & finest, plastic pallets manufacturer in India, having 125+ unique designs of pallets to cater to different industrial applications. Swift's product range consists of pallets, ICE Box, Road Safety Products catering to domestic customers and export more than 12 countries.
Mr. Bipin Chandra is a founder and CEO at Esyasoft. Esyasoft is a software product company providing pioneering Technology & Analytics solutions, enabling the modernization of power distribution networks: transforming legacy utilities into Smart utilities. Bipin's vision was to be in a position to build a company with core values rooted in social responsibility – providing jobs and growth for his employees – as well as a sustainable business concept.
Mr. Dhananjay Arora, Founder of K Webmaker, is one of the most innovative business leaders in India. Based on the strong foundation of the Internet, K Webmaker is a digital agency that is helping companies with their digital presence.
Mr. Mahendar Puri is on a mission to transmogrify the Indian business sector with top-notched logistics services. Read out an interview with him in which, we discussed the current industry scenario and what MSA Global Logistics has to offer to its clients.
Enterprises in India have tremendous potential to lead the global economy. What they struggle with is to get the proper business solutions that can solve their problems and add a push to their growth, sometimes multifold! Keeping this in mind, a person on a mission to transform Indian businesses, Mr. Vaibhav Aggarwal established Blade-BRAINS Group®. Blade-BRAINS Group's wide spectrum of business solutions includes marketing consulting, brand consulting and advisory, statutory consulting, financial services & advisory, HR management, etc.
John Prakash Jha is the CEO and founder of Netsach. He understands the importance of the internet in human's lives and its role played in the overall development of a persona and the amenities it offers but not at the cost of data and someone's privacy. He founded Netsach to provide a very high standard and quality of cybersecurity to the people and companies alike. Readout an interview with him to know more about Netsach and how they are transforming their client's businesses.