The Most Promising Logistic Technology Solution Providers in 2021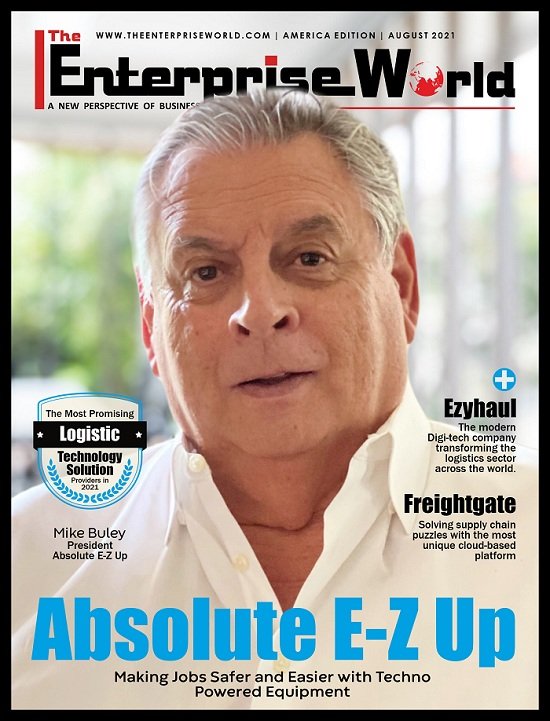 The Most Promising Logistic Technology Solution Providers in 2021 features,
Logistic technologies are one of the most essential services in today's world. As the world is moving towards globalization and trade around the globe is exponentially increasing.
Many companies are providing unrivaled logistic solutions but only a few have made it to the top tier list. These solutions are rapidly changing the world, and how our goods and services are delivered at our doorstep, without any hassle or delay.
Featured in this edition are some of the leading companies providing unmatched logistics solutions. These companies are rapidly changing the face of the industry and leading the pack with their relentless customer support and benchmark service standards.
These companies and their stories come as highly reliable and one of the most promising companies reigning in the logistics technology industry.
On the cover story is the Absolute E-Z Up, Inc. (AEUP). Adding to the long quest of businesses who try to provide reliable business equipment, AEUP offers unique and innovative material handling equipment and solutions, empowering businesses in different market segments across the globe.
They are global carriers for A Safe, Productive Workplace. AEUP dominates the industry with its position as a market leader in the niche market segment. Their equipment has unparalleled results and experience as AEUP focuses on maximum smooth workflow with the utmost safety at the best prices.
Their solutions and work showcase their rich domain knowledge and a flexible and agile workflow. AEUP's products provide cutting-edge technology to modernize business operations and material handling jobs.
In a conversation with Mr. Raymond Gillon, CEO of Ezyhaul. In this era, 'Go Digital' is the only and important solution for business growth. And with that aim to transform the logistic sector, Ezyhaul provides the utmost agile digital platform for Shippers.
The company operates in only B2B segments that have outsourced transport activities.
In a candid talk with Mr. Martin Hubert, CEO of Freightgate. Freightgate was established in 2000 with a mission to deliver digital transformation and exceptional value to Importers, Exporters, and LSPs alike, by offering the most flexible, highly configurable, and modular internet native platform.
The Modern Digi-Tech Company Transforming The Logistics Sector Across The World
Solving Supply Chain Puzzles With The Most Unique Cloud-Based Platform