INSPIRING STORIES OF DYNAMIC WOMEN BUSINESS LEADERS TO WATCH: 2021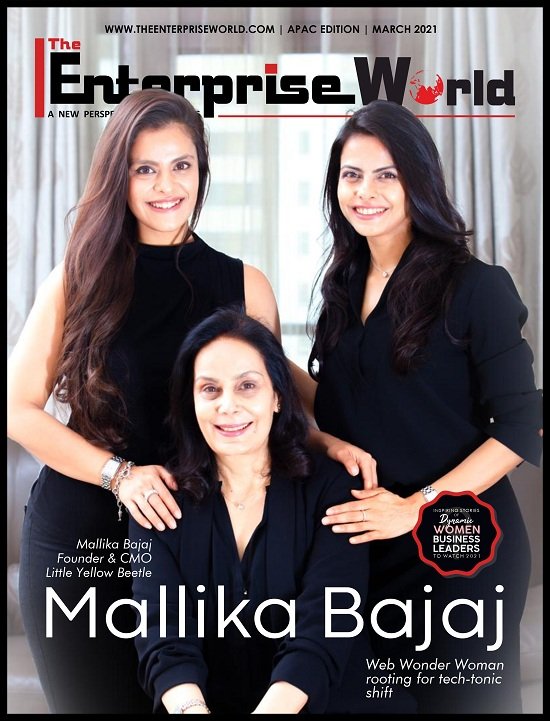 INSPIRING STORIES OF DYNAMIC WOMEN BUSINESS LEADERS TO WATCH 2021 features,
Featuring for the cover story is Mallika Bajaj. Mallika and her companies, Little Yellow Beetle Apna Dr, and Ballistic Learning a Moodle Partner have been one of the pioneers in the Media & Communication, Innovation, Sustainability in Technology industry, providing a plethora of unique products/services with varied approaches that command their client's high satisfaction ratings but also their utmost respect and loyalty towards them.
YCook is revolutionizing the farm and food sector with pioneering in steamed snacks products.
A woman with an innovative vision and passion to do something that makes a difference, Ms. Gayathri Swahar and her team of driven by passion professionals are making hard and smart efforts to provide the right food to consumers and empower farmers with technological innovations.
Ms. Gayathri Swahar, Brand Custodian at YCook is the backbone behind the company's long-standing success.
Bhawna Khanna is an eminent leader in the field of architecture and interior designing.
Since her school days, Bhawna was highly fascinated with the beauty of tall standing buildings and beautiful structures.
That's exactly the time when an innovative, out-of-the-box thinker rose in the landscape of architecture. Read more about Bhawna's journey and get inspired.
A visionary leader Nirali Shah Matalia, Vice President, Operations and People at Saama is setting examples and inspiring many career aspirants in the HR sector.
Nirali Shah Matalia is an energetic and devoted person, culture, and change pioneer who has confidence in showing others how it's done.
She heads People work at Saama driving Employee Engagement, Learning & Development, Performance Management, Total Rewards, Compliance, Systems, Analytics, and so on.
Priya Marwah, Founder and Managing Director at TYCHEJOBS is a seasoned 'C' level executive search consultant.
Her career spans over two decades where she has worked on complex assignments across domains and geographies.
Over the years, Priya has accomplished more than 100 successful leadership searches. Read out an interview with her and know more about TYCHEJOBS.
Think Ink Communications is a young and dynamic PR firm with media, entertainment, and lifestyle as its domain expertise.
Co-founded by Radhika & Chirag Nihalani, Think Ink Communications devises and executes communication strategies that create visibility campaigns that deliver value and produce results.
Give a read to an interview with Radhika and know more about Think Ink communications.
Imarticus Learning is a technology driven educational institute that has immense expertise in transforming careers across industries such as financial services, analytics and AI, business analysis and core technology.
In a talk with Ms Sonya Hooja, Co-Founder and COO at Imarticus Learning, she shared her journey till now and how Imarticus Learning is transforming businesses.
Frontier Market was started by Ajaita Shah in the year 2011 for providing rural India with products such as solar torches and lanterns of various brands from last-mile distribution points.
The organization then partnered with rural shopkeepers who could sell these products to rural customers. Know more about the eminent woman business leader, Ajaita Shah and her journey through out.