It was a lazy Sunday evening and I literally had nothing to do so one of my roommates asked me to go window shopping at the new mall. After entering the mall, I started checking these fashion brands, Armani, Prada, Burberry, Levi's, Gucci, etc., and Gucci's unique logo, GG captured my attention. I found it interesting and exclusive as other brands explicitly talk about their name, however, its symbol included a double G. I immediately ran to my best friend (Obviously, not my roommate), Google, and researched it.
This is how I got to know about Gucci. Since it is a popular luxury fashion brand and I was in the mall only for window shopping, I did not take an effort to go and check Gucci products. Bags, shoes, sunglasses, perfumes, etc. are famous and some of us can only dream of buying them once in a lifetime. However, many celebrities and aristocrats are loyal customers of the brand. This made me think what is so special about the brand? Well, I have tried here to tell you what I received as an answer. In this article, you will learn what made Gucci successful and popular among elites.
Most Renowned and Influential Fashion Brand
In 1921, Guccio Gucci founded this Italian luxury fashion brand. Today, it is one of the most renowned and influential fashion brands. In this section, you will travel into the journey of Gucci and learn what made the brand successful.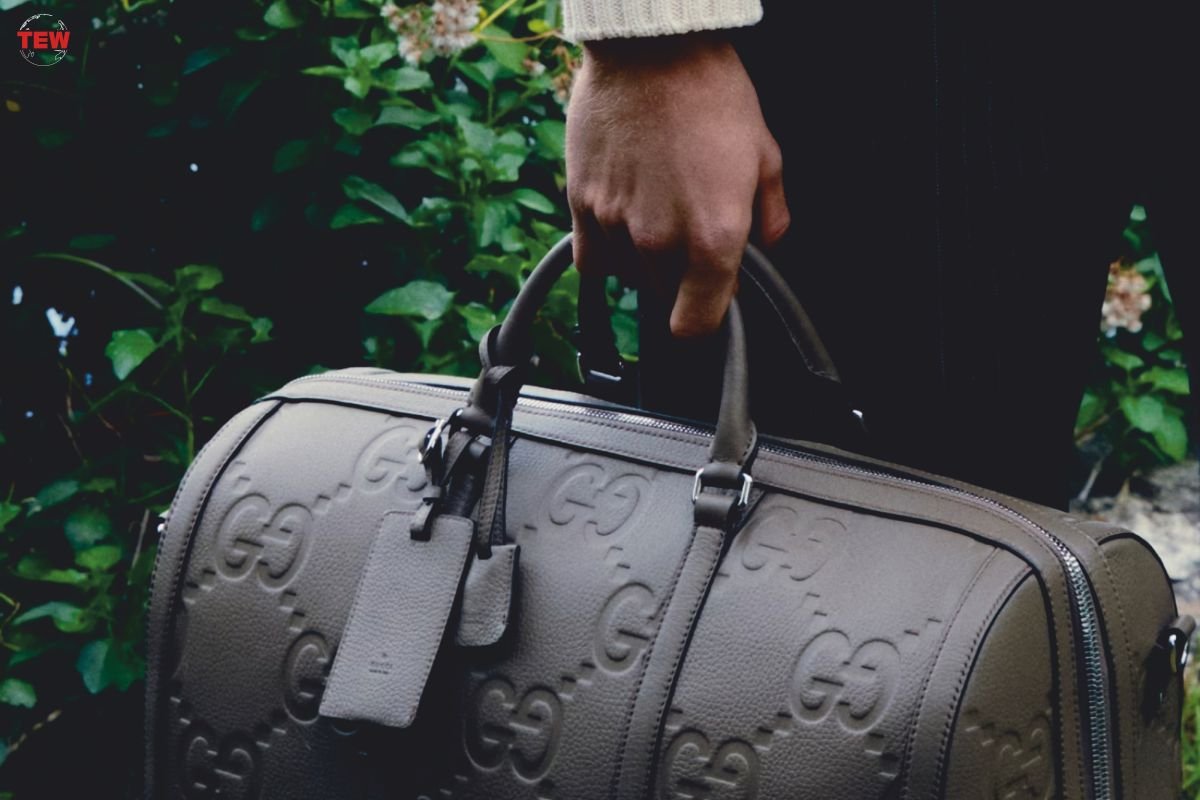 (credit-gucci-website)
Guccio Gucci established the brand as purely leather goods oriented that received higher popularity among elite society and affluence class. After his death, the business was expanded by his sons, and new stores were expanded in Milan and New York City.
In the 1960s, the brand launched a new logo which included a double-G, and the brand received recognition at the international level and became one of the favorites among celebrities.
After 20 years, in 1980, the brand suffered a decline in product quality due to a family crisis. However, it never lost its elevated status in the fashion industry. Its fortune took a turn when Tom Ford, an American designer became the creative director.
Gucci experienced a remarkable resurgence under Ford's guidance and expanded product range. It is best known for its provocative and boundary-pushing advertising campaigns that included the "Flora" scarf and the "Bamboo" bag.
In 2004, when Frida Giannini took over as creative director, she embraced the brand's heritage by infusing a contemporary and feminine touch into the designs.
Today, Gucci is one of the leading luxury fashion brands in the world. Its influence has gone beyond the fashion world and become the symbol of an elite lifestyle. The brand has entered into home decor, beauty, and even a restaurant.
Most Advanced Marketing Strategies
Gucci has never failed to meet its commitment to consistent innovation and luxurious offerings. It is an emblem of Italian luxury, craftsmanship, and creativity. Its rich history and ability to evolve with the times have secured its position as one of the most coveted brands in the fashion industry. It has employed a variety of marketing strategies to reach to number one position. Some of them are as follows:
It has carefully crafted its brand image coupled with innovation and Italian heritage. Most of its ad campaigns entail inspiring stories of the brand, runaway shows, collaborations, and creating a compelling lifestyle around the brand.
The brand combines classic designs with contemporary elements, distinctive prints, and unexpected details which set it apart from its competitors and maintain its allure to keep customers engaged.
Gucci embraces social media to stay in touch with global clients and maintained a strong presence on Instagram, Twitter, YouTube, etc. It has partnered with social media influencers and celebrities to attract young audiences.
In the past, it had successfully collaborated with designers, artists, and brands from various fields to frame limited-edition products and collections.
The brand has given social responsibility and sustainability priority right from the start by supporting philanthropic activities. You might have heard of Gucci Changemakers Program which promotes diversity and inclusivity within the fashion industry.
These are the strong brand marketing strategies at which the brand had excelled. It has maintained its strong brand identity, embraced innovation, and engaged with consumers through compelling storytelling.
Glamorous Gucci Products
Gucci caters to a wide range of products including fashion, accessories, footwear, beauty, and home decor. Let us dive into the ocean of these products and explore how far it has come in the industry:
(credit-gucci-website)
Handbags and accessories: You might have seen Gucci bags in any female accessories store. In the late 1950s, the brand had become popular for bamboo-handled bags, which featured natural bamboo handles and leather exteriors. This bag became a symbol of elegance in that era and soon, it launched 'Flora' features that showed vibrant floral patterns. It has captured the market of belts, sunglasses, jewelry, etc.
Ready-to-wear clothing: Gucci offers a combination of luxury and fashion-forward designs. In the 1970s, it became famous for its iconic 'GG' logo which was featured on clothing items like dresses, jackets, shirts, etc. Eclectic layering, vibrant colors, etc. made its clothing collection stand different from others.
Footwear: Gucci shoes are the most popular among celebrity consumers. However, it has a wide footwear collection that goes beyond shoes and includes horse-bit loafers, introduced in the 1950s. It was acknowledged as an iconic piece of footwear recognized for its timeless elegance and signature horse-bit hardware. These loafers have remained popular and have been reinvented in various materials and finishes.
Beauty Products: This is something unusual for any fashion brand as beauty products predominantly conquer the cosmetic industry. However, Gucci is an exception, it has launched men's and women's perfumes; known for its unique fragrances. The products have captured the essence of the brand and launched makeup products with exciting colors, and unique scents.
Home Decor and Lifestyle: The brand has expanded into the field of home decor to create a luxurious and stylish living environment. Its collection includes furniture, tableware, decorative objects, and textiles. These products have vibrant designs that can upgrade the lifestyle status of their consumers.
These products have evolved according to time; they can blend timeless elegance with innovative and latest designs. From its iconic handbags and accessories to its ready-to-wear clothing and furniture, the brand fulfills its commitment to customers by offering unique and luxurious products.
Overcome Challenges
Every brand that had made big in the market, had faced several challenges and Gucci is not an exception. It had to overcome various difficulties to stabilize its business in the international market. Other than the above-mentioned challenge of declining product quality due to a family crisis, the brand has faced several other difficulties in its journey.
(credit-gucci-website)
Overexposure: In the 1990s, it faced challenges regarding brand dilution and overexposure. Due to the excessive use of the 'GG' logo on various products, associated with a gaudy and tacky aesthetic, Gucci faced loss in the market. Gucci products were widely copied and fabricated due to their overexposure and it impacted the exclusiveness of the brand.
The decline in sales: The brand faced financial difficulties due to a decline in sales as the brand struggled to compete with other fashion brands and the customers found its products outdated that lack innovation. Soon, its loyal customers turned out to choose another brand to enhance their definition of a standard lifestyle.
Lack of creativity and direction: Before Tom Ford was appointed as creative director, Gucci encountered a lack of creativity and direction. This put the brand into substantial revenue loss and damage to the reputation of the brand. Furthermore, it fought with counterfeiters and took huge efforts to protect its intellectual property rights.
Injustice to legacy: The popular historic brand couldn't cope with the changing time in the beginning. It had to tackle the issue of balancing its legacy and modernity with updated designs in the modern world. If it wished to stick around its legacy and heritage then it could face the loss of younger consumers who want updated products with designs. However, Gucci decided to go with modern designs and attracted new consumers at the expense of giving injustice to its legacy.
Despite infinite challenges and struggles, today you can see Gucci as one of the topmost brands in the market. Tom Ford, Frida Giannini, and Alessandro Michele played crucial roles to bring it to the position today it is. All of them reestablish it as an influential brand in the fashion industry.
FAQs
1. Who Owns Gucci?
Currently, the French luxury group Kering owns the brand which purchased an $8.8 billion stake in the iconic Italian fashion brand in 2004. Artémis is Kering's leading shareholder who holds a majority share in the country through the parent organization.
2. What does Gucci mean actually?
The brand has become the symbol of not just fashion luxury but also a common form of slang. Though it is the name of the founder, in a common vernacular language it explains something like 'doing well'. You might have observed how famous rappers and singers often use it in their music compositions. It interprets history with boldness and opulence.
3. What is the meaning of Gucci's logo?
GG as a logo is regarded as the fanciest symbol in terms of branding. Aldo Gucci designed the logo in the memory of his father. The use of two G in the logo signifies the initials of Guccio Gucci, founder of the company.
4. Which Gucci was murdered?
Maurizio Gucci, an Italian businessman was once head of the Gucci fashion house. He was the grandson of the company's founder and son of actor Rodolfo Gucci. He was murdered by a hitman hired by his former wife Patrizia Reggiani on 27 March 1995.
5. What is Gucci's unique selling point?
Like every other organization, Gucci has a unique selling point, its unparalleled craftsmanship. Lip-flops, shoes, and belts are its top three products explored by customers. Its brand value is $12.7 billion and the exclusive quality of being recognized at the international level enhances its sales.