Online casinos are sites that you can visit to have fun and, with some luck, make a nice profit along the way. However, they're also businesses, which means that they expect to make money even after player winnings are paid.
From an outsider's perspective, it's not easy to tell how online casinos operate. Many non-players believe them to be scams that aren't as safe as land-based casinos. In reality, online casinos can be even safer than physical gambling establishments, as players don't need to expose themselves to real-world dangers and get paid directly into their preferred accounts.
Bear in mind that you can win money playing in legitimate online casinos. Casino operators account for player winnings when setting up gambling sites, regardless of whether they are sites that accept crypto payments via wallets or traditional online casinos.
With that said, let's take a look at how online casinos make money – and why they earn more than what they lose.
1. Gambling Wins: Expected Player Loss Explained (RTP & House Edge)
Every casino game has an expected "return to player" percentage, otherwise known as RTP, which is calculated by software operators based on the algorithms used to operate their games. RTP determines the amount of money that casinos expect to pay out to all players based on how much they bet, and it's the direct opposite of house edge.
Slots, for example, have an average RTP of 96%, meaning that their house edge is generally 4%. That means that casinos expect to keep 4% of bets placed in slots, whilst 96% is paid back to customers.
Why do gamblers play games if every game has an RTP, then? The answer is simple: RTP is calculated based on tens of thousands of rounds of play – gamblers can still get lucky in the short term and make a hefty profit. That's why it's important to know when to quit playing.
2. Casino Bonuses and How Casinos Profit From Them
Reading the bonus rules of casino promotions is crucial to ensure that the player experience doesn't end up in disappointment. To help you understand how bonuses work and why casinos profit from giving away bonuses, take a look at these casino bonus facts:
Some casino bonuses reward players with bonus cash, but they still need to use their own money before the bonus cash is unlocked. Statistically, it's likely that the casino will still make a profit;
A few websites give no deposit bonus casino rewards to players, which allows them to play for free and earn cash that can be used on the site. Gamblers are then expected to place bets using their own cash after they've run out of bonus money, which helps the casino make a profit;
Wagering requirements and other terms and conditions ensure that the bonuses won't turn disadvantageous for the casino. That's why most casino bonuses are meant to be spent playing slots and have a minimum wagering requirement of at least 30 times the amount of bonus cash earned.
3. Rakes and Other Gaming Fees
Although not all games help the casinos make a profit by charging fees, some of them do. Let's take a look at the most popular game fees charged by online casinos:
Poker has rake fees, which are small fees taken from players whenever they place a bet and help make the casino earn money even though the player doesn't play against the house.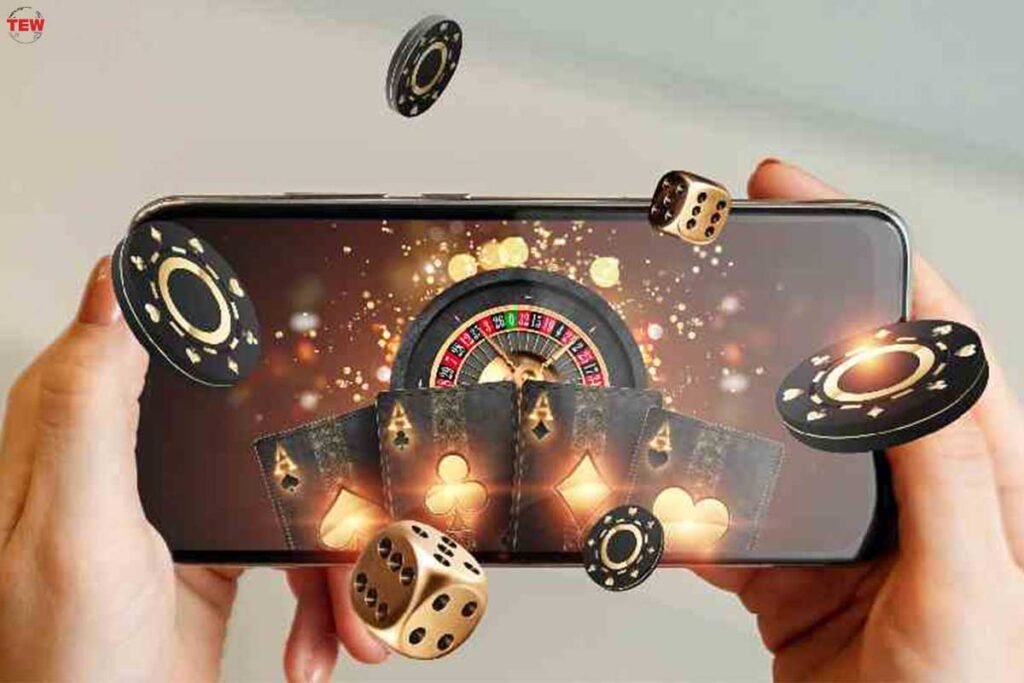 In progressive slots, when a bet is placed, 10% of the money often goes to feed the pot, whilst the other 90% is divided between casino profits and player payouts.
Other games could charge additional fees for placing bets or when large payouts are made. It's always important to read the rules so additional charges don't take you by surprise.
4. Sportsbook Winnings Explained
It is far more difficult to calculate the winnings of sportsbooks than it is to do so with casino games, as sportsbook bets don't have an expected RTP but their odds are rather set by the operator based on how likely they deem an event to occur, and they are altered in real-time based on how much money players are spending on either outcome to occur.
This ensures that the sportsbook never losses money, whilst players that accurately predict an outcome get paid using money spent elsewhere on the sportsbook. On top of that, sportsbooks often take a small fee when players place a bet or lose a bet, which further consolidates their profits.
5. Withdrawal & Deposit Fees
Although not all online casinos charge fees for withdrawals and deposits, some opt to add a service fee that helps them boost profits even more – even if just by a small amount of money. The fee that you'll have to pay is often charged upon requesting a withdrawal and it is automatically discounted from your balance. There are two types of fees that casinos charge:
Fixed fees:
You may be charged anywhere from €0.1 to €10 upon requesting your money.
Percentage-based fees:
You could be charged a set sum of cash, based on how much money you request to withdraw, but often limited to an amount that unlikely exceeds €10. That means that, should you win a jackpot, you still wouldn't pay a ton of money in withdrawal fees.
Be sure to read the withdrawal rules and payment terms of an online casino before you register an account on a gambling site.
6. Verdict: How Much Money Do Online Casinos Make?
The amount of cash that an online casino makes is expressed in a percentage that represents how much they expect to keep from what their players gamble. The percentage of player investment that the casino keeps as profit varies from site to site, but, accounting for all of the aforementioned features, an online casino can be expected to pay from 85% to 97% of the total amount of money players spend playing games or gambling on sports.
On average, online casinos make 60% to 80% of their profit in slot machines, whilst table games and other casino titles make up 25% to 15% of the casino's profit. These percentages vary when we look at casinos with sportsbooks.
Casinos don't need to cheat because they stand to make a profit whether you win or lose. There's nothing to worry about as long as you play in licensed online casinos!