Microsoft SI Services by SOFTEL - Review
Overview
SOFTEL Communications is a leading Microsoft SI Partner and Managed Services provider with specialized expertise in large enterprise and Government Microsoft Teams Telephony, Azure, CX AI, Amazon Connect, decentralized security (Blockchain), Web 3.0 applications and associated technologies. With expertise across multiple vendor platforms for cloud contact center technologies and digital transformation, our services provide the path to modernization for customer experience channels.
Company Background
SOFTEL are a Microsoft Gold Partner with almost 30 years' experience in providing global products and services delivering unified communications, customer experience channels, contact center platforms, integrations, automation, optimization and migrations.
Product Details
SOFTEL offers a range of products and services supporting enterprise-level business and operational solutions, providing innovative solutions which optimize and automate workloads, reducing time and effort;
Journey Automation
Telephony Billing
E911 Location Services
Contact Center Integrations
Contact Center Migrations
Product Features
Journey Automation: 

A family of products that includes Journey Automation, Journey Automation for Migrations, and Journey Automation for SLG. Each Journey Automation is a Microsoft solution native to Teams. It supports end users through an enterprise-scale change and helps them move through a process with a step-by-step approach that is completely automated (a "journey"). 

A journey can be a migration to any system to another system (for example, a telephony migration) or any process (like new employee onboarding). The app contains three key feature components: Journey Tracker provides progress status and guides users through the journey phases and training. Knowledge Base provides the user with answers to their questions in natural language. Help-Desk Portal integration allows users to reach out for human help with tickets embedding metadata on identity, status, and training.

Teams Voice Assets BI: 

A Microsoft PowerBI-centric solution. It provides a telephony management user interface with Microsoft Teams call Billing at a granular level. The interface provides cascading filters and natural language querying to get quick answers without browsing through the report. Teams PSTN consumption can be drilled-down to a specific date/time, individual user level across locations, departments, teams and other groups. Advanced screens provide proactive suggestions to optimize your PSTN expenditure based on past consumption and profiling.

Teams E911 Location Manager: 

A Microsoft Teams App providing insights for Microsoft Teams E911 location management, for emergency call handling.  With Teams E911 Location Manager, local administrators can submit changes to their E911 locations via IM and submit information that is validated in the background by Bing Maps. The information submitted is standardized and it can be reviewed by someone else before the change is applied. The solution also uses adaptive cards for target users.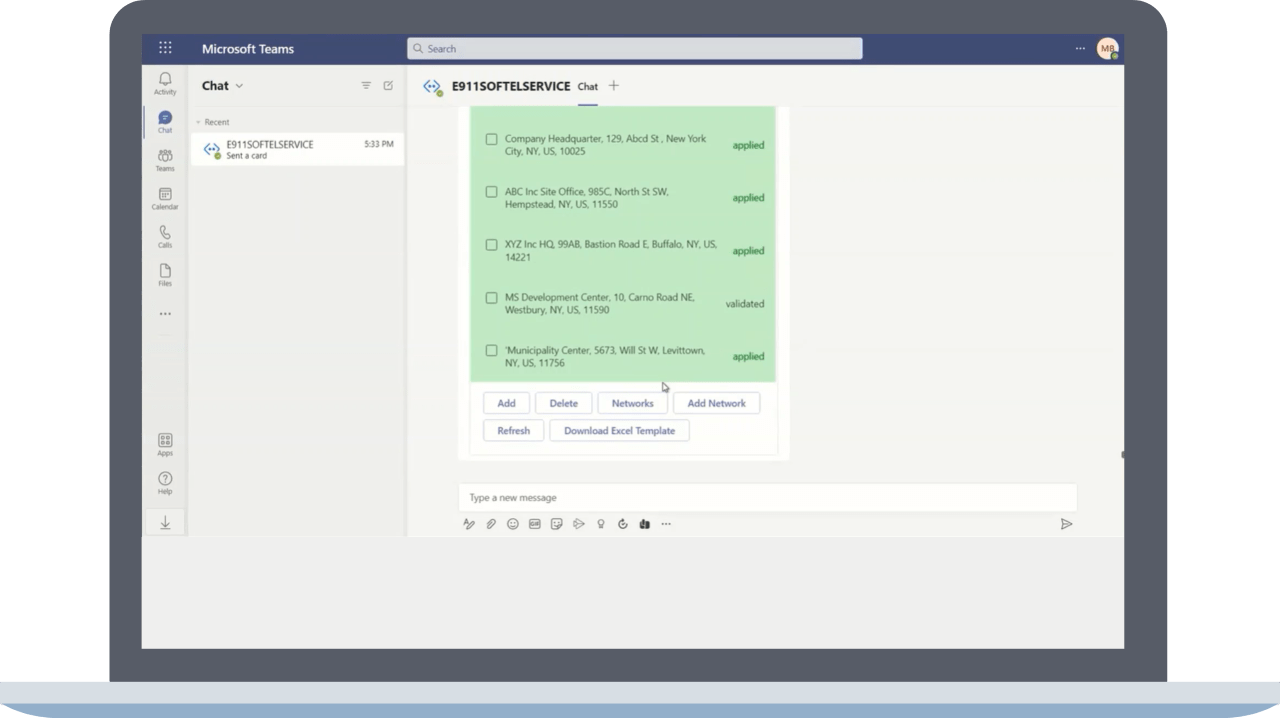 Why People Should Use Your Product?
SOFTEL continuously develop, devise and provide unique solutions using the core Microsoft ecosystem elements in new and innovative ways, providing value adds for cost reductions through process, support, workflow and communications enhancements, suitable for medium and large enterprises.
Notable Achievements
SOFTEL's Journey Automation solution recently saved a US government agency over US$7M in White Glove services for a major telephony migration.
Softel is in the industry of: Software & Technical Consulting, Software, Software Development & Design.
The technologies that are used by Softel are: Google Global Site Tag, Office 365, YouTube, PHP
Pricing
SOFTEL's Microsoft product pricing is based on users' tiers.
*Terms and Conditions Apply.