The 10 Most Reliable Language Solution Providers in 2021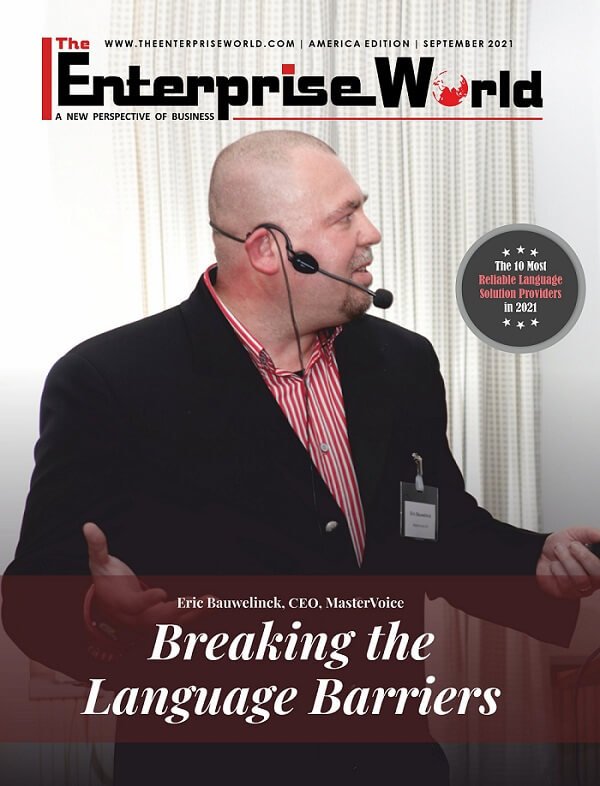 The 10 Most Reliable Language Solution Providers in 2021 features,
Language solutions are breaking the barriers and enabling businesses to flourish and grow. With these innovative and advanced language solutions, companies can widen their reach and create a global presence. Also, these solutions offer businesses to expand their services and unlock opportunities.
Featured in this edition are some of the top companies that are leading the language solution space. Their services and support are exemplary, ahead of time, and precise. These companies offer best-in-class and unrivaled services, enabling their clients to break past the language barrier and achieve growth. These are the 10 most reliable language solution providers in 2021.
On the cover story is the services of Mastervoice. Mastervoice was founded with a mission to support the globalization of events and organizations with simultaneous translation for international organizations. Mastervoice has a proven track record of excellence with more than 3,500 interpreter days on an annual basis. They have earned a position as a trusted provider of conference interpreters for over 150 multinational companies and international organizations. They were ranked among the 15 biggest global providers for simultaneous interpreting with onsite conference interpretation (source: CSA) in 2014 and simultaneous interpreting with in-person interpreting in 2020.
In a conversation with Wendy Pease, Owner of Rapport International. Rapport International specializes in and is known globally for high-quality language services, including Interpretation and Translation, Multilingual Marketing, Cultural and Global business strategy, customer acquisition, as well as legal, technical, and medical subject matters. Given Rapport International's "exceeding expectations" commitment to its customers, they have retained a significant number of clients from their early days back in the 1980s.
In an insightful interview with Alan Kashkash, CEO of Linguido. Linguido is an Edtech AI startup offering an app for language learners and an AI-based blended learning platform for language schools. We focus on giving the power of the latest discoveries in AI and Natural Language Processing (NLP) to teachers allowing language schools to create, manage and enhance tailor-made language courses.
Accurate. Professional. Reliable.
An Apropos Application For Language Enthusiasts