Working a 9 to 5 job can be extremely tiring, which is why more and more people are slowly gravitating toward establishing their businesses.
If you are on the verge of a killer idea that can change the world and net you huge profits, it might be best to start a lucrative business.
However, if it were that easy, anyone would do it.
Here is how you can get the ball rolling and start your own business, all in 8 consistent steps.
1. Develop Your Idea
While you may think your idea can change the world, more often than not, you forget to look at the drawbacks and the issues it might face. Before starting any business, you should thoroughly research and validate your idea.
Conducting market research to understand the needs and wants of your target audience, as well as its viability, is an essential step. Other crucial steps include analyzing competitors, determining the demand for your product/service, and identifying potential challenges.
Testing your idea via surveys is another great way to assess the need for your product. By taking the time to thoroughly research, validate & develop your idea, you can increase the chances of success for your business.
2. Establish a Business Plan
Without any proper plan or set milestones, your business is destined to fail before it even starts. Before going further, you should try and establish a well-detailed business plan.
A business plan is a comprehensive written document that outlines your business goals, strategies, and projections. It acts as a roadmap for your business; it helps you stay focused and on track as you grow and evolve. A well-structured business plan can also attract investors and secure funding.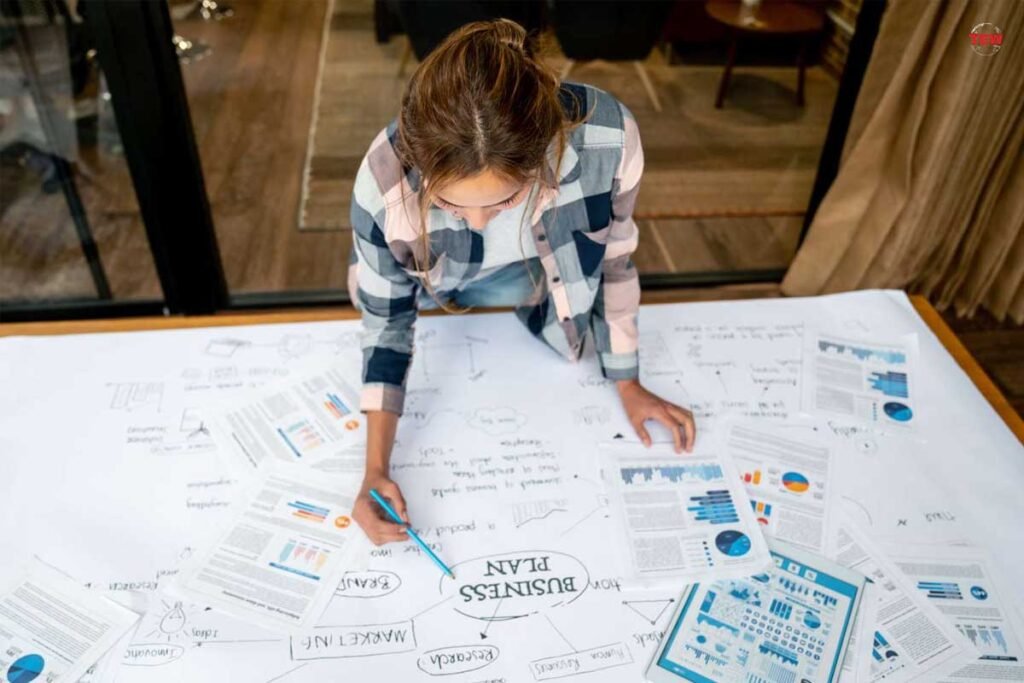 A business plan provides a clear and concise overview of your business and plans for the future. When developing your business plan, try to be as detailed and specific as possible. Make sure to cover everything from your target market and marketing strategies to your financial projections and operational plans.
3. Registrations and Legal Structure
Once you have a solid idea and a plan, you need to decide what business you will run. Choosing the right legal structure for your business is important for the start-up process. Common legal structures include sole proprietorships, limited liability companies (LLCs), and corporations.
Each structure has its unique advantages and disadvantages. Choosing the right one for your business is usually based on tax implications and ownership structure. Once you have chosen your legal structure, you must register your business and obtain the necessary permits and licenses. This can include registering your business with your state or local government with the help of a business formation services company. This ZenBusiness vs LegalZoom comparison highlights two of the best agencies you can use to register your business.
4. Get Reliable Funding
With the dream of your Business Plan slowly becoming a reality, you will likely need capital to continue with your start-up. Securing funding is crucial in starting a business, as it provides the capital you need to launch and grow your company.
There are a variety of funding options that you can use to launch your business. These include loans, grants, and investment capital. Research and explore options best suited to your business.
The best way to secure funding will involve having a solid business plan. You will also need a clear understanding of your business's financial projections and funding requirements.
5. Establish a Headquarters
These days, most businesses are online and lack a dedicated office or building to cater to their stakeholders and customers. Regardless of whether you plan to operate a physical storefront or an online business, it is important to have an HQ.
Even if you can create a spectacular headquarters, its location will decide whether it will be visited or not. Finding the right location for your business, setting up a physical storefront or website, and creating a professional image reflects your brand and values. Make sure to choose a nice building to rent out or a place to build your storefront.
6. Hire Valuable Employees
Many people are looking for a job, but for a business to be successful, you need dedicated and reliable employees. If you plan to hire employees, it is important to build a strong team that shares the vision and values of the company.
Advertising job openings, conducting interviews, and selecting the right candidates for your business should be the next step once you have a facility. It can be tough to get the right employees, but it is possible.
You can also actively search for talent and people you want to employ. If you have a person in mind, you can use Nuwber to get their contact information and send them a job offer.
7. System Implementation
At this point, you have a solid business plan and a capable workforce that will drive the business forward. It is now your job to set up a solid system that allows the business to work like a well-oiled machine.
Having clear systems in place for day-to-day operations can help streamline your business and improve efficiency. Establishing standard operating procedures, setting up systems for tracking inventory, and creating processes for handling customer inquiries and complaints are all important systems that will make managing your business a lot easier. Once you have done so, it is also important to continually evaluate and refine your systems.
8. Marketing and Campaigning
Now that you have your business up and running, you may not have the customer base that you thought you would. Initially, this can be a huge hurdle, and many businesses fail simply because they cannot find the right clients.
This is why it is important to do a great deal of campaigning to reach your target audience. Attracting customers and building brand awareness are paramount. This can be done via online advertising, social media marketing, and TV advertisements.
Finally!
Establishing a business from scratch can be an ordeal, to say the least, but with proper planning and online tools, you can get your business going with relative ease. Make sure to put a lot of effort into the business plan and take advantage of whatever you can to dominate the market.