The Best Franchises To Open in 2021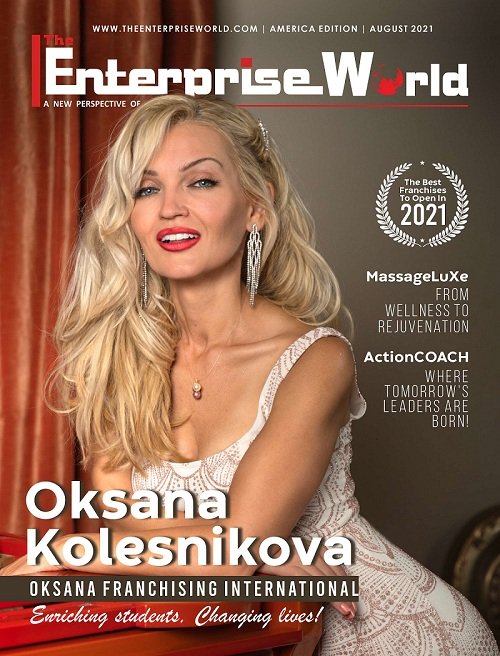 The Best Franchises To Open in 2021 features,
Here are some of the best franchising opportunities that are not only innovative but also their story, vision, and goals will make you believe in the name and the leadership of the companies.
These companies have withered every challenge thrown at them and turned every opportunity they got into meaningful and spectacular milestones. Their tenacity, focus, and dedication truly make them one of the best franchises to open in 2021.
On the cover story is the inspirational and visionary, the elegant Russian-born American, Oksana® Kolesnikova, is an internationally renowned pianist and composer, educator, innovative music, and personal mentor to the franchise owners of Oksana® Enrichment Programs. She is the CEO of three companies: Oksana® Franchising International, Inc. (OMG, Inc.), Oksana® Enrichment Programs, and Oksana® Foundation.
Oksana Enrichment (www.OksanaEnrichment.com) provides franchising opportunities to entrepreneurs who are interested in working in the exciting fields of education, tutoring, after-school enrichment, local community classes/programs for youth/adults/seniors, and servicing an online community.
They offer a myriad of programs to not only private, one-on-one students, but also to the public, private and charter schools; districts; municipalities, and counties.
Featuring the spectacular journey and story of ActionCOACH. ActionCOACH is one of the largest and most successful business coaching franchises in the world.
They have been in the industry for a long time, enabling enterprises to have better and more able leaders, and that too with coaching programs that have been highly acclaimed and regarded in the market for the past 29 years.
ActionCOACH was the one that started the business coaching industry, it continues to innovate and transform the industry.
With more than 1,000 coaches, working with more than 18K businesses worldwide in nearly 70 countries, ActionCOACH continues to grow and serve small to medium size businesses worldwide.
In conversation with the President & CEO of MassageLuXe, Mark Otter. MassageLuXe is a nationwide spa franchise with 70 locations that offer high-quality massages, facials, and waxing services.
Licensed massage therapists and estheticians help clients find relief for chronic pain and skin conditions in a relaxing environment.
MassageLuXe promotes health and wellness for the body and mind through massage and skin health treatments.
Where Tomorrow's Leaders Are Born!
From Wellness To Rejuvenation!