Urbanization tendencies have undergone major changes, necessitating fundamentally new approaches to infrastructure. Governments, for instance, now see infrastructure as a crucial factor in both economic growth and human well-being, and the private sector is being pushed harder than ever to adopt smart technology and pursue green infrastructure.
Construction projects have also gotten bigger, riskier, and more complicated—all while capital project management budgets face difficulties around the world. As a result, infrastructure players want assistance in completing projects on time and within budget while also revising their methods for choosing, carrying out, and managing capital projects.
This is where infrastructure consultants up the game. Effective strategies help your firm gain an advantage in the market.
Featuring in The Enterprise World's this issue of The Best Intercontinental Consultants Companies in 2023 is Intercontinental Consultants and Technocrats Pvt. Ltd, a firm providing comprehensive professional Consultancy Services for all facets of infrastructure projects.
The Company
Intercontinental Consultants and Technocrats Pvt. Ltd. (ICT) is one of the world's leading and fully homegrown multi-disciplinary and multinational consulting firms, with its headquarters in India.
Incepted in the year 1987, ICT had a very modest start, with its first office in New Delhi. It was a time when infrastructure consultancy was pretty nascent.
We started with a vision to become a leading infrastructure consultancy firm.
By overcoming economic obstacles, Intercontinental Consultants and Technocrats persisted in pursuing various infrastructure prospects and has gained international prominence.
"We make an effort to offer unique, original, and sustainable solutions for global infrastructure development", says Mr. K.K Kapila, Chairman of Intercontinental Consultants and Technocrats Pvt. Ltd.
Intercontinental Consultants and Technocrats is an ISO 9001:2015-certified company with more than three decades of experience offering high-quality consulting services in a variety of fields, including airports, railways, metro rails, urban infrastructure and smart cities, building and architecture, institutional strengthening and capacity building, water resources, public health engineering, highways, expressways, bridges, and other structures.
Intercontinental Consultants and Technocrats pledges to meet the highest performance requirements while giving the client's needs top priority.
Pre-bid and post-bid advisory, planning and feasibility studies, surveys and investigations, GIS surveys and mapping, master plans, preliminary design, detailed design/detailed project reports, traffic and transportation studies, road safety audits, techno-economic and financial analysis, environment and social impact studies, tender assistance and contract award services claims management, and transaction advisory/lender services are just a few of the advisory services the firm offers.
With excellent feedback from clients and international funding agencies like the Asian Development Bank, World Bank, African Development Bank, etc., ICT has successfully completed numerous consultancy assignments across the globe under international competitive bidding spanning over 50 countries in Asia, Africa, the Pacific Region, North America, the Middle East, and Europe. The total value of these projects exceeded USD 84 billion.
For the effective completion of the projects, Intercontinental Consultants and Technocrats has more than 1000 professionals on staff and fully operational offices in Kenya, Tanzania, Bangladesh, Mongolia, Nepal, and Australia.
In terms of the projects awarded over the past 10 years in the transportation sector, Intercontinental Consultants and Technocrats has regularly been listed as one of the "Top Consultants of India" by the Asian Development Bank (ADB) for all three types of ADB projects, namely Loan, Grant, and Technical Assistance.
Intercontinental Consultants and Technocrats is the only company in India that has been a FIDIC Affiliate Member since 2016. It has extensive knowledge of the FIDIC Conditions of Contract. For the years 2022–2024, Mr. K.K. Kapila, will serve as a "FIDIC Ambassador."
Mr. K. K. Kapila, Chairman
Mr. K.K. Kapila is a Civil Engineer and a Fellow of the Institution of Engineers of India as well as the Fellow of American Society of Civil Engineers. After a stint of 13 years with the Airports Authority of India, he went on to set up Intercontinental Consultants and Technocrats Private Limited (ICT). His leadership vision as CMD, entrepreneurial acumen and professional excellence and experience have helped Intercontinental Consultants and Technocrats to grow into a leading global consultancy firm in the infrastructure domain.
He has guided the entire team in effective execution of FIDIC Conditions of Contract in various Projects, advising on all contractual, technical and financial aspects apart from organizing requisite training modules. He was on the Board of FIDIC during 2013 to 2017. He has also been a member of the QBS Committee and contributed to the preparation of the FIDIC Guidelines for the Selection of Consultants, released in 2013.
He has worked for a new document on Engagement of Consultants on QCBS which is currently with the Board and after it is approved, will be published. He also led the Task Force to prepare a comprehensive document on Selection of Contractors, released in 2017. He has been appointed as a FIDIC Ambassador. He has been instrumental in getting the recent modifications done in General Financial Rules (GFR) pertaining to the Procurement Process.
He has served as President CEAI during 2007-2010. He has been associated with CEAI for almost three decades. He is also the Chairman of Business Policy Committee of CEAI and under his Chairmanship he has taken up various issues with the Govt. of India, for the benefit of the Consulting Fraternity as well as for the society at large.
Mr. Kapila has been actively involved with various industrial and professional organizations and with his profound professional expertise and experience, has been engaged in the betterment of the Consultancy profession. He is a recipient of a number of national and international awards.
Mr. Prashant Kapila, Managing Director
Prashant Kapila, obtained a Post-Graduation Degree in Civil & Environmental Engineering from Carnegie Mellon University, USA in the year 2000 and has leveraged his academic training with his professional experience to expand and propagate the steady growth of Intercontinental Consultants and Technocrats Pvt. Ltd. where he has served in the capacity of COO since 2010. He took over as the Managing Director of the firm since February, 2022.
As the Managing Director of Intercontinental Consultants and Technocrats Pvt. Ltd., an ISO 9001:2015 certified, multi-disciplinary firm of international consultants, working in 50 countries, Prashant has gained a profound knowledge in modern business practices while being rooted in the ethos of a strong work culture that focuses on providing the highest quality services for the Client while employing innovative, creative and technologically sustainable solutions.
He has also been at the forefront of the Young Professionals Forum Program both at CEAI and at FIDIC; and has actively contributed to it over the years by training and adhering to international guidelines for sustainable development within the industry. Prashant was honored with the FIDIC Young Professional Award for the year 2017 at the Annual Gala Dinner at the FIDIC International Conference in Jakarta, Indonesia.
Prashant is an active sports enthusiast and has a passion for running and has run several Half Marathons, including ADHM.
The Products and Services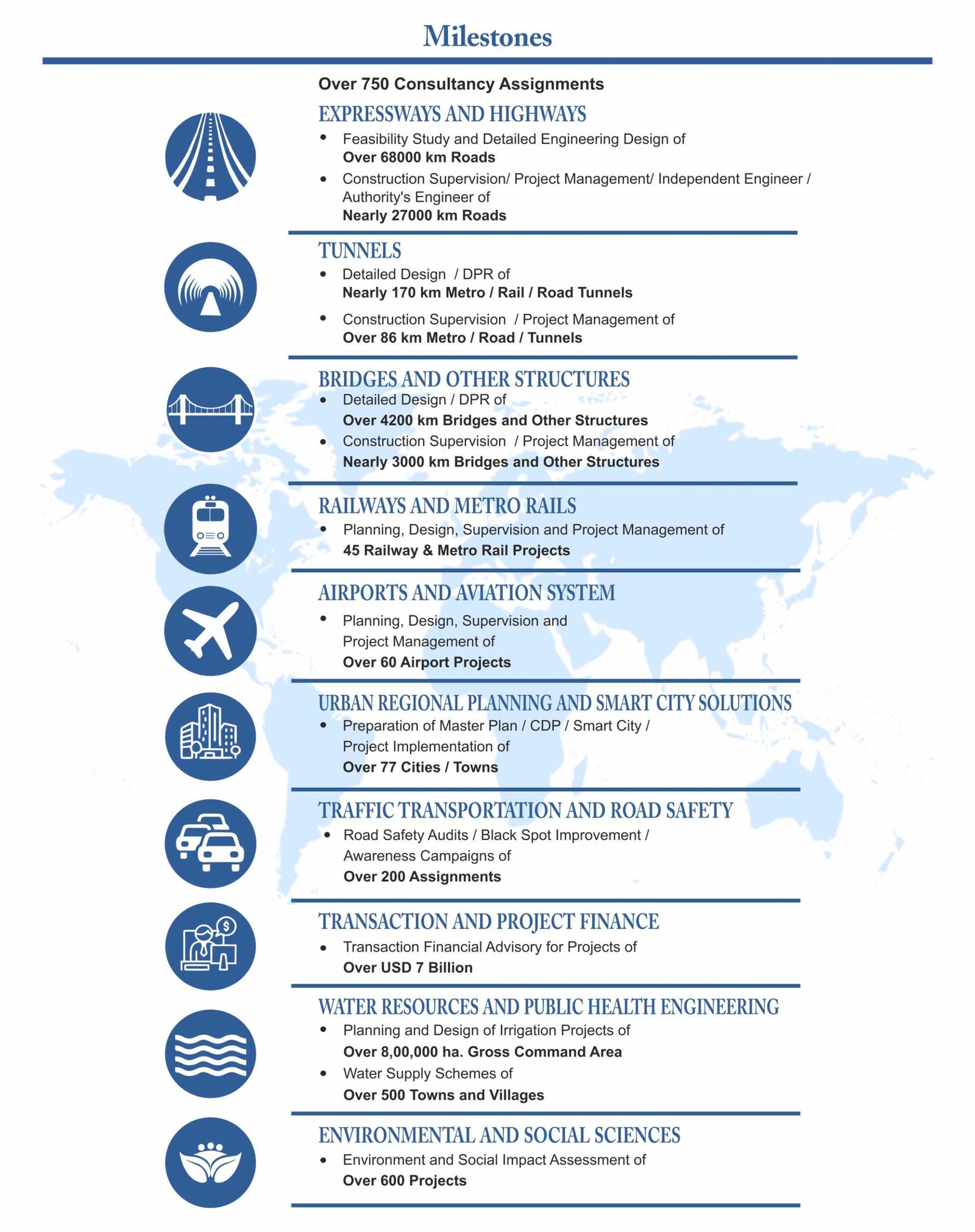 Highways
Roads are basic transport infrastructure, essential for supporting the industrial and economic development of a country. Roads, whether highways, expressways, or toll roads, provide an indispensable link for the transportation of people and goods, not only between remote towns and villages to the marketplaces and cities, but also provide a vital function in the lives of every individual. Intercontinental Consultants and Technocrats has an excellent track record in all aspects of road development projects, including planning, feasibility studies, detailed project preparation, preliminary and detailed design, construction supervision, project management, technical advice and audits, operation & maintenance including studies and project preparation for private sector participation, under BOT or Annuity or other feasible systems.
Design Services
With a myriad of design projects carried out in Asia, Africa, the Pacific and the Middle East, Intercontinental Consultants and Technocrats has a wide-ranging experience and particular knowledge in providing specialized design services for all types of road projects. With state-of-the-art measuring instruments like ROMDAS, topographic survey instruments like Total Stations, GPS, etc. and modern software packages, like MX Road, Civil 3D, Slope/W2004, etc. available with trained human resources, ICT's highway division is well equipped to address all complex design scenarios.
The division uses the latest version of HDMIV for the economic evaluation of highway projects. The division has expertise in Land Acquisition and Utility Relocation works. The planners and engineers at Intercontinental Consultants and Technocrats are fully capable of addressing all possible scenarios, terrain, soil conditions, extreme temperature variations, and other issues, to meet their client's every requirement. Special emphasis is laid on environmental and social impacts in the design and project preparation of roads. They have extensive experience in the provision of all kinds of design services, which include the following:
Project Identification, Preparation of Master Plans
Condition Surveys, Inventorization, Topographical and Hydrological Surveys
Strategic Options Studies
Hydraulic and Drainage Studies
Geo-technical Investigations and Material Survey & Analysis
Pavement Design
Social & Environmental Studies
Pre-feasibility, Feasibility, and Preliminary Engineering Studies
Detailed Engineering Design and Drawings
Cost-estimates & Tender Documentation
Techno-Economic Studies
Design and Viability of Toll Collection System
Pre-Bid Services and Post Bid Design services for Concessionaires
Airport and Aviation Systems
Airport Master Planning
The object of Master Planning of an airport for the upgradation of an existing airport or a green field airport is to plan facilities conforming to International Civil Aviation Organisation Standards and Recommended Practices. Activities undertaken for master planning include:
Land Use Planning
Design of Terminal Building, Cargo Complex and Ancillary Buildings
Design of Airside facilities i.e., Runway, Taxiway and Apron, etc.
Design of Land Side Facilities
Provision of Commercial Activities
Provision of Airline Maintenance Hangars
Provision of Airline MRO Facility, etc.
Provision of ATC Tower & Technical Block
Provision of Radio Navigational Aids
Bridges and Structures
ICT excels in designing, construction supervision and independent engineering of various innovative road bridges, ROBs, flyovers, interchanges and underpasses. The expertise includes designing of various forms of superstructures using reinforced concrete and prestressed concrete for solid slab, girder and slab, box girder, (simply supported as well as continuous over straight, skew and curved alignment) steel composite type and steel truss type superstructure.
ICT also has expertise in designing special types of bridges having long spans using extradosed, balanced cantilever type arrangement with incremental launching system and segmental box girder. The bridges designed are across major rivers, creeks, lakes, reservoirs and gorges, for Dedicated Freight corridor, etc. With the introduction of wide expressways and elevated highways on a larger scale in recent days, ICT has come up with innovative techniques which enable fast construction and save time and money.
Power
ICT has extensive experience in providing services for feasibility studies, detailed engineering design, technical and commercial due diligence of tender documents, bid process management, project management, etc. with commitment to deliver services with highest performance standards. The range of services include:
Assessment of demand, demand forecast and its phasing
Designing Transmission and Distribution Systems
Energy Management Systems, Energy Auditing and Accounting
Contract documentation including equipment specifications and bill of quantities
Construction Supervision of Electrical Sub-stations and Power Distribution Systems
Financial and Economic Analysis
Reforms and Restructuring
Institutional Strengthening, Capacity Building, Business Re-engineering
Rural Electrification
Technical and Commercial Loss Reduction
Training
The below-mentioned projects show the full range of ICT's excellent services
India: Atal (Rohtang) Tunnel
Length – 9.02 km World's longest Single Tube Bi-directional Tunnel at an altitude of 3000m above MSL
Scope: Construction Supervision
---
India: Yamuna Expressway (6/8 Lane, 166.537 km)
Scope: Detailed Design & Project Management
---
India: Bundelkhand Expressway (4/6 Lane, 296.06 km)
Scope: Authority's Engineer for Construction Supervision
---
Bangladesh: Paira Bridge (4 Lane, 1.47 km – Extradosed), KFAED funded
Scope: Detailed Design, Bid Management & Construction Supervision
---
India: Janpath & Mandi House Metro Stations (CC01)
Scope: Detailed Design
---
Nepal: Terminal Building (T2) of GBAUP at Bhairahawa
Scope: Detailed Design & Construction Supervision
Overcoming the Challenges
Considering the nascence of infrastructure consultancy in India, ICT's main challenges were in terms of technical knowledge and technical know-how. Primarily catering to a global market, with global standards, one of the biggest challenges was it being accepted as an Indian company, considering the quality of work and the final output, meeting timelines, and everything in between.
Business prospects for consulting firms in India are being harmed by market stagnation, notably in the infrastructure sector. The companies are increasingly focusing their attention on nations in Africa, the Middle East, and West Asia, where extensive political reforms and significant infrastructure projects offer a plethora of options.
The biggest challenge was breaking through these and establishing a company with standards and quality equivalent to those.
What the Future Holds?
Being the only Indian company that provides services in this particular sector, we look forward to expanding on a global level.
Any kind of infrastructure should stand the test of time. Considering the shifts in climate, the modern infrastructure should be a mix of longevity and sustainability. Intercontinental Consultants and Technocrats is looking forward to a sustainable future, with its designs and services overall.
Especially when you foray into the international markets, the standards they need are exceptional and structures that have a longer life-cycle.
Going forward, we will be focusing more on quality than quantity.