It's November 15, 2013. The Wankhede Stadium, Mumbai, is packed to its capacity to watch Sachin Tendulkar bat for the last time. As many as 33, 108 people inside the stadium are chanting "Sachin Sachin…..Sachin Sachin!" for as long as 4 hours. All it takes to silence them is an arm ball from Narsingh Deonaraine taking the edge of Sachin's bat and going straight into the hands of Darren Sammy. This silence is something different. People are in disbelief and despair. And at the same time, they can't help but bow down in sheer admiration and love for the genius.
They say "In India, cricket is a religion and Sachin Tendulkar is a God!" And rightfully so, the love and respect he received on his farewell day is a testament to this. From being a mischievous kid breaking window glasses in his society to carrying the hopes of 1.2 billion people on his shoulders for more than two decades, Sachin Tendulkar inspired a generation to watch and play cricket. Hailed among the cricketing fraternity as 'Master Blaster', Sachin celebrates his 50th birthday today. On this occasion, we bring forth 50 interesting facts about Sachin Tendulkar that we bet you didn't know.
50 Lesser-known Facts about Sachin Tendulkar:
1. Sachin's father Ramesh Tendulkar was a big fan of Indian music legend Sachin Dev (SD) Burman. And Sachin was named after him.
2. Although hailed as one of the calmest people in the cricketing fraternity, Sachin was often scolded and punished for his mischief in school.
3. Interestingly, Sachin was sent to the cricket coaching class as part of a punishment.
4. Besides cricket, fishing for tadpoles and guppies was something Sachin enjoyed during his childhood.
5. Many of you wouldn't know that Sachin wanted to become a fast bowler in his childhood. However, he was (thankfully) rejected from the MRF Pace Foundation.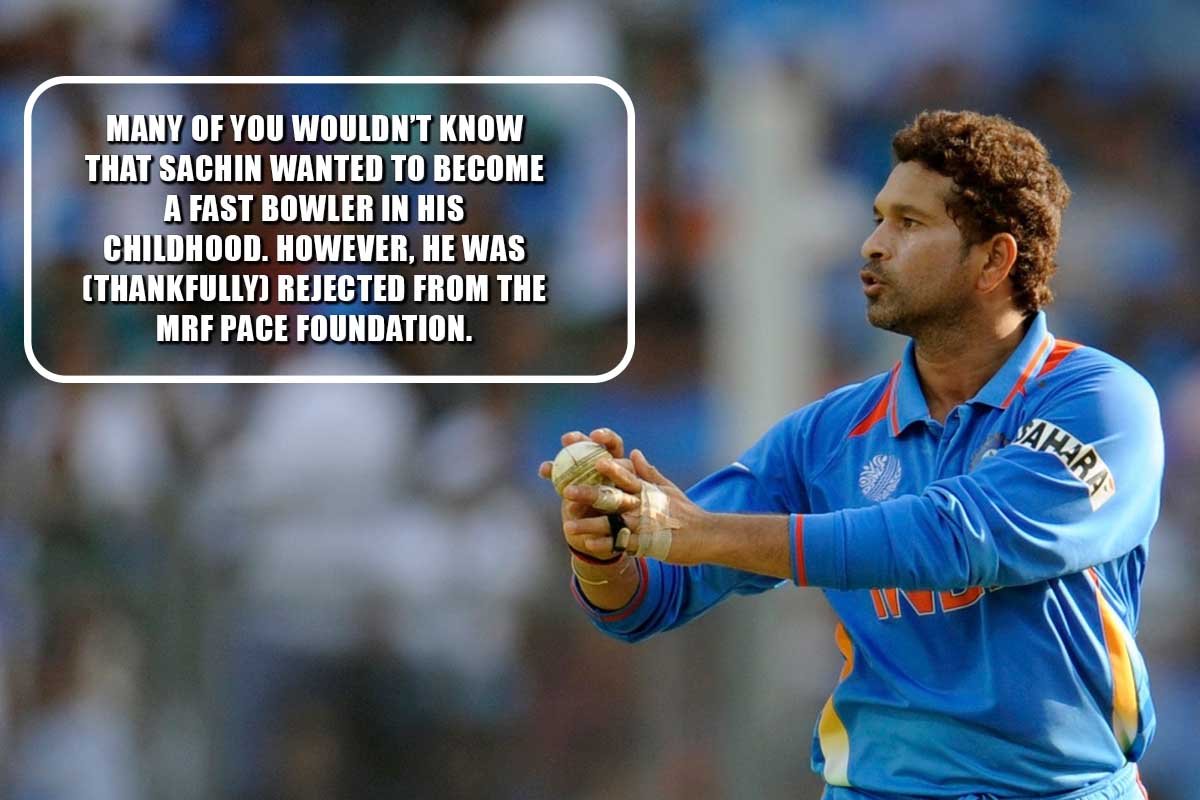 6. During rain breaks, Sachin loved to play Tennis ball cricket and darts.
7. Sachin is indeed a man of the big stage. He was a Ball Boy in the 1987 world cup match between India and Zimbabwe at Wankhede Stadium.
8. You'll be shocked to know that Sachin fielded for Pakistan as a substitute. It was during a practice match between India and Pakistan in 1988.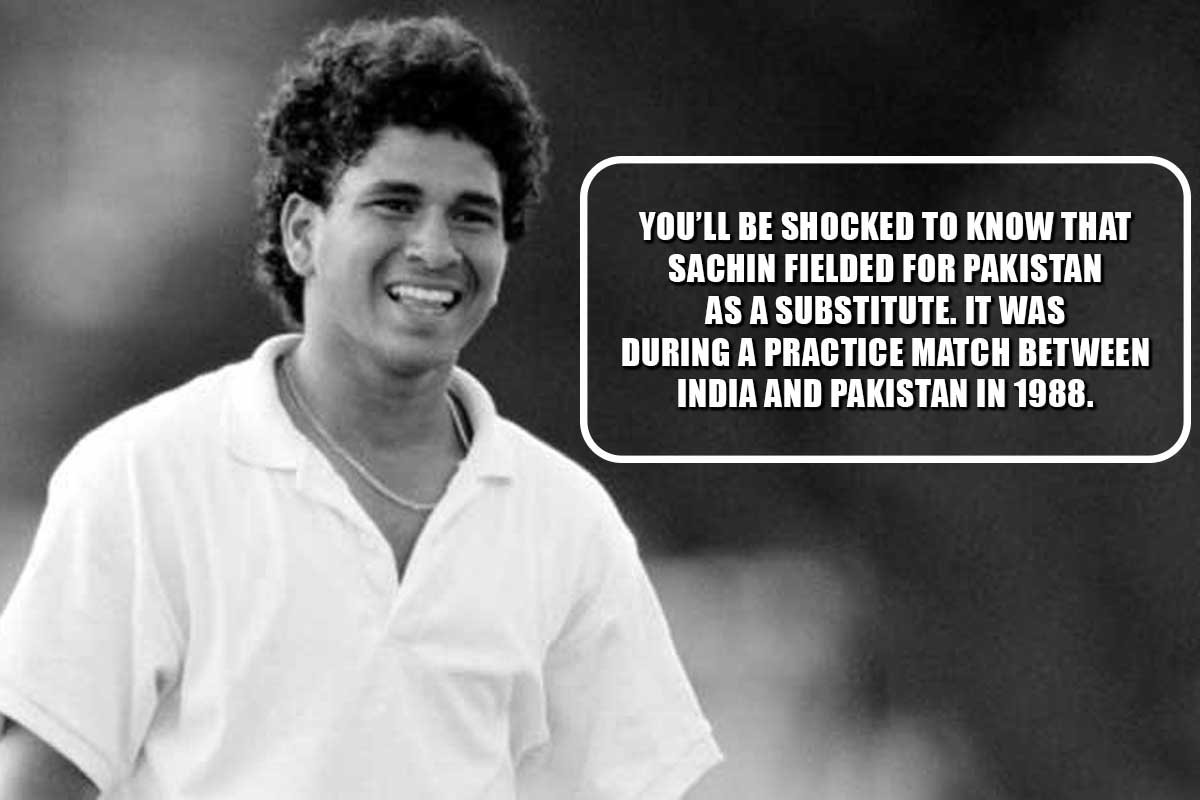 9. Ramakant Achrekar, Sachin's coach and mentor, used to give him a coin if he batted for an entire net session without getting dismissed. Sachin won 13 such coins.
10. Sachin was an absolute beast at the school-level cricket. During a game at the Harris Shield in 1988, he was part of a record-breaking 664-run partnership with Vinod Kambli, a former Indian cricketer.
11. Sachin held the record of becoming the youngest cricketer to play a 'Ranji Trophy' game at the age of 14.
12. During the Ranji Trophy season, Sachin used to carry textbooks along to focus on his studies as well.
13. Sachin used to sleep with his cricket gear in the early stages of his career. This is one of the interesting facts about Sachin that show his love for the sport.
14. Back then, playing English county cricket was considered a privilege and Sachin was the youngest Indian to play for a county team. He played for Yorkshire and was the first overseas player to play for them.
15. The little master started his domestic career on a high, smashing hundreds on debut in all three major domestic tournaments—Ranji Trophy, Duleep Trophy, and Irani Cup.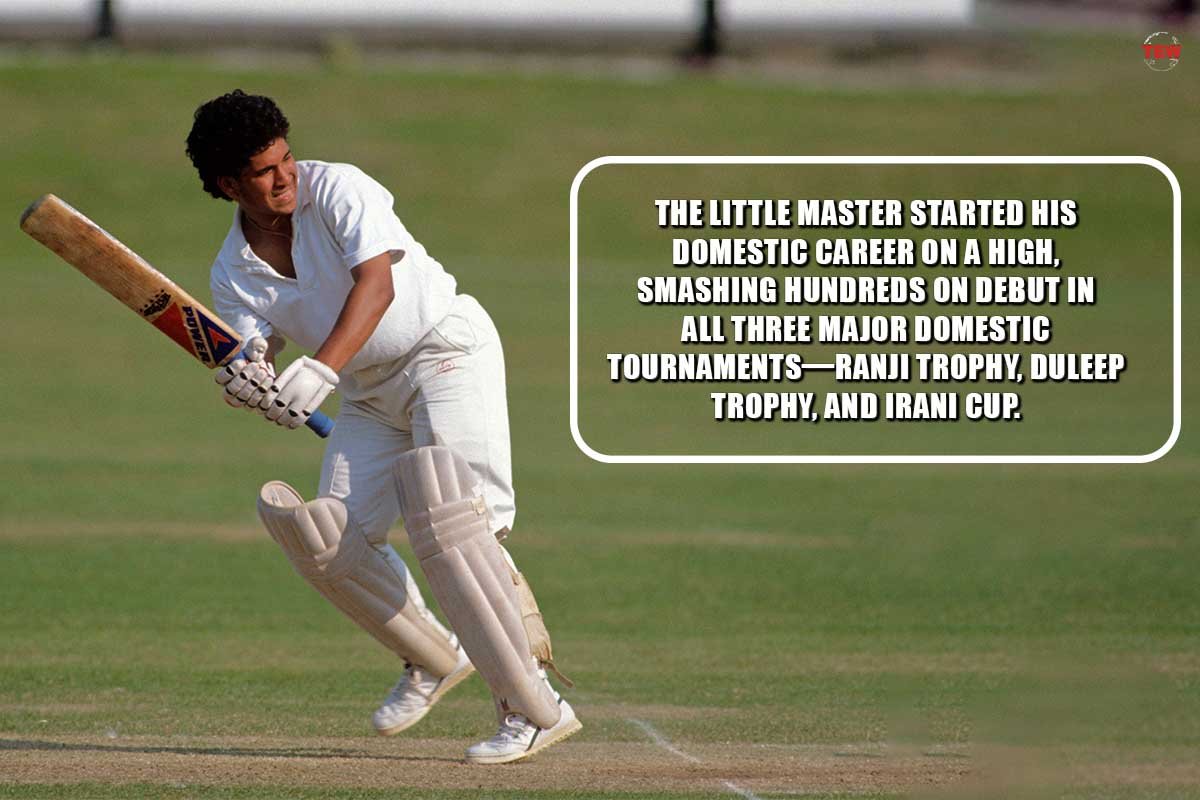 16. One of the lesser known facts about Sachin Tendulkar is he is ambidextrous. He plays cricket i.e. bats and bowls with his right hand, however, he writes with his left.
17. Sachin's first car was a Maruti-800.
18. 'Boost', a popular health drink in India was the first brand Sachin endorsed.
19. Sachin first featured in a sticking plaster advertisement.
20. Sachin made his International debut against Pakistan in 1989. In that match, he wore pads that were gifted by former Indian Cricket legend Sunil Gavaskar.
21. Sachin got out for 0 in his first test match.
22. In Sachin's debut match, English cricketer Allan Mullally alleged that he was playing with a bat wider than normal size. This was among the most shocking facts about Sachin Tendulkar.
23. The third umpire was introduced in cricket in 1992 and Sachin was the first cricketer to be given out by a third umpire.
24. In 1995, Sachin became the richest Indian cricketer after signing a 31.5 crore contract with World Tel.
25. Despite having a modest physique, Sachin used to play with a heavy bat weighing 3.2 lbs.
26. If you are a celebrity in India, it is difficult to balance your personal and professional life. Sachin, too, experienced it in 1995 as he tried to watch the film Roja in 1995 in disguise. However, it went wrong as people recognized him.
27. Having a fond interest in Tennis is one of the popular facts about Sachin Tendulkar. He is a big fan of the likes of John McEnroe and Roger Federer. Moreover, he is idolized by sports stars like Diego Maradona and Pete Sampras.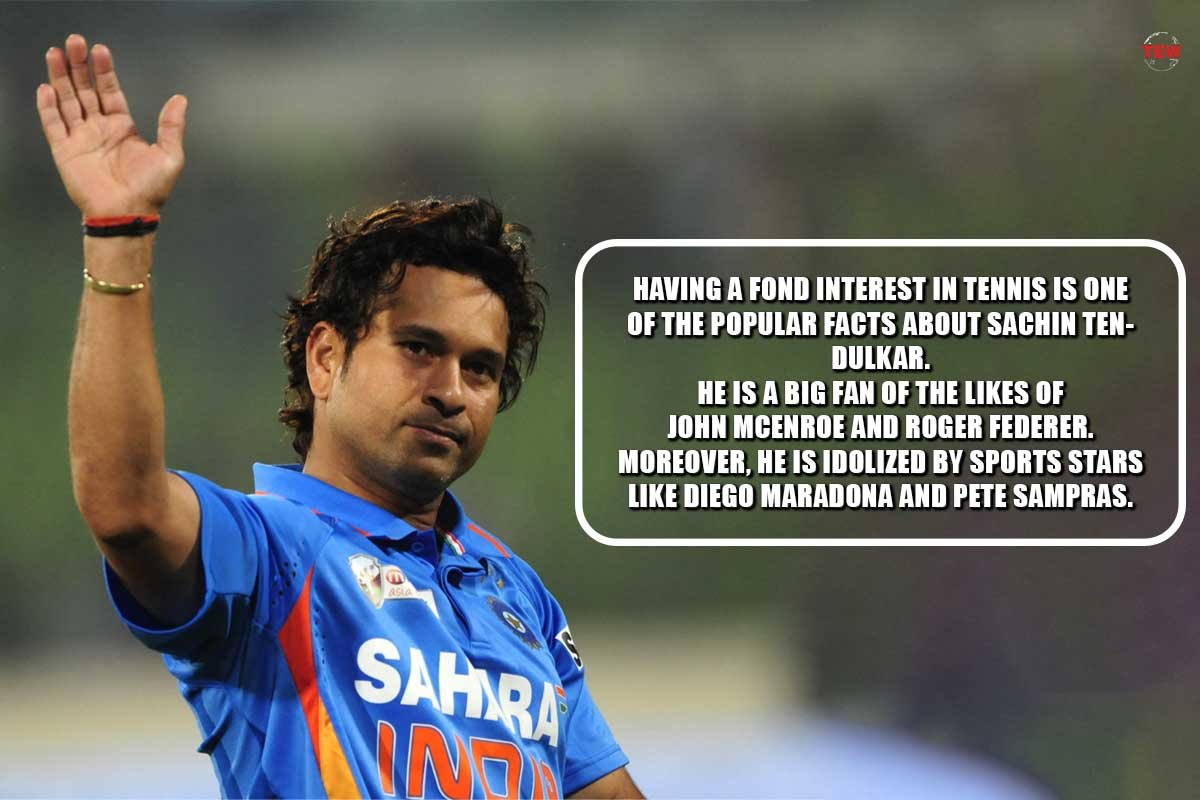 28. Sachin was so in awe with John McEnroe that he grew up his hair and tied a band around them, copying his style.
29. Sachin loves eating 'Vada Pao', a popular Maharashtrian snack.
30. Beyond sports, Sachin also loves listening to music. He is a big fan of Indian singer Kishore Kumar and a rock group called Dire Straits.
31. Calling each other by nicknames is a normal thing in Indian cricket. Sachin was called "Chhota Babu" by his teammate and former Indian captain Saurav Ganguly.
32. Sachin is very possessive about his cars. It is evident from the fact that he didn't let his wife Anjali drive his Ferrari.
33. Although calm and composed on the field, Sachin was known for his pranks in the dressing room. Once, he put a hose pipe in Saurav Ganguly's room, keeping the tap on.
34. Sachin loves non-vegetarian food. He once made his mother look for a recipe of frog bhaji.
35. Sachin was given a champagne bottle when he won his first 'Man of the Match' award. However, he did not pop it open as he was below 18 years.
36. Sachin scored 5 test centuries before turning 20, which is still a record.
37. Like many sportspersons, Sachin was also superstitious. He used to wear the pad on the left leg first before stepping in to play any match.
38. One of the most alluring facts about Sachin Tendulkar is he loved his bats. He was often found taking care of as well as fixing and repairing his bats. Many Indian cricketers used to consult with him to choose the right bat to play with.
39. Sachin is the youngest person as well as the only cricketer to be bestowed with the prestigious "Bharat Ratna" (India's highest civilian award).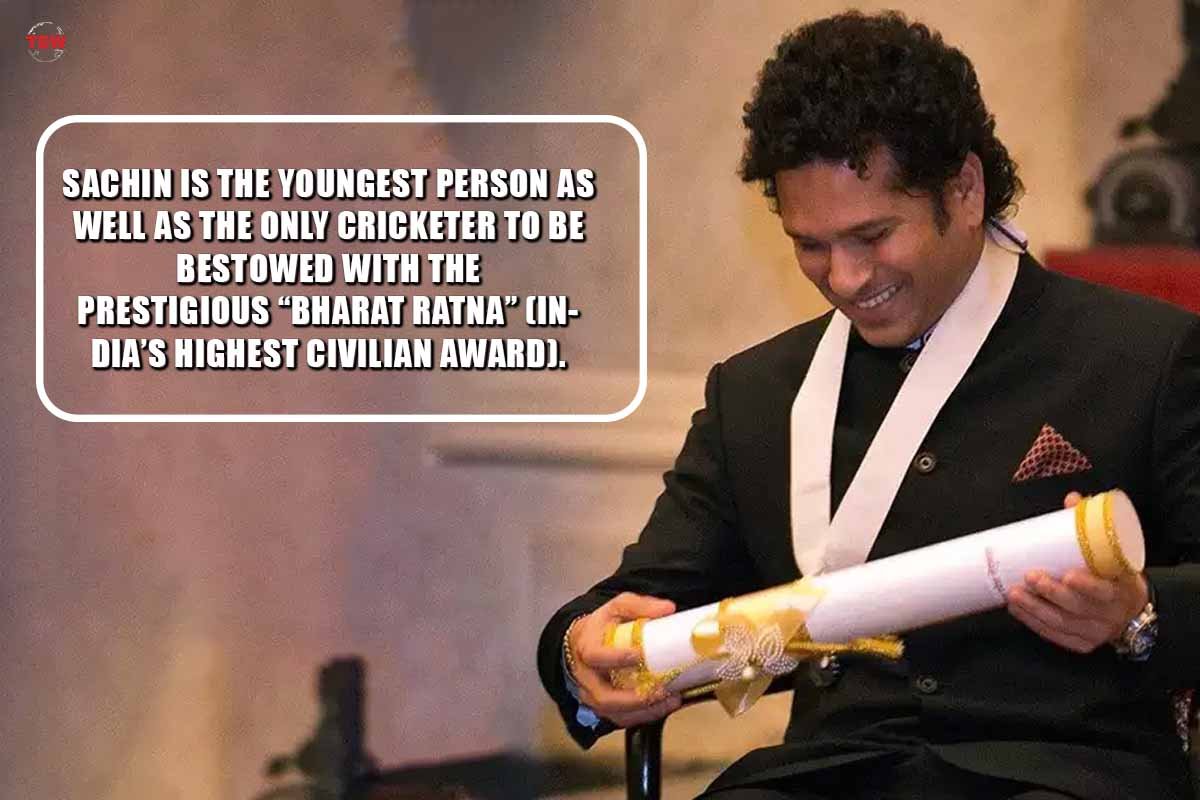 40. Such was the legacy of the master that popular British actor Daniel Radcliffe had to queue up for his autograph at the end of the Lord's Test in 2007.
41. It is one of the disappointing facts about Sachin Tendulkar that he has won the most 'Man of the Match' awards in a losing cause, 9 to be precise.
42. Sachin was known for getting dismissed in the 'nervous 90s.' He was dismissed between 90 and 100 for 23 times, the most in international cricket.
43. In 2010, Sachin became the first Indian sportsperson to be honored with an honorary rank of Group Captain by the Indian Air Force.
44. Sachin also became a member of the Indian Parliament in 2013. He took oath as a member of the Rajya Sabha.
45. Sachin has played in the most number of World Cups (6). He shares this feat with Pakistani cricketer Javed Miandad.
46. We all know Sachin for his batting prowess, but he was a good part-time bowler as well. He has two fifers (five-wicket hauls) in test matches, one against Australia and one against Pakistan.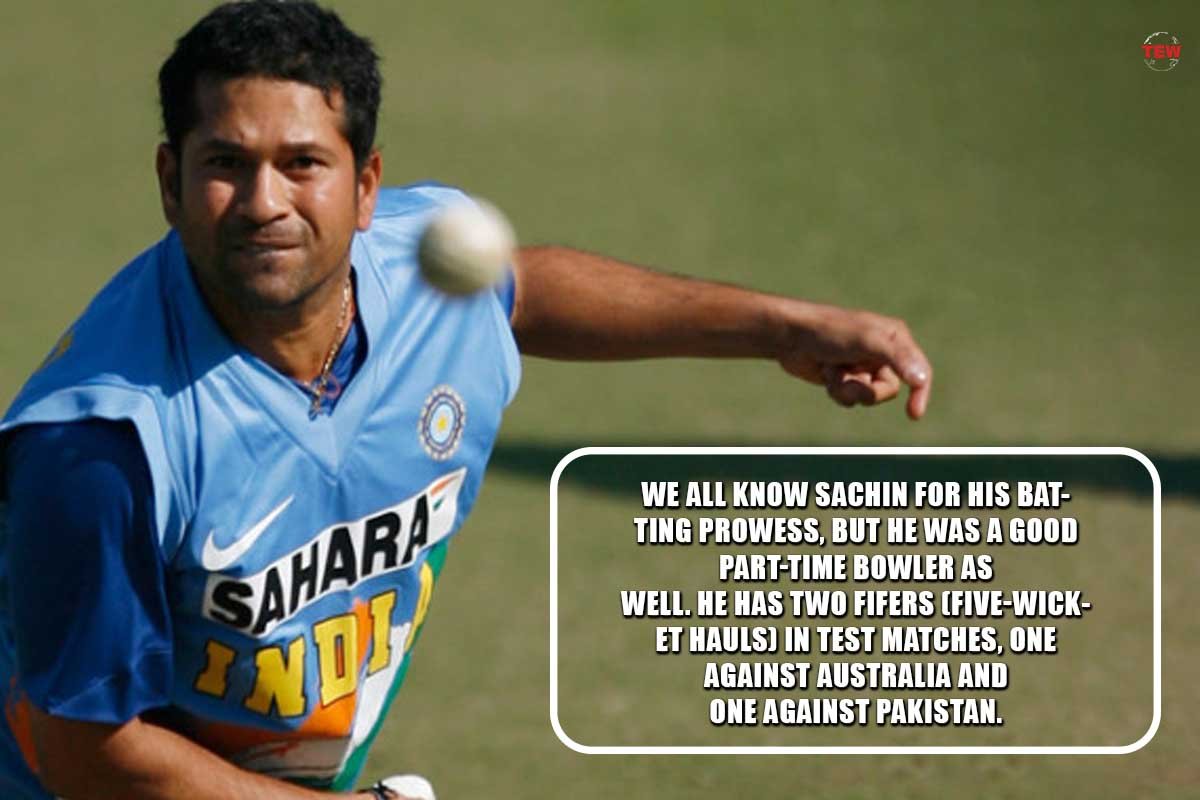 47. Throughout his career, Sachin has got all scores from 0 to 100 except 58 and 75.
48. Anand Mehta, Sachin's father-in-law is a seven-time national bridge champion.
49. This again, is among the strange facts about Sachin Tendulkar is that he has never batted at no.3 in his two and half decade-long test career.
50. Sachin Tendulkar was out stumped only once in his entire test career. It was against England in 2001.
Even though it's been a decade since his retirement, Sachin Tendulkar's legacy is everlasting. Many of the current cricketers still consider him a role model and often come to him for tips and advice. We hope you enjoyed reading these 50 facts about Sachin Tendulkar. If you did, keep visiting theenterpriseworld.com for more amazing stories!