Lomiko Metals Inc.
The graphite market is predicted to hit$ 27 Billion by 2025. . With demands for graphite from various industries, the market growth of graphite has been exponential.
The times are changing, and there are demands for electric vehicles, and there is also a rise in the commercial applications of graphene. Also, the growing demand for energy storage will drive the growth of the graphite market.
Led by CEO A. Paul Gill, Lomiko Metals is focused on the exploration and development of minerals for the new green economy such as lithium and graphite and also has a 100% interest in Lomiko Technologies Inc., an investor in technology and manufacturer of electronic products.
The Company-
Lomiko Metals Inc. is a Canada-based, exploration-stage company. The Company is engaged in the acquisition, exploration, and development of resource properties that contain minerals for the new green economy. Its mineral properties include the 80% owned La Loutre and Lac Des Iles Graphite Properties and the 100% owned Quatre Milles Graphite Property.
The company has discovered high-grade graphite at its La Loutre Property in Quebec and is working toward a Pre-Economic Assessment (PEA) that will increase its current indicated resource of 4.1 Mt of 6.5% Cg to over 10 Mt of 10%+ Cg. Paul Gill, CEO of Lomiko Metals Inc has stated that the exploration has been completed and it is showing two different areas of deposits: the graphene battery zone and the refractory zone.
The consolidated 43-101 resource estimate is expected soon. According to Mr. Gill, the material at Lomiko Metals' discovery is of similar or better quality than the material at the IMERYS Carbon Graphite Mine 53 km to the Northwest and 100 km from the IMERYS processing facility at the Port of Montreal. The IMERYS mine has a mine closure plan for 2022 and needs replacement. Located near a producing mine with an experienced workforce with excellent infrastructure and year-round working capability, La Loutre property has great potential to become the next graphite mine.
Lomiko Metals Inc has been working in the battery materials space for about six years now. Lomiko Metals has focused on graphite because that is the material that makes up the anode of a lithium-ion battery, which is the main power source for most electric vehicles. They have discovered a very good deposit of material in Quebec and now with 170 drill holes, are showing two different areas of near-surface mineralization.
One is called the graphene battery zone and the other is the refractory zone. They have finished the refractory zone drilling in 2019 and will be going to a consolidated 43-101 resource estimate shortly.
What makes us different from other companies in this particular sector is that we are located only 53 kilometres from the only operating graphite mine in North America, the Imerys Carbon and Graphite Mine.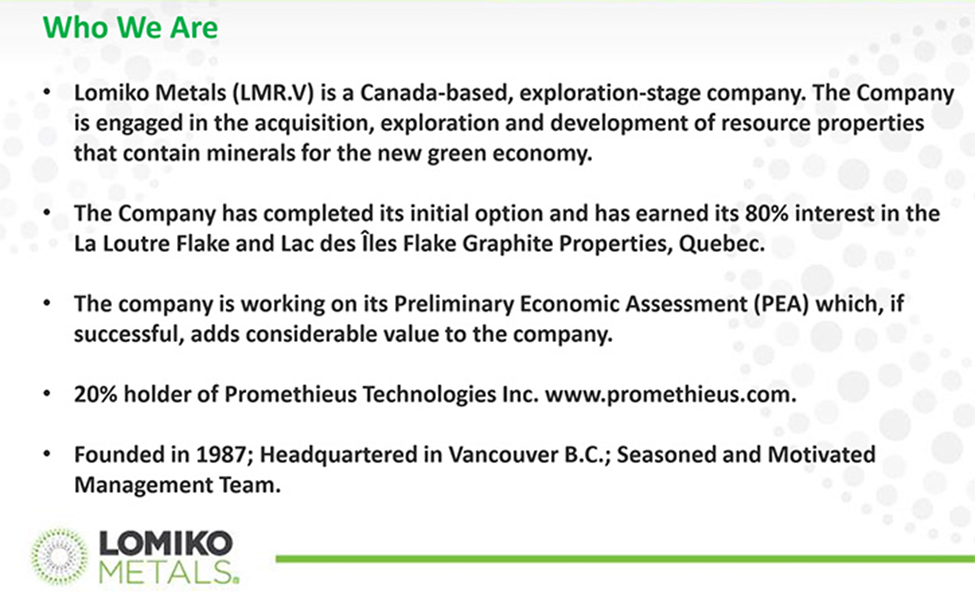 The discovery they've just made at the refractory zone is similar or of better quality than the material or the grades that are being mined at IMERYS. This is very significant because everyone has an understanding that the IMERYS Carbon Graphite Mine is shortly going to run out of mineable ore and needs replacement.
There are other very relevant companies in the space, Nouveau Monde, which is TSXV: NOU, Mason Graphite, which is TSXV: LLG, Graphite One, which is TSXV: GPH and Northern Graphite, TSXV: NGH. But all of those that are post pre-economic assessment and have major flaws.
Mason needs to build infrastructure. Nouveau Monde has sulfur in their particular deposit, which adds cost. Graphite One is located in the Aleutians Islands in Alaska, which is a very difficult mining jurisdiction because of the weather and Northern Graphite has a low grade which may hamper the economics.
But Lomiko Metals is in a Goldilocks zone, located just north of the Port of Montreal and just south of the IMERYS Carbon Graphite Mines. Lomiko Metals has a very distinct advantage because there is now a North American strategy being put in place for battery materials, which includes lithium, graphite, and cobalt.
A Few Highlights and the Road Ahead-
The highlight for Lomiko Metals was finding one strike length was 110 meters, with grades of 14.5%, which are double of what they are mining at the Imerys Carbon Graphite Mine. Imagine mineralization taller than the Statue of Liberty and obviously, there's not just one drill hole that's only six inches wide there. It is probably indicative of a larger area of mineralization.
Lomiko has also done many other drill holes and has confirmed a mineralization zone that extends for 900 meters, from the Northwest to the Southeast at the refractory zone and also a width of about 400 meters.
We have a definite area of high grade and mining potential.
Lomiko is ready to do a 43-101 resource estimate and the preliminary economic assessment, which will put a dollar value on that particular deposit.
A.Paul Gill – The Leader
Currently serving as the CEO of Lomiko Metals Inc, Paul is involved in the planning and implementation phases of creating new businesses and restructuring organizations. He also works with pre-IPO companies and is also the CEO of Lomiko Technologies, VP of Business Development of Prometheus Technologies, SHD Smart Home Devices, and Director of Graphene ESD. Through AJS Management Corp., he also provides advice to private sector clients. His latest work has been to spearheading investment activities under Lomiko Technologies.
On December 4, 2014, Lomiko created Graphene Energy Storage Devices after it received confirmation from Strategic Alliance Partner Graphene Labs Inc. of New York that the Research Group at Stony Brook University received a prototype graphene supercapacitor and filed a patent. Lomiko owns 40% of the new company and will focus on research, development, and commercialization of this exciting new product
For recent and latest updates regarding business news, industry trends, etc. Please subscribe Newsletter from "The Enterprise World" at "Subscribe"