The current era of digitization is leading to new technologies being created with every new dawn, and this has increased competition in every sector of the market. In this context, if you wish to benefit from an innovative idea, it needs to get protected from being copied in a palpable form. Protecting your intellectual property i.e. IP is the most vital thing in this competitive era.
The most important factor in protecting ideas is to get in touch with an IPR lawyer that can help you in all possible ways with 100% efforts. Ms. Mamta Rani Jha is one such leading name in the field of IPR. With over 17 years' experience in the field of litigation, she has carved a unique position in the IPR landscape in India.
Ms. Mamta Jha, Senior Partner and Head – Litigation & Opposition at Inttl Advocare firmly believe in empowering her clients across various sectors by providing comprehensive, holistic, and innovative solutions at Inttl Advocare. In this article, we try to capture Ms. Mamta's thoughts on her journey so far, the firm, her clients and her team.
Inttl Advocare – What makes it unique?
Inttl Advocare was established in 1991 by Mr. Hemant Singh, Managing and Founder Partner, who is also one of India's leading IPR lawyers. It has offices in New Delhi and Mumbai. Mr. Hemant Singh has handled over 2500 IP litigation cases on various subjects such as trademarks, copyrights, industrial designs, patents, etc. The firm has handled several landmark judgments delivered by Indian Courts in the field of IP.
The woods are lovely, dark and deep,
But I have promises to keep,
And miles to go before I sleep,
And miles to go before I sleep

Robert Frost
The Firm has a multi-jurisdictional practice in India, handling IP litigation and prosecution on all India basis and is one of the few IP law firms in India having significant expertise and experience in IP prosecution, enforcement, custom complaints as a part of a broad spectrum of professional services in the fields of trademarks, copyright, industrial designs, patents, domain names and cybersquatting, geographical indications, traditional knowledge, unfair trade practices, unfair competition, consumer protection laws, right of privacy and publicity, corporate laws, commercial documentation, foreign collaborations, transfer of technology agreement and franchising, strategizing IP protection, trade secrets, know-how and breach of confidence, technical collaboration, etc.
According to Ms. Mamta, the firm always introspects to give that extra advantage to the client. A lot of investment is made towards human resources, infrastructural robustness, industry awareness, building relationships within and beyond, following ethical practices, partnering with clients in terms of understanding, protecting and enforcing their IP, and collaborating with the team to catalyze their growth as well. Inttl Advocare is taking steps to have experienced persons with expertise in different fields, join the firm. The firm has converted itself from a Sole Proprietorship to a Partnership (Ms. Mamta being inducted as one of the equity partners) making it truly a people's firm and not a family-run firm. This motivates all of the firm's members to always go one mile extra in their work, since they know that their efforts are recognized and rewarded proportionally.
The early days – Deciding to Join Inttl Advocare
Ms. Mamta joined Inttl Advocare in 2007, after having practiced law for more than 7 years in various fields of law, such as constitution, land acquisition, service matters, banking and securitization, criminal matters, family disputes, etc. When asked about the challenges of the early day, she says that after having worked in several fields of law, she realized that being a woman, there are inherent challenges that one faces. Working as a woman litigator wasn't easy in the year 1999 when she started her practice. The district courts, police stations, SDM offices were not so well-equipped as today and various environmental issues were faced, which compelled her to contemplate getting into a field that was challenging, intellectually stimulating and satisfying, for a litigator.
The field of IP, therefore, was an understandable fascination for her, being a science student with a gold medal in Zoology (Hons.). Also, Patent Law being one of the niche fields of IP, and requiring thorough knowledge in the field of science, attracted her to opt for this field of law.
After much groundwork and enquiry within the fraternity, joining Inttl Advocare became an obvious choice for her, because of Mr. Hemant Singh leading the firm, who is a great litigator with sound knowledge and expertise.
She says, "I was fortunate to be selected by a very unusual interview by Mr. Hemant Singh, where I had no experience in IP and he had no experience in other fields of law! I guess my enthusiasm and knowledge of procedural aspects and some good luck made Mr. Singh give me an opportunity to be part of Inttl Advocare."
As a complete beginner in the field of IP law, despite having experience in litigation, the expectations were high. She was aware that she had to go that extra mile so as to meet her own expectations. Her colleagues in the firm were very cooperative. However, being a senior associate and yet a fresher in the field of IP, posed challenges of its own kind.
She never left office without completing her assignments. Ms. Mamta says "I still remember I would leave the office around 2.00 a.m. or 3.00 a.m. spending my time reading the briefs, researching, reading McCarthy, Wadlow, Kerly's, Terrell, which are the leading commentaries on IPR Law. The office peon would drop me home on his bike in the wee hours of the morning. When I look back, I can only wonder how the same was ever done, particularly, when my daughter was two years old in 2007 when I joined Inttl Advocare."
Never let doubters or naysayers stop you from going after your dreams. There is always an opportunity for those willing to work towards it! I would only ask young lawyers, particularly women lawyers, to believe in themselves. Don't look for shortcuts, hard work is the only key. Just keep going, money and success will follow!

Ms. Mamta Jha
At this point, she expresses her gratitude to Mr. Hemant Singh who did not let extraneous considerations get in the way of her learning. Mr. Singh has always welcomed anyone who has the zeal and dedication to work hard. In fact, that is the foundation of Inttl Advocare. The firm firmly believes in merit and talent, above all else. It is an equal opportunity firm with a culture of inclusivity, intuition, intelligence, infinite opportunity, and integrity. Ms. Mamta stated that "Today, I can only be grateful for the moment when I joined Inttl Advocare as a Senior Associate and now being Senior Partner. But for the philosophy of this firm, it was not possible for a person like me to grow, who is a first-generation lawyer, with no recommendation or godfather to back me up except sheer hard work and passion for my work."
Her thoughts on the growth of the firm
Since she has joined Inttl Advocare, the only core value of the firm has been quality work. The philosophy was that it does not matter how many hours are required, the deliverables to the client shall only be the best and nothing less! Fortunately, unlike commercial law firms, the focus was not on billing hours but on quality. Since 2007, there has been no looking back and Inttl Advocare has grown from strength to strength, welcoming new clients every year. Because of the quality of work, Inttl Advocare has a prestigious clientele composed of industry leaders. It may appear that they have hand-picked clients! Their work philosophy has attracted talented people to join the firm every year making them an enviable team, which is well-trained to deliver the best to their valuable clients. The trigger for growth of the firm has only been this philosophy of excellent quality and building an excellent team, to become par excellence in the field of IP.
The rising growth graph
The firm was founded in 1991 by Mr. Hemant Singh with one junior and one paralegal. By 1993, the world renowned conglomerate Nestlé became the firm's client and expansion began. In 2007, the firm had, Nestlé, Pernod Ricard, LG, Dabur, Hawkins, etc. as clients. They saw growth in team strength as well. In 2007, the firm was operating from an office space in Panchsheel Enclave, which was soon outgrown, and thus, their first branch office in Sainik Farm was opened. The trademark prosecution team of almost ten persons shifted to Sainik Farm while the patent prosecution team (of 5 people) and litigation team (of 5 lawyers and 5 paralegals) continued from Panchsheel Enclave.
The firm continued to grow at a fast and steady pace and in 2012, the firm shifted to a consolidated office space at Express Trade Towers, Noida (the current head office) with a strength of about 50 persons. They finally had all the departments together again! In 2019, the firm size became almost 90 persons, yet again requiring further expansion in terms of space and an additional wing was added. Today, Inttl Advocare is a force to be reckoned with, operating from offices in Delhi, Noida, and Mumbai. 2020 is going to be a special year for Inttl Advocare, by meeting its target of being a 100 person firm!
Factors behind the long-standing growth of the firm
According to Ms. Mamta, the firm believes in quality, hard work, inclusivity, intuition, intelligence, infinite opportunity, and integrity, all of which have led to the successful journey of the firm. Her experience has been that only those professionals stay on in the firm whose own philosophy resonates with these core values. The firm has a fantastic team, well-aligned with their vision and philosophy!
People at Inttl Advocare don't believe in resting on past laurels. They believe in treating every query, case, or client with a fresh perspective. They strive to understand what the client really wants and strategize their entire advice based on the client's needs. The environment in the firm is such that each member feels ownership of the work and takes full responsibility for whatever assignment given. The rest follows naturally!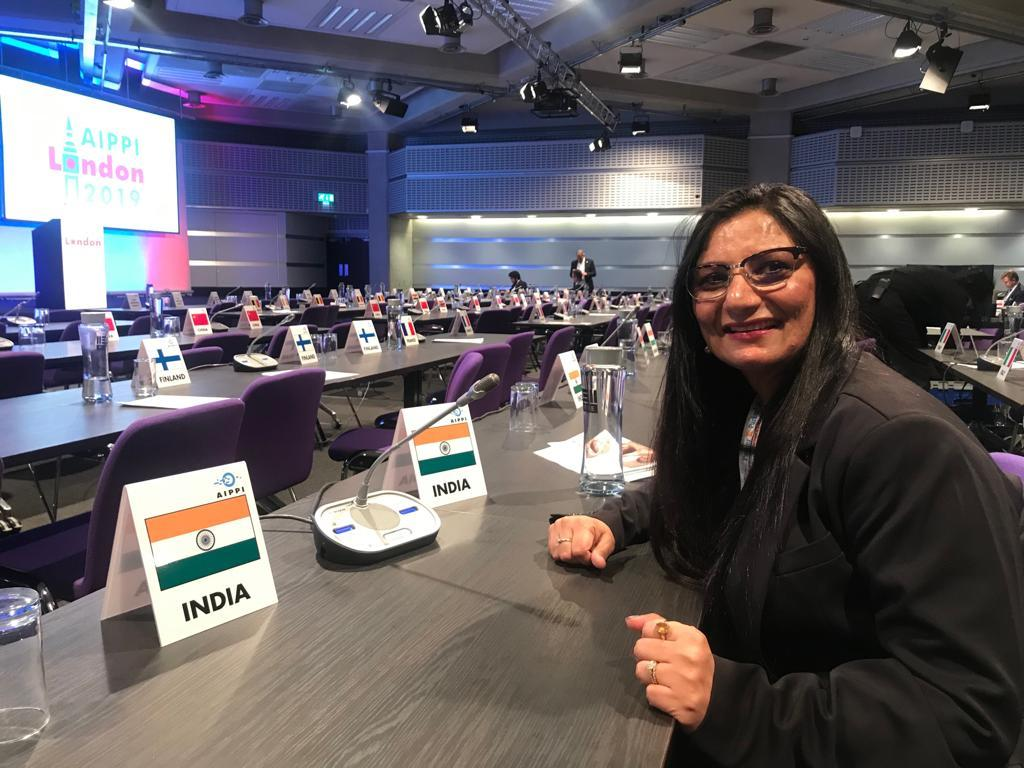 Firm's quality services
Inttl Advocare is one of the few Indian IP law firms that offer a broad spectrum of professional services in IP and allied fields, as discussed above.
The firm has a dedicated prosecution team comprising of experts in portfolio management, international filing, filing through Madrid Protocol, recordal of assignments, IP audits and transactions, Geographical Indications, and all other aspects of IP management.
Inttl Advocare also has a dedicated enforcement team that constantly provides unique solutions to emerging challenges with the changing technology. The firm handles matters at all levels of the judiciary, as well as actions before other authorities such as customs recordal and other border measures, cancellations, and oppositions before the Trade Mark Registry and the Intellectual Property Appellate Board, domain name disputes before the NIXI and ICANN. The firm also has expertise in criminal enforcement and seizures.
Inpatent prosecution, the firm's team comprises of technical experts who specialize in patentability analysis and claim drafting. The team has the unique distinction of working directly with R&D centers for patent portfolio development, non-conflict research, and patent protection.
What sets Inttl Advocare apart is that they believe in a holistic response that captures the client's immediate requirements, while being aligned with a long-term strategy devised for every client. Managing a client's prosecution and enforcement needs helps them be keenly attuned to the larger IP ecosystem that each client thrives in, and they have extended this approach to all clients, no matter which department works with them. As pointed out by Ms. Mamta, the firm has an open channel communication between departments, overseen by the senior members who continuously learn from each other and in this process, create a template of best practices, dos, and don'ts unique to each client. This helps them avoid pitfalls for their client which comes from only looking at a problem from one angle. They also have firm-wide knowledge-sharing sessions that help them all keep updated with the nuances and latest developments in IP.
Further, every attorney is encouraged to take on different assignments and they don't believe that one person should end up doing only one kind of work. This keeps people motivated and they benefit from a fresh perspective in all their works. Members at the firm are confident of their culture and its success is evident in the fact that people who leave Inttl Advocare, often come back.
In terms of practice expansion, their Bombay office has further cemented its transition to allied fields such as corporate advisory, due diligence, legal metrology, food safety and standards, drugs and cosmetics regulatory affairs, corporate governance, FEMA. The firm regularly advises clients on these aspects.
While the core work of the firm remains IP, there is no restriction, if any professional has passion and expertise in any other field. For example, Ms. Mamtaprovides a lot of advisory and enforcement work in the field of insecticides, and also quaconstitutional issues, using her past experience to the benefit of the firm.
The firm also has seen patent litigation grow multi-fold and they are proud to share that the firm has filed the highest number of patent litigation cases in India. Prosecution-wise, they have also helped clients achieve their goal of the highest number of patent filings.
Change in diversity over the years in the IP sector
Ms. Mamta says, "There has been a vast change in the field of law. I believe that 15 years ago, the IP field was relatively unknown and thus, confined to only a few lawyers. However, it's one of the most sought after fields right now and there are so many more well-respected faces around. We have women and first-generation lawyers who are at the top of the IP field, niche law firms, and several independent practitioners. We also see a lot of young lawyers opting for IP and it's much more cohesive and established as a sub-field of law. IP is here to stay in the mainstream!"
Ms. Mamta Rani Jha – Leadership in Legal Excellence
Curiously, her tryst with the law was entirely providential. Being a university topper, she initially aspired to join the Civil Services. Unfortunately, her brother met with an accident and sustained serious injuries, which changed the course of her future. She then decided to pursue law as a surer career choice. However, this turn of events was only for the better, since she has never looked back!
Being a first-generation advocate, there was a lot of struggle in finding chambers to join practice. It was also a time when women advocates were perhaps perceived less seriously than their male counterparts. At the time, she started out her career in the field of constitution and service law, at the chambers of Mr. V.K. Shali (later the Hon'ble Justice Shali of the Delhi High Court) who was a Standing Counsel at the time. When she approached Hon'ble Mr. Shali for a position, he politely declined, stating that he had no room for anyone to sit. Perhaps this was a polite refusal, but in her youthful ignorance and enthusiasm, she replied that "I could stand and work". Thus began a three-year-long stint wherein she learned every aspect of the practice. For initial six months, Ms. Mamta undertook the only inspection of court records, which was something no other lawyer was willing to do, particularly since inspections at the time meant spending hours in dimly lit rooms, searching for and locating files, noting orders and thereafter waiting in line to type the same out.
She thereafter moved on to drafting pleadings and assisting seniors in Court. At this time, although women lawyers were relegated to the background, certain Judges were very encouraging of young lawyers, often insisting that the youngster argues in place of the senior. Her first appearance as an arguing counsel was a result of such an opportunity when the Hon'ble Justice Sikri of Delhi High Court called her to argue her case. She says, "I still remember the thrill of thinking on my feet, and presenting my case before the Court! I would like to thank Hon'ble Justice Shali for the belief that he had in me and taking on a complete fresher."
After learning the ropes, in 2002, she started working under the aegis of Dr. Surat Singh, one of India's leading jurists. Perhaps this was one of the greatest periods of learning in her career, not limited to the law itself. Right from dealing with clients, logistics, accounts, case management, researching, arguing, she was exposed to every aspect of firm management, equipping her with essential skills. With Mr. Surat Singh, she dealt with constitutional, land, services, and administrative matters. Ms. Mamta was also part of the team that handled the famous Shivani Bhatnagar Case and other criminal matters, giving her invaluable experience in dealing with the Police.
In 2005, family life prompted her to opt for a Firm practice, in order to balance both aspects. She joined Mr. A Verma & Associates, where she worked extensively on banking and securitization laws, Bank auditing, SARFESI notices, etc.
In 2007, Ms. Mamta decided to concentrate on a niche field of law. Considering her background in Science, she narrowed down to IPR laws and approached Mr. Hemant Singh, who is one of India's leading IPR jurists, but at the time, had an upcoming independent practice. Under the aegis of Mr. Hemant Singh, she garnered extensive experience in IPR law, particularly in patent litigation. Since then life has never looked back! From a modest beginning as a Senior Associate, Ms. Mamta presently is a Senior Partner and Head of the Litigation and Opposition departments. She has had the privilege of briefing stalwarts such as Mr. Gopal Subramanium and other seniors and has benefited greatly from their wisdom and experience. It is truly a matter of pride and privilege to see Inttl Advocare become of one India's leading IP boutique law firms.
On other fronts, Ms. Mamta is a regular speaker at various IP fora and has also authored several articles on emerging and contentious IPR issues. Particularly, she had the privilege of authoring the India Chapter of the AIPPI-Wolters-Kluwer Practitioners' Guide to Anti-body Patenting. She is also presently the Chair of the INTA Oppositions and Cancellations Sub-Committee, India Representative of APAA Anti-Counterfeiting Committee, India Member of the AIPPI Biotechnology Committee, and India Leader – AIPPI Study Question on Inventorship of inventions made using AI.
Mamta Rani Jha's source of motivation
She admires Mr. Hemant Singh the most, for being a mentor. He has been the toughest with her and is her biggest critic, but that is what has shaped her! He has always been there to teach, explain, encourage, and to allow her to be herself. Ms. Mamta says, "For me, the biggest strength he has, as a mentor, is allowing me to take contrary views either in office or in front of a client. This has allowed me to grow without any boundaries and be limitless in my thinking process. I will forever be grateful to him for being my mentor and making me what I am today."
"This section would be incomplete if I do not mention another mentor, Mr. Gopal Subramanium, who has inspired me to work harder, be a better human being, and think towards contributing to society. I have the privilege of working with him and benefiting from his vast knowledge, expertise, and spirituality." Ms. Mamta stated.
The key achievements
Over 120 patent litigations with a 100 % success rate;
Several celebrated and reported judgments that are instrumental in the development of IPR jurisprudence as well as allied laws;
Arguing across the country, including in district courts and all High Courts of India, something that very few lawyers can claim.
Authoring the India Chapter of the AIPPI-Wolters-Kluwer Practitioners' Guide to Anti-body Patenting
Chairing the INTA Oppositions and Cancellations Sub-Committee and being a member of APAA and AIPPI
A close-knit family of Inttl Advocare
The firm has always been a strong believer in diversity, inclusion, and giving equal opportunity to all. Inttl Advocare has always encouraged talent and merit and nothing else plays a factor when it comes to giving opportunities. They pride themselves on their people, some of whom have progressed from being paralegals to Senior Associates in the firm. In fact, diversity and inclusivity have always been a norm at Inttl Advocare, rather than something to consciously strive towards. They believe that this is what makes them unique!
The members at firm are its strength and they spare no effort to help them grow and achieve their goals. Whether it's the latest equipment, Human Resource services, special needs, infrastructure, and their members are their first priority. The firm regularly holds, skill-sharing and knowledge-sharing initiatives, open to all that contribute to the collective intellect. The Firm has several clubs such as the CSR Club, Sports, Event Management Club, Music, and Dance Club, all of which are open firm-wide and met with tremendous participation by all. At Inttl Advocare, they are a close-knit family.
Overwhelming Client Experience
The firm receives words of encouragement from their clients, every year and that is the ultimate reward for any professional. Ms. Mamta says the following valuable words from her clients are etched in her heart,
"She is our legal doctor and her opinion and approach is well-heard and accommodated whenever we take key legal decisions on some of our contentious matters and key litigations"
"You and your team have provided us with excellent service. Frankly, the best of any firm in the world."
"As a client, we do feel the important involvement of Mamta in her work, her availability, and dedication, always ready to answer our queries and take care of our instructions, even late at night. She is a very nice and friendly person and contacts are very easy."
"Extremely engaged and willing to push the envelope insofar as interpreting existing legal provisions are concerned, which has been of tremendous value to us. What has been of particular value to us is your ability to convey the correct risk assessment– we really appreciate this advice as it enables us to fine-tune our strategy in the best interests of the matter."