Marketing for retail stores is tough! These days, it often seems as though all anyone wants to do is market online, and for good reason. Online shopping is so convenient some people never purchase things in-person anymore. Retail Marketing Trends change from time to time.
Although e-commerce marketing can be effective, you have to focus on retail marketing at least to some extent if you have physical storefront. Retail marketing helps you drive business to your retail store and build brand loyalty through regular patronage.
Not sure where to start? These four strategies can help reinvigorate your retail marketing campaigns.
Update your price lists
Your price lists – your lists of services or products – are often the most important visual aspect of your entire store. A classic example is the price list of brews, dishes, and snacks in a café or restaurant.
These days, practically every coffee shop (a business model that will always be retail) has a drawn-on price list with aesthetically attractive drawings or images, usually done by one or more artistic baristas. That's because it makes the prices for the products themselves more attractive.
The same holds true for practically any retail marketing business or product type. If you want people to enjoy examining your prices, and if you want to get them excited about purchasing your big-ticket or most important items, you need to update your price lists to be aesthetically attractive, streamlined, and easy to navigate visually.
But you don't have to have a degree in graphic design to come up with an attractive price list or menu design. PosterMyWall is a free resource you can use right now to create price lists or edit price list templates. Then you can transfer those to your online website or print them out for use in your retail marketing store. 
Bonus tip: share Your Price Lists digitally
It's also a good idea to share your price lists digitally. If you make a price list using PosterMyWall, that'll be easy enough as every list you create will automatically be digital.
If you have a physical price list, as with the coffee shop menu example, you can take a picture of it and put it on your website. This can drive engagement with your brand and get people to check out your store in person.
Do some product research – market what sells
Your retail marketing efforts have to be focused on to see success. To end, do a lot of project research and figure out which merchandise items or specific services sell the most.
Then you can prioritize marketing only those products or items that sell the most and drive the most traffic to your store. It's important to make every marketing dollar you spend count for as much as possible. So, focusing your marketing in this way will make your budget stretch further.
Improve your packaging
Similarly, consider improving the packaging of your most important or popular items. Some companies, like Tropicana, have already found that packaging can derail even the most sophisticated hype campaigns, literally killing the interest that a target consumer has in a product before they reach the checkout counter.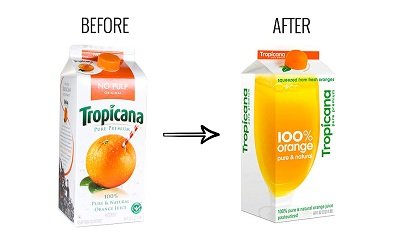 The packaging for your most successful items has to be eye-catching, informative, and attractive above all. Work hard on these design elements and you'll effectively be marketing to people in your store as they browse around for things to buy.
Give customers easy ways to order online
Although retail marketing is primarily focused on getting people to purchase things in-store, that doesn't mean you should ignore the online component entirely.
Indeed, you can drive traffic to your physical store by giving your customers an easy way to order products online. As many as 67% of millennials prefer to purchase things online if possible, and brands that accommodate this desire will be more likely to gain their loyalty than brands that do not.
In many ways, being flexible and giving people the option to purchase things online shows that you'll work with your customers and are focused on their needs first and foremost. If a customer buys things from your online store enough, they might just stop by and see your retail store in person after you've gained their loyalty.
Remember, online commerce was initially a way to drive traffic to physical stores. It can be again for your business if you make things convenient for your target consumers!
Leverage social media ads
Lastly, focus on social media advertising, but drive traffic to your physical store by offering special discounts, offers, and by telling consumers about upcoming events through social media platforms for retail marketing.
Advertising through Facebook, Instagram, and other social media platforms is incredibly important. It is a key cornerstone of marketing for most companies these days. It's the best way to reach your target consumers and to keep your loyal customers engaged with your brand over the long term.
What better way to get people in your store than to run a social media post or email marketing chain about an upcoming sale for anyone who steps through the front door? Social media may be the fastest and most convenient way to let people know about these opportunities.
Fortunately, you can launch effective social media ads through a variety of free templates and programs. This allows you to make regular marketing efforts with a minimum of cost and effort on your part. A particularly nice bonus for small businesses without dedicated marketing teams.
Wrap up
All in all, renting up your retail store marketing will be a multifaceted process involving several tools, marketing decisions, and design innovations. However, the effort will be well worth it if you can drive more traffic and profits to your retail store.
Why? Focusing on retail marketing is one of the best ways to increase brand awareness and build brand loyalty. People who shop at physical store are more likely to shop at an online store that belongs to same brand.