The IT space has been ever-expanding and the companies in the domain are providing revolutionary products and services that are not only enabling enterprises to achieve better results and increased performance but also creating a chain of new possibilities that pushes the companies in the domain to deliver technologically advanced and breakthrough products and services.
Since the domain of IT is so vast, one company alone cannot provide all the solutions at once or in one place, this calls for leaders in the field who are providing best-in-class services and specialize in expert solutions, delivering enterprises a unique and exemplary service experience and a user experience that is unparalleled in the field and one of the best among the competition in the market.
SEP is one of the leading companies in the domain, securing the valuable and resourceful data of enterprises and keeping it in top shape without compromising on the integrity and safety of the data. The team of SEP are industry professionals, packed with thorough knowledge of the latest trends and are always up to date with the latest technology to provide solutions that are not only unparalleled but also provide their clients with a sense of safety and surety that SEP always has their back and the data of their clients is always secured and I pristine condition. All these factors make them one of the most trusted and sought-after HPE solution providers in 2021.
The Company, the Journey
The company was founded in 1992, headquartered in Holzkirchen near Munich, Germany, and has a subsidiary with a support and sales team in the USA. SEP has a strong partner network and relies on well-trained system houses for sales. Customers in more than 50 countries include top-tier companies, market leaders in the healthcare, financial sectors, manufacturing companies, federal ministries, public sectors and leading universities.

SEP AG is a manufacturer of backup and disaster recovery software solutions for the protection of cross-platform, heterogeneous IT environments. The data backup solution "SEP sesam" secures a wide range of virtual environments, operating systems, applications and databases – up to SAP. SEP offers among others certified backup solutions for the entire SAP solution stack including SAP HANA on Intel & IBM Power platforms, SAP Business One, SAP NetWeaver on various databases & SAP ASE. It's "Made in Germany" with no backdoors.
The universal support of complex system environments sets the SEP solution apart from the competition. This allows the consolidation of several backup systems to a centrally managed hybrid backup solution. The solution works reliably and consistently implements compliance requirements incl. EU-GDPR. SEP offers solutions for on-premise and in the cloud and for service providers, who are running Backup-as-a-Service (BaaS), based on the SEP sesam technology. The SEP Cloud Application Protection Service (CAPS) SEP also enables a GDPR-compliant Cloud-to-Cloud backup and data loss prevention solution for Microsoft 365, Salesforce, Google Workspace and Dynamics 365.
Their Vision is "SEP protected future", and they make sure to take care and protect the future of enterprises. Their mission is to protect what enterprises have achieved to free their client's mind and focus on the future of their enterprise. So, companies and organizations can concentrate on their business because they take care of the availability of their data. A fast, uncomplicated data recovery to ensure SLAs is important. This can be crucial for the survival of a company's business.
The increasing heterogeneity of IT environments has created additional requirements. In addition to UNIX and Microsoft Solutions, Linux derivatives such as Suse and Red Hat have suddenly appeared. A comprehensive backup solution must also be able to support these Linux solutions, which SEP developed accordingly.
Another challenge was and is the strong data growth, which requires more and more storage capacity, especially for backups. SEP has developed a software-based deduplication solution for this, which achieves a minimisation of the backup data volume of over 90%, which can be proven in many installations.
The beginning and then increasing virtualisation represents another point that had to be taken into account. Virtualised environments also need to be integrated into a holistic backup, which SEP has done. With currently 9 supported hypervisors, SEP offers one of the most comprehensive portfolios and gives the customers the freedom of choice.
Factors Pushing SEP to the realm of success
There are several factors for the growth. The SAP partnership, which was established many years ago, is one of them. SAP applications are business-critical and business continuity must be guaranteed. Particularly in the case of logical errors, only a reliable and high-performance backup/recovery with corresponding Recovery Point Objectives (RPOs) can help, so that it is possible to set up again granularly on the last, non-corrupt data set. SEP has comprehensively built up the solution offering in the SAP area, offers an SAP-certified backup solution and supports the entire SAP solution stack.
Generally, important steps were/are the expansion of the diverse technology partnerships (e.g.: HPE, IBM; NetApp, Nutanix, SAP, Suse, Red Hat, VMware, Microsoft, etc.), so that the SEP backup solution meets the manufacturer-specific requirements and integrates and functions optimally.
A further step was the decision to increase globalisation. SEP is now represented in over 50 countries with over 5000 installations.
Cloud applications such as Microsoft 365, Salesforce, Google Workspace and Microsoft Dynamics 365 require their backup solutions, like data backup for these cloud applications is the responsibility of the user. Here, SEP offers the Cloud Application Protection Service (CAPS). The advantage of CAPS is that it is a complete solution that includes unlimited storage space and unlimited retention time combined with ease of use so that the customer does not have to worry about anything else. Only the effective users have to be licensed and the data is held in a European redundant data centre with massive security mechanisms, independent security infrastructure on Linux and Unix platform and complies with the EU-GDPR.
Services offered by SEP, and New Additions
SEP delivers backup/recovery solutions for a medium-sized business to enterprise.
"They support the systems no one else can" – their motto – describes a big advantage. They support not only the market leaders but also less widespread, heterogeneous and new technologies. This help users to consistently protect and quickly restore their diverse IT environments which are reflected in their comprehensive support matrix too. Their certifications ensure that databases and applications are backed up/ restored consistently and under the manufacturers' specifications.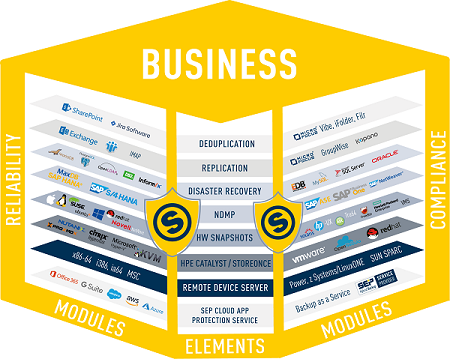 They also have a focus on virtual environments and they support at the moment 9 different hypervisors and the 10th is in the starting blocks. With SEP, backup and recovery of existing systems and the newest systems are connected. So, companies have the freedom to choose the IT components/solutions which fits best for their needs and SEP takes care of complete data protection – easy to use with a modern WebUI and centrally managed.
They plan to release their new release SEP sesam Jaglion in Q3/2021. In this release, they'll have a lot of new customer benefits included. They listen to their customers and permanently improve their solutions and services to reach an optimal customer experience. Therefore, they invest with permanent growing intensity in the know-how and qualification of their team and partners.
Their leading virtualisation portfolio will be further expanded, including the requirements of hosting providers. They continue to stand for a genuine hybrid backup – to reach optimal protection for virtual and physical worlds – on-premise and in the cloud. This is based on very close cooperation with technology partners.
They offer high-security mechanisms, deliver the technical safety for EU-GDPR and other compliance requirements and guarantee that our software has no backdoors. For their clients and the customers of their service providers, it's optimal investment protection and guarantees the highest data availability.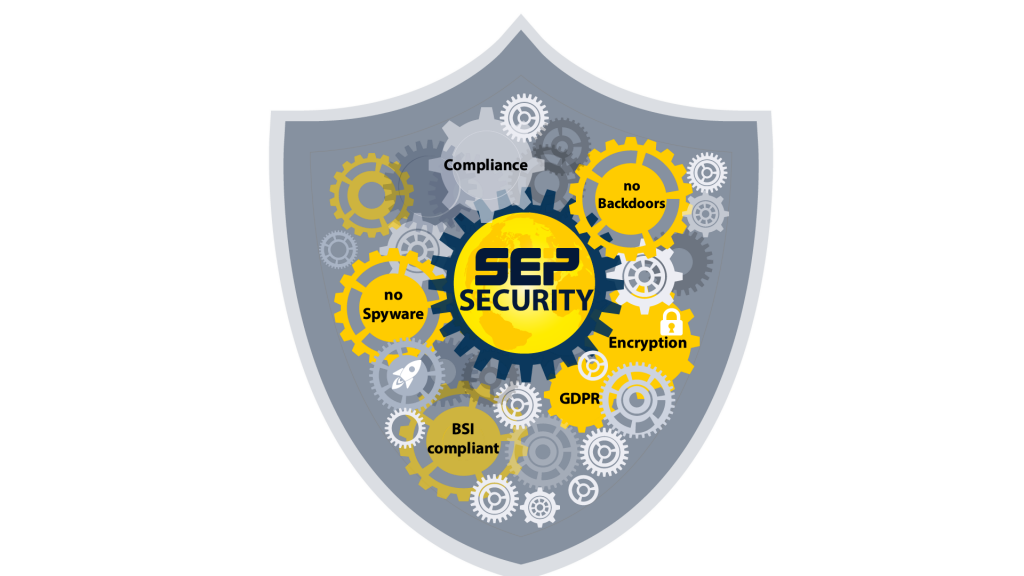 Leadership at SEP
SEP has a team of expert professionals led by a team of extremely talented, disciplined, and effervescent management team. Together they have not only produced unmatched services and established SEP as one of the best HPE solution providers but have also strengthened their position in the market as one of the best in the market and always ahead of the competition in the market with their services and strategies.
Jan Trinkl, Vice President Sales at SEP is a distinguished leader, a visionary, taking the services of SEP into the market with strategies that are not only highly rewarding but also makes sure their clients receive the best-in-class service and exemplary support from SEP. These are some of the few traits that not only makes him a great leader but also makes him a beacon for SEP and the upcoming entrepreneurs.
Jan has vast experience of leadership roles in many domains in private & public-owned companies, of varying sizes. He has a proven track record of excellent strategic planning and successful implementation, and with this experience, he has gained confidence in building business in new territories, building and guiding teams, and much more. He has also worked in leadership roles in direct and channel business
Jan over his career has achieved many milestones and success. Some of his achievements are:
Change of a whole sales unit into a data-supported unit.
Building and expanding new partnerships.
Building a new Sales Channel & Partner Program from Scratch.
Restructuring existing Sales Units into productivity and efficiency.
Influencing Company Strategy & Vision
Team and Work Culture at SEP
The team of SEP are not only one of the best team in the HPE space but are also a mix of individual freedom and deep management support, which carves the team and work culture at SEP as learning, an innovation hub, where all are working at their best to provide and come up with unique and breakthrough services.
The team goals always contain some individual goals of each team member/unit. The team comprises of opposed characters and preferences, leading to healthy brainstorming session, all working towards perfecting the services of SEP. Lastly, they have a sense of urgency and support, which not only makes them highly dedicated towards SEP but also sincere towards helping their clients in the best way possible, making the team and work culture at SEP highly productive, innovative, and encouraging the team to always deliver their best.
CEO's take on constant vigilance as a need or strategy, and the rat race in the market
Jan says, "Always check in relation to time, position and direction moving, I would say it's a strategy. Otherwise, you stop being movable and flexible like you should for all times.
About the rat race, Jan feels not taking part as far as he doesn't make races that burn more than one can earn. Always choose your fights wisely.