THE MOST ADMIRED COMPANIES OF THE YEAR 2021- VOL. 2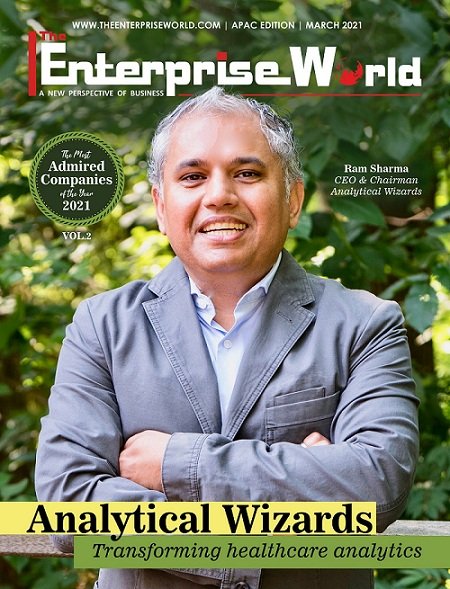 THE MOST ADMIRED COMPANIES OF THE YEAR 2021- VOL. 2 features,
Featuring for the cover story is Analytical Wizards. Analytical Wizards is one of the leading companies in the healthcare domain, that is transmogrifying commercial analytics.
Behind Analytical Wizards' long-standing success there is a team of expert professionals led by Mr. Ram Sharma, CEO & Chairman at the company.
Ficus Pax is a pioneer, leading the global packaging market space providing eco-friendly and top-notched packaging solutions to businesses in almost all verticals.
Ficus Pax was incorporated in 1999 as a partnership between Mr. Ameen Rahaman and Capt B R Vijayendra with the idea of offering packaging solutions to Indian Exporters with a focus on the niche market of high precision packaging of high-value goods.
M76 Analytics is a niche business algorithm company providing applicable analytics support for the direct consumption of Senior Business Leaders.
Mr. Jai Mrug, the founder of M76 Analytics is a known election analyst, and psephologist in India, since 1998. He has worked on several aspects of data, more often than not, taking up numeric challenges that would represent deep data mining and metric quantification.
Noble House was founded in 1988 in a garage with a vision to be one of the most prominent HR consulting brands in India.
Initially, the platform focused on offering the highest quality and the most effective HR services to the leading businesses, startups, and other small-to-medium enterprises by connecting them with highly skilled and experienced independent consultants.
Potential Genesis is a leading name when it comes to the best HR coaching companies in the domain.
They are not only industry experts with extensive knowledge, practical and hands-on experience of the latest industry practices and trends but can impart all of their skills and much more to their clients in the most efficient and best way possible.
The company aims to provide the best coaching, training, etc. to create the best personnel fit for the role
TEKROI is a pioneer in enabling next-generation digital innovations, services, and consulting.
Futuristic thinking, combined with more than a decade of experience in delivering consistent quality services, has helped them in carving a niche of their own.
Readout a conversation with Mr. Venkata Silva Reddy Polu, CEO & Founder of TEKROI and discover more about the company.