THE BEST 5 BIOTECHNOLOGY AND HEALTHCARE COMPANIES TO BE FOCUSED IN 2021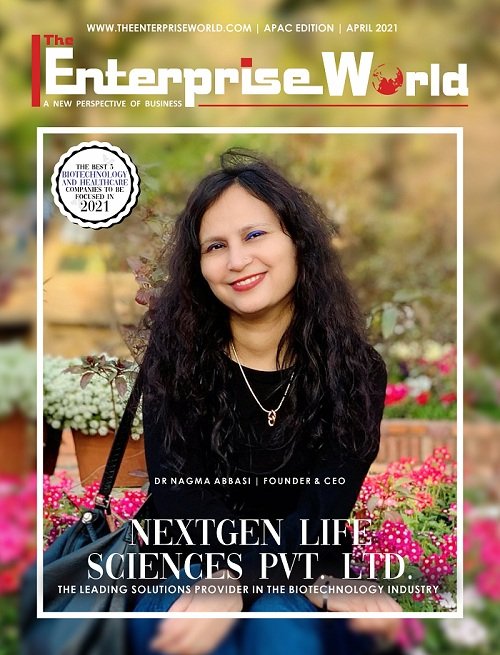 THE BEST 5 BIOTECHNOLOGY AND HEALTHCARE COMPANIES TO BE FOCUSED IN 2021 features,
Featuring for the cover story is Nextgen Life Sciences pvt. Ltd. – The leading solutions provider in the biotechnology industry. NextGen Life Sciences was started in 2014 to become a frontrunner in the distribution of innovative biological products and services for the Life Science Research and Diagnostic market.
The company is poised to become one-stop-solution to cater to the research needs of scientists in the Field of Molecular biology, Cell Biology, Immunology, Healthcare, Drug Development and more.
Read out a conversation with Mr. Juzar Khorakiwala, Chairman & Managing Director of Biostadt India Limited, in which we discussed the current industry scenario and how Biostadt India Limited is transforming the agriculture sector across the globe.
Biostadt India Limited is empowering farmers with their highly productive biological products. Established in 2003, today Biostadt India Limited is a very diversified agrochemical organization with a ground presence in biologicals, crop protection chemicals, aquaculture inputs, hybrid seeds, custom manufacturing, and international operations.
Sisco Research Laboratories Pvt. Ltd aka SRL is the brainchild of Mr. S.K. Agarwal & his brothers. The Company has been pioneering the Indian research and laboratory space since 1975.
The Company has completed more than 36 yrs. of manufacturing highly complex and international quality reagents & biochemicals in India at a time when few other Indian companies had the technical expertise to manufacture complex chemical compounds.
The unmatched leadership of SRL, Mr. Surendra Kumar Agarwal/ MD, Mr. Akash Agarwal/ Director, Mr. Vikas Agarwal/ Director, are the pillars of the company's long-standing growth.
Zenex International is a rapidly growing specialty pharmaceutical stockiest/distributor/retailer based in Bangalore, India. They are specialized in Anti-infective, Anesthesia, Vaccines/Immunoglobulins, Cardiology, Narcotics, Schedule-X, Nephrology, Antidotes, Oxytocin, Parenteral Nutrition, Critical Care, CNS, Nuclear Medicines and other specialty medicines.
Read conversation with Mr. V.V. Mannapur, Owner of Zenex International, in which he shared his views on the current industry scenario and how Zenex is empowering the sector with its top-notched offering