Business Automation Experts – Rejuvenating Businesses with The Most Efficient Technology – Matt Lepkowski
In this changing modern era, technology has become an important part of human life, no matter what field it is. It has become almost impossible to do any work without technology. People are in the race to overtake each other in business today and this can only be possible with the latest technology. Technology has changed the whole way of doing business, today everything can be done with just a single click.
Technology and automation have become so connected to our lives that we often do not think about the effects they can have. Technology exists everywhere, from mobile to our car. In the field of business, words like automation, machine learning, artificial intelligence have become common. Most businesses know about them. They also know that it is necessary to adopt technology and automation but still do not pay attention to hold their growth back.
In these crucial pandemic times, if something can help businesses to survive and remain a part of the market race is an adaption of modern and advanced business management and automation technologies.
Business automation services are widely available but only the pioneers in this industry stand out with their unique services providing unique and innovative solutions at such scalable and efficient parameters that truly make them unique and leaders in the industry and also differentiate them from the competitors in the market by a huge margin.
Business Automation Experts (BAE) is not only such a pioneer, leading the global market space when it comes to providing business automation and management solutions. They not only provide unique, innovative, and reliable business solutions but their efficiency and efficient solutions get their customers best-in-class services, filling their demands and needs, while exceeding their expectations.
Incepted in 2005 by Matt Lepkowski, today the company has established itself as a boutique providing a differentiated plethora of business automation solutions, content management solutions, Microsoft cloud solutions, development tools, and so on.
The Company- Business Automation Experts
Business Automation Experts dominates the industry with its position as a global leader in the business automation landscape. Their solutions have unparalleled results and BAE continues to focus on smoother workflow for its clients with innovative technologies at affordable prices. Their solutions and work showcase their rich domain knowledge and a flexible & agile work process. Their products provide the utmost cutting-edge technology to modernize business operations.
Business Automation Experts focuses on the strategic use of technology to improve operational efficiencies for its clients. Client benefits include improved process efficiency, cost savings, improved cybersecurity, improved reliability, and reduced System Debt. BAE also collaborates with technology leaders to take advantage of solutions that are well-designed and engineered for today's world.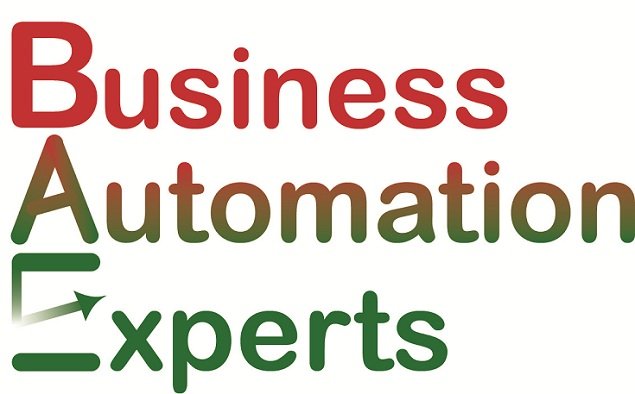 BAE has many achievements at different milestones in its business journey. There have been recognition awards from partner firms and external organizations. The company has been a part of the success of its many clients in different business verticals as they have grown and persevered through many economic shifts. BAE doesn't leave much room for trophies as the team is primarily focused on looking around the corner and helping their clients to see new possibilities.
Beyond helping an original client expand and transition to a division for a large healthcare organization, BAE helped grow a full-service payroll company client base to over 250 businesses across multiple states by creating a disaster recovery plan and improving processes and security across the organization. Business Automation Experts is striving to push their limits continuously and uncover new horizons with their research and exquisite services, by offering technology solutions that will digitally transform businesses as per client requirements.
Empowering the Healthcare Sector
As the effects of a global epidemic, the world is now relying more on technology and the internet which has attracted data thieves. The number of data thefts and cybercrimes has increased with the increased digitization of healthcare. Healthcare organizations accumulate and pile vast amounts of personal information, making them a major target for cybercriminals.
BAE empowers and educates their healthcare clients to assist them in doing their job effectively, which further builds on the trust that is required to maintain patient care. The company follows an approach that is common to medicine with understanding a condition, diagnosing the strategic ailments, and taking action that aligns the organizational objectives. Applying the methodology to a few industries has forged deep relationships with its clients and their success translates into BAE's long-standing success.
Business growth doesn't just happen! It requires careful planning and implementation.
BAE's Cutting Edge Offerings
BAE's solutions enable enterprises to transform their bottom-line to a more sophisticated, strategic business unit to drive significant value, increase efficiency, optimize communication with clients, simplify workflow, gain actionable insights, and deliver a superior end-client experience.
BAE focuses on a modern adaptation to security information and event management (SIEM). In addition to this, BAE also focuses on reducing System Debt by better aligning technology to strategic initiatives. In doing so, organizations can meet their growing needs and combat new challenges. The company is selective in the partnerships it enters and works with Seceon for an Artificial Intelligence enhanced SIEM (aiSIEM), Laserfiche for content management solutions, and Microsoft for cloud and development tools.
Their unique and innovative solutions were not only technologically and cognitively ahead since their inception but to this date are far more advanced and sophisticated than any other company in the space.
Matt Lepkowski – The Anchor of BAE
Matt Lepkowski is the Founder of Business Automation Experts. He has shown the world of business that a true leader can emerge from anywhere and inspire the rest with his sincerity, dedication, and unwavering spirit to not only dominate the market but also show that he is no less than a vivacious, visionary, and unmatched business leader.
Matt Lepkowski founded BAE in 2005 and translated his MBA from NYU Stern into innovative and breakthrough business management solutions which not only enhanced the working and performance of many industries but also proved his mettle as a flagbearer of Business Automation Experts. Matt Lepkowski has by far accumulated numerous achievements for his endeavours, inspired countless budding entrepreneurs, claimed the respect and loyalty of BAE's clients, and established a stronghold in the market and amongst the competition in the market.
Matt Lepkowski has over 25 years of experience in delivering value to organizations by creating new avenues of revenue generation through the strategic use of technology. He started his career in the automotive industry and supported manufacturing as well as engineering groups. Around the turn of the century, he began a role as the CIO of a medical repair management firm. The firm expanded 10-fold in 4 years and that growth was fuelled by aligning IT with strategic imperatives.
Being a highly experienced entrepreneur, Matt Lepkowski understands the business issues faced by clients as well as observes the transformation happening due to disruptive technologies. Matt Lepkowski says, "As healthcare is moving from a fee-for-service model to value-based purchasing, the pressure to improve operations will heighten. With the pandemic and digital transformation, these challenges are accelerating. The positive developments within the healthcare industry will become possible with the help of patient telemetry, telehealth, advanced algorithms, and innovative systems to manage healthcare data. BAE's goal is to continue to help businesses leverage innovative solutions that will improve health outcomes."
It's not whether you get knocked down, it's whether you get up.

Vince Lombardi
Matt Lepkowski gets his inspiration from the situations, people, and clients he meets. BAE enjoyed partnering with a client firm, Sister2Sister in Somerset, NJ. The president of the organization Dorothy Reed translated an unfortunate life experience of breast cancer into the organization it is today.
Matt Lepkowski has seen how disease, like pandemics, can isolate a person and attack things that people place their hope within. Matt Lepkowski says, "It is hard enough to get up each day and face your health challenges, when you suddenly need to navigate the healthcare bureaucracy and switch from providing care to others to needing care, the challenges can be overwhelming. It is inspiring to see leaders like Dorothy fan the flames of community building and at BAE we always try to invest in our neighbours."
Matt Lepkowski's Message for Businesses to Counter Well to After Pandemic Scenarios
The pandemic has brought a few items into focus for organizations around the globe. One is a renewed focus on disaster planning and response. An unfortunate result is countries with fewer productive economic options are increasingly turning away from a global citizenship stance and privatizing cybercriminal enterprises. We have seen a rapid increase in ransomware attacks from overseas. Targeting has broadened beyond healthcare, but health infrastructure remains a key vertical for these criminals. Migrating infrastructure to Azure or AWS is certainly more important for clients to leverage better secure infrastructure as well as significant reviews of disaster recovery plans and restoration target objectives.
In today's world, it can be easy for business owners to get lost or overwhelmed in the digital transformation. Businesses are faced with new challenges with the remote workforce, consumerization of more industries, as well as re-evaluating strategic goals. For those organizations which have survived the economic and strategic hits, having the right-sized technology solutions are more critical than ever. We continue to keep our mission at the forefront of helping businesses to improve operations and achieve an ROI on their infrastructure investment.
To succeed and grow, organizations of all sizes need to adapt to the digital transformation and a huge part of that is leveraging the right-sized technology and processes. Just because something is new or novel it isn't innovative until it successfully meets the strategic objectives of an organization. We have encountered many fads in IT and stay informed about developments. The key to business growth isn't just the latest innovation, it is evaluating whether something will provide strategic improvements for your organization that aligns with your goals to meet your target customer needs.
The Driving Force
BAE is one big family of highly skilled professionals. In the company they celebrate diversity and there is respect for everyone's opinion. The BAE team is comprised of several thought leaders with skills, expertise, and passion for using technology to help organizations succeed. "We are fortunate to have veterans of healthcare IT, as well as pharmaceutical IT in leadership roles", Matt commented.