The 10 Most Recommended Cyber Security Solution Providers in 2021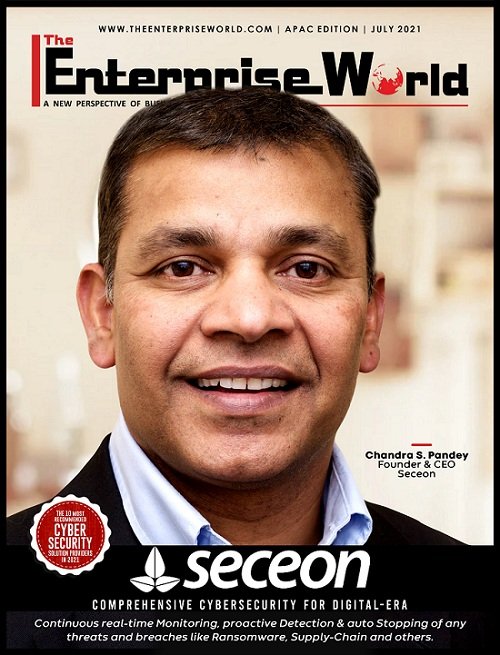 The 10 Most Recommended Cyber Security Solution Providers in 2021 features,
Cyber security is one of the major concerns in today's digital era. With growing attacks and threats to companies/businesses's valuable data and information, rapid and precise solutions are required.
Since the threats are becoming more specialized and centric in nature, one requires comprehensive solutions that are seamless and completely reliable.
Featured in this edition are leading cybersecurity service providers. Their innovation, integration with the latest technology, and comprehensive services provide the best security for your data and digital space.
These companies have earned their rightful reputation and name in the market, protecting countless clients from all types of cyber threats and attacks. These are the 10 most recommended cyber security solution providers in 2021.
On the cover story is the unique and unmatched services of Seceon. Seceon started six years back with a crystal clear goal from day one to develop a comprehensive cybersecurity platform not just a better version of an existing product.
It was not an easy task as they were trying to establish a platform with multiple functionalities and features that require a lot of R&D efforts and resources. With huge experience, hard and smart efforts of highly skilled professionals, and a passion to deliver something unique that lasts longer and to protect businesses, Seceon has marked its firm footing in the cybersecurity sector across the globe.
In a talk with Mr. Ravindra Benday – MD & CEO, of Benelec Infotech. Founded in 1995, Benelec Infotech has developed a comprehensive range of services designed to meet all the security needs of the customers.
They are engaged in providing specialized services in the areas of Cyber Security Strategies, V-CISO Team Program Services, Vulnerability Management, Attack, and Breach Simulation, Microsoft Consulting, Compliance, Risk Analysis and Consulting, Computer Network Defence and Ongoing Management of organization's Digital Security.
In the editor's desk know more about How To Prevent Cyber Risk for the Education Sector.
Read insights from the Co-Founder and COO of Netsach, Emily Jha.
Gain insight on New Age Technology In Fast-Changing Landscape. Anjana Rao, CTO,
IndiaFirst Life Insurance Company Limited, shares her views on use cases of new-age technology such as AI, AR, VR, IoT, etc.
Innovating Futures Of Cyber Security
How To Prevent CYBER RISK For Education Sector
New Age Technology In Fast-Changing Landscape