Hyderabad, the city of Pearls is one of the most important metropolitan cities in India. It is a Capital of Telangana in southern India, Hyderabad makes its place unique with different cultures and rituals. Hyderabad, the name itself tells its history. Hyderabad, the name is derived from two different words. Haydar is an Arabic word for a lion or a name for males and a bad means a city. Hyderabad has a unique importance in Indian history. Hyderabadi lifestyle and Hyderabadi Language are quite famous for their one-of-a-kind beauty.
City of Pearls
Hyderabad Called as 'City of Pearls in India' Because Pearl business in Hyderabad supplying amazing Pearls to not only India but also in World. Hyderabad Pearl Business Booming and so much popular all around the world. The village place called Chandanpet near Hyderabad is a hub for pearl businesses. The almost entire population of Chandanpet is engaged in the delicate art of drilling pearl. This makes Hyderabad, the City of Pearls a globally popular-only pearl business hub and a city of pearls.
India is a country where you can find a different language, a different culture every 7 miles. South India has a rich culture and people over there are bonded with it. Attire, food, and festivals reflect a vast culture.
Hyderabad, the City of Pearls, the capital of Telangana has been a global market since its foundation. It contributes to Telangana's economy majorly as the city trades in different areas. Hyderabad's economy is majorly dependant on Traditional manufacturing, the knowledge sector, and tourism.
The Inception
Qutub Shahi Sultan Muhammad Qutub Shah founded Hyderabad city in 1591 CE, keeping Charminar as the center of the city. After the brief rule of Mughals, the first Nizam concurred with Hyderabad, the City of Pearls. When Britishers were ruling in India, Nizam allied with the British government, and then it became a Hyderabad State.
Hyderabad, the City of Pearls has seen a lot of different rulers. After India's independence, Nizam didn't want to merge his state in India. After India became an independent country the Nizam lost his major power and got weakened due to Telangana Movement.
Indian army attacked Hyderabad state in September 1948 and annexed Hyderabad with India in an operation called POLO. In 1956, the new Hyderabad state got divided on basis of linguistic differences and Hyderabad became the capital of Andhra Pradesh.
Recently in 2014, Telangana a new state formed by getting separated from Andhra Pradesh, and Hyderabad became the capital of Telangana while a new city Amravati became the capital of Andhra Pradesh.
Economically Vital City
Hyderabad, the City of Pearls is popular across the globe as the world's only diamond market. Different areas of businesses in Hyderabad are capable of feeding 68.1 lakh population as per the 2011 census. Information Technology, Biopharmaceutical Industry, Retail, and Real Estate Industry is one of the top business sectors that are helping Hyderabadi people as well as many migrated people from different regions and states nearby to earn their bread and butter.
HITEC City
Information Technology has always been a major employment-providing sector in India as well as the globe. The hi-tech city which is founded back in 1998 and inaugurated by the late Atal Bihari Vajpayee and Chandrababu Naidu. HITEC City stands for Hyderabad Information Technology and Engineering Consultancy City.
HITEC city is made of different industrial areas like Cyber Towers, Hyderabad International convention center, Laxmi Cyber City, L&T Infocity, HITEX exhibition center, CII- Sohrabji Godrej green business center, etc. There are around 1300 IT companies in HITEC city that employees more than 3 lac people.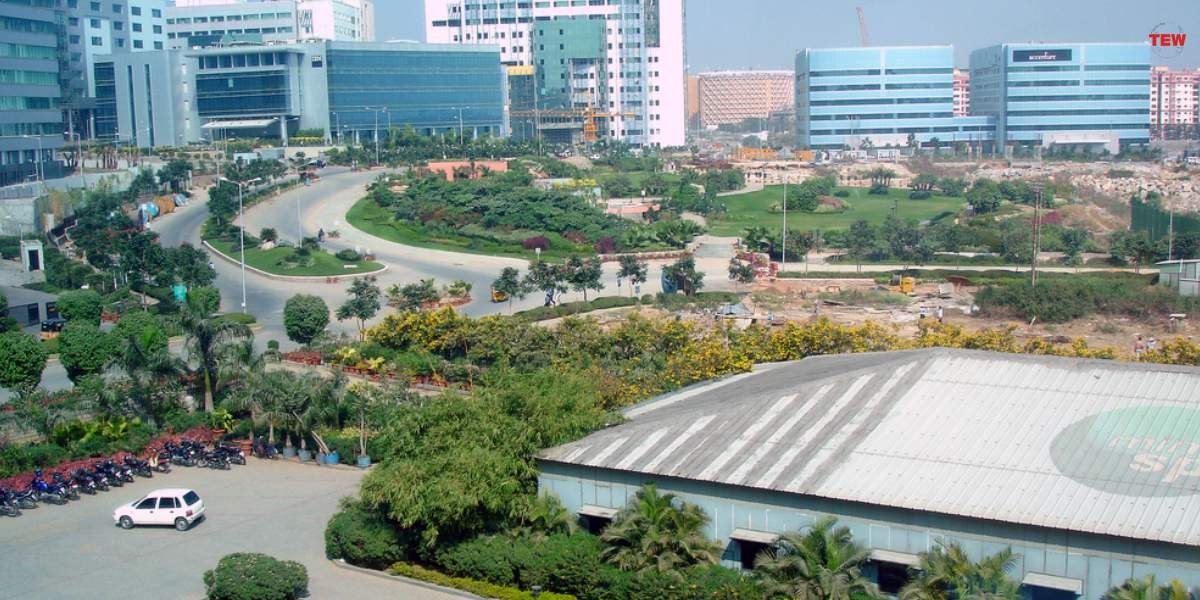 Tech Mahindra, Patni Computers, Motorola, Google, Dell, Deloitte, Texas Instruments, Lanco Global Systems, Microsoft R&D India Pvt. Ltd., Oracle Software India, GE Capital International Services Ltd, Satyam Technology Centre, Silicon Automation Systems, Wipro Technologies Ltd, Tata Consultancy Services, Infosys Technologies Limited are some big IT corporates running their processes from HITEC City.
Genome Valley and Hyderabad Pharma City
Hyderabad is quite famous in India as well globally for its contribution to the pharmaceutical sector. Genome Valley is a Bio-Technology, Bioinformatics, Biopharmaceutical, vaccine, and clinical industries sector from where many MNC's and Indian pharma companies run their operations. Companies like Dr. Reddy's Laboratories, Johnson and Johnson India, Aurobindo Pharma, Novartis Pharma India, Biocon, Biological E. Limited, Mylan, United States Pharmacopeia are some of the big ventures employing in Hyderabad.
A Hyderabad Pharma City is a pharmaceutical park being established near Hyderabad City. It's going to be one of the huge pharma parks in the world spread around 19330 acres. Hyderabad Pharma City will employ more than 170000 people from different areas of India.
Tollywood
Hyderabad, the City of Pearls is a headquarter of the Telugu Cinema Industry which is also said to be Tollywood. The Telugu cinema industry helps more than a billion people to earn for their basic needs. Telugu films, as well as Hyderabadi language films, are the main source of income in the Hyderabadi film industry.
A wide campus of a few thousand acres of Ramoji Film City established near to the main city of Hyderabad, the City of Pearls is one of the top tourist attractions as well as it is a place where many Telugu, Hindi, and other language films are produced. It is a popular place for tourists as they show how the filmmaking process runs and for amusement parks inside.
Hyderabadi Culture
A city lives a history with an advanced lifestyle. Hyderabadi people are bounded with their culture and their traditions. The city has a lot of history. Tradition and culture are what history leaves behind. Hyderabad is a city where people of all religions live together with the piece.
Urdu mixed Hindi with special Hyderabadi accents and Telugu are the main local languages. Telugu people and Hyderabadi Muslims are two major main communities living in the city long together with peace and harmony. Traditional attire like sherwani and kurta pajamas for men and salwar kameez, Khar dupatta for ladies is widely used in Hyderabad, the City of Pearls. In a fun way, Hyderabadi people are called Nawabs as they love to live a life king size and peacefully.
The History Trails
Hyderabad has always taken care of historical monuments that's why almost all of them are in good condition. A city that takes care of monuments that live the history learns from history and leaves the world behind. Hyderabad, the City of Pearls has many monuments and tourist attractions in the city and the city outskirts. The first one is Charminar, the heart of the city established as a mosque long back in 1591 as the city center. It is one of the well-known city structures across the globe.
Tourists rush to Charminar as there is a huge market for all. Ibrahim Quli Qutb Shah in 1563 made a heart-shaped lake called Hussain Sagar is another attraction for tourists. The huge statue of Gautama Buddha delivers the message of peace and good Karma. Salarjung museum on the southern banks of the Musi River is a world-famous museum that showcases the different historical weapons, attires, etc.
A vintage Kuku clock in the museum is the biggest tourist attraction. Golkonda fort which was the early capital city of the Qutub Shahi dynasty is the pride of Hyderabad. It has an 11 Km outer protection wall. Hyderabad's one of the important employment providing sectors i.e. tourism runs on these monuments as well as other tourist attractions like Ramoji Film City, Snow world, etc.
A Foodie City
Monuments, attire, language, and most importantly food is the thing in which the culture and tradition of the place reflect. Hyderabadi Muslim food culture, as well as the Telugu south Indian food culture, are followed in Hyderabad. Hyderabadi cuisine is also called the Deccan Cuisine which is a perfect blend of Mughal, Turkish, Arabic, Telugu, and Marathwada cuisine. It will be the biggest sin if somebody is writing about Hyderabadi cuisine and miss to mention about Hyderabadi Biryani. Aah! the name and the thought itself are mouth-watering.
A particular food gets popular and most likely by people depending on the different parameters. It is said that the eyes taste the food first with color, then the nose tastes the fragrance and then the tongue gets the chance to taste it. Hyderabadi Biryani's greenish color, that aroma, and the perfectly mixed taste of different spices with rice and the chicken or mutton is the best thing to have in Hyderabad.
Kebabs, Lukhmi (a samosa kind dish stuffed with chicken, mutton, or biff khima), Hyderabadi Haleem, Tahari are other famous Hyderabadi Muslim dishes. In Telugu food culture, curd rice with lemon pickle, Idli, Dosa, Wada sambar is amongst the most consumed and famous dishes in Hyderabad, the City of Pearls.
One should visit Hyderabad, the City of Pearls once to explore South Indian history as well as to grab business opportunities in Hyderabad to expand business in South India.

More From The Enterprise World