10 Most Inspiring Business Leaders To Watch Out 2021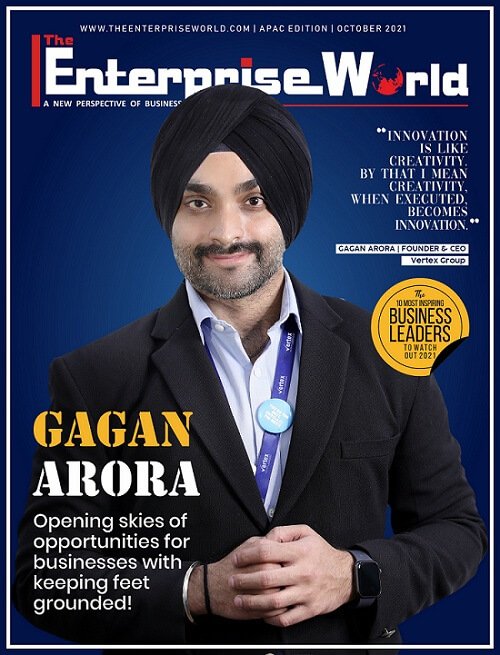 10 Most Inspiring Business Leaders To Watch Out 2021 features,
A cover story of Gagan Arora, Founder, and CEO of Vertex Group. Vertex Group provides products and services that are unique, differentiated, and standing up to their legacy in the technology domain by offering new-age techno-powered solutions. Also, it is an organization where the majority of its focus is put to drive amazing innovations in products and services along with refining the quality of our work from time to time.
A profile of Kirti Chandel, CPO of WooHoo. The company is among the very few companies worldwide that design and builds a fully customizable and secure all-in-one Voice Assistant device.
Their VA is built in collaboration with HARMAN (a Samsung company). They recently launched the WooHoo® X-Series which features a JBL by HARMAN speaker, a touch-based display, and an HD Video Conferencing Camera.
With a strong focus on Enterprise, they built a solution that delivers on conversation privacy, customization, and an enterprise-based architecture enabling enterprises to mass deploy WooHoo® X-Series Devices whether in Hotel Rooms, Offices, Facilities, etc.
A profile of Sumit S Sengar, Business Head of Sparx IT Solutions—a company that is an ISO:9001, ISO 27001:2013, NASSCOM-recognized IT company delivering software solutions based on a wide range of technologies.
The company dominates the industry with its position as a global leader in the digital technology area. Sparx's solutions have unparalleled results and experience as the company and its solutions focus on maximum smoother workflow and best results for its clients with the most innovative technologies at affordable prices.
Their solutions and work showcase their rich domain knowledge and a flexible & agile workflow. The company provides cutting-edge IT solutions to modernize business operations and empower clients to reach out to potential customers.
Team Sparx always engages in the latest technology trends to make their deliverables more future-oriented, efficient, and productive for clients.
An exclusive interview of Nishir & Maullik Gordhandas, CEO of NWDCo Software Solutions LLP. The company offers solutions to help its clients automate and upsurge their business.
NWDCo Software Solutions LLP is a leading Cloud Software Development company and offers innovative business solutions to help its clients scale up their business or automate their business processes.
And Sankaranarayanan Raghavan, CEO of IndiaFirst Life shared his expertise on "Technology Can Act as a Safety Net to Insurance in India".
An Inspirational Woman Leading The Future Of Voice AI In Enterprises
Transforming Businesses Through Sparx IT Solutions
NISHIR & MAULIK GORDHANDAS
Resourceful Leader Of The Cloud Software Industry
Technology Can Act As A Safety Net To Insurance In India