Where are you planning to go on your next vacation? If you are looking for an adventurous trip, Interlaken in Switzerland is waiting for you. It welcomes you with a prolific scenic beauty surrounded by the Alps Mountains. The city offers adventurous and stunning experiences that will blow your mind and fill up your holidays with unforgettable memories.
The fresh and turquoise waters flowing from the mountains will energize your soul and leave your mind with peace. The heart-pumping activities are ready to give you the adrenaline rush and melt down the stress. In this article, you will read about various things you can do at Interlaken in Switzerland, the best time to visit the city, as well as the best hotels to stay and enjoy your holiday.
Things to do at Interlaken
(Source: planetofhotels)
Interlaken in Switzerland is a heavenly beautiful town nestled amidst the shimmering Lake Thun and Lake Brienz, waiting to leave you awestruck by its beauty and charm. Being the adventure capital of Switzerland, you can try various breathtaking activities in Interlaken. Some of them are as follows:
Canyoning: Interlaken in Switzerland is famous for canyoning. When a river runs through a canyon, you can enjoy swimming, sliding, rappelling, etc. in its course. Canyoning gives you the world-class experience of thrilling adventure sports. It even has 2 different canyons that offer different difficulty levels; Chili Schliere and Grimsel. Moreover, you can enjoy exciting scenic views of the Swiss Alps.
Paragliding: If you are looking to get some adrenaline rush and feel like a free bird in the open air, you must grab an experience of paragliding at Interlaken. Tandem paragliding flight offers a skilled, trained pilot to ride along with you so if you are a beginner, you do not have to worry about anything else.
Hiking: There are several prime hiking spots at Interlaken in Switzerland. Jungfrau region is the ideal spot for hiking activities. You can choose your favorite hiking spot depending on the accessibility and kind of stamina you have. Harder Kulm, 50km far from Interlaken, is one of the best spots for hiking where you will be rewarded with wonderful views of the town, the twin lakes, and the mountains beyond.
Skydiving: You will encounter a breathtaking adventure while skydiving at Interlaken in Switzerland. Jumping out of a plane or helicopter is an unbelievable experience for every traveler in Interlaken. You probably don't need prior training before skydiving here. A trained professional will harness you with proper guidance. Hence, you just have to relax and enjoy this exciting activity.
Bungee Jumping: Bungee Jumping is one of the most famous outdoor activities at Interlaken in Switzerland. Stockhorn bungee is a well-known site for bungee jumping, where you are lifted 134m in a gondola, and the scenery from above is truly insane. Be ready to experience a plunge from above and a free-bird fall from the tranquil mountains and the lake below. You may feel how early it ended but the memories will stay forever.
Kayaking: Kayaking is the best peaceful experience on the water and an opportunity to go close to nature. You can enjoy a relaxing kayaking tour between the late afternoon and early evening. Certified guides are there to help you with paddling skills and exploring the waves below cliffs. At the end of kayaking, you will realize how your every tension melted down with every ripple on the surface of the water.
Train Ride to Jungfraujoch: Boarding a train on top of Europe is one of the popular activities at Interlaken in Switzerland. Being one of the highest railway stations in Europe, Jungfraujoch is located at 3,454 meters high. The train starts from Interlaken and reaches Jungfraujoch by stopping at Kleine Scheidegg and Wengen on the way. The entire journey makes you witness the astonishing and stunning scenic beauty of nature which you will rarely find anywhere else.
Rock Climbing: If you haven't had an exhilarating experience for long, rock climbing is for you. Wearing a harness and clipping it into a string wire while hanging it off the wall is a breathtaking memory you can have at the Interlaken rock climbing activity. There are friendlier roots for beginners and certified guides are there to help with appropriate guidelines. You can choose between half-day climbers and full-day climbers according to your convenience.
The Best Time to Visit Interlaken in Switzerland
(Sourc: earthtrekkers)
Interlaken in Switzerland is popular for all the outdoor activities it offers to tourists, and therefore, good weather plays a crucial role. It is situated in the heart of the Alps Mountains and the weather can reach up to an extreme level sometimes. Before embarking on your tourism journey at Interlaken in Switzerland, you should have a clear idea about what is the best time to visit the place and execute adventurous activities.
As the research says, it is advisable to take a tour of Interlaken in the summer, however, if you are looking to do paragliding and skiing, winter is the most comfortable season. June to September are the ideal months to visit Interlaken when the temperature is between 18 to 20 degrees Celsius. Talking about the nightlife in Interlaken, in summer, the hotels and restaurants arrange various games at night in which you can have fun with your friends and family.
Best Hotels to Stay at Interlaken in Switzerland
Interlaken is full of adventure and there are various activities you can enjoy on your trip. If you want to stay in the heart of the city which is equally accessible to all adventurous spots, take a quick look here:
Hotel Bellevue: It is one of the historic hotels located at Interlaken in Switzerland, serving its guests since 1801. Hotel Bellevue is situated with a backdrop of a lake and mountains. Though it has historic touch in its architecture, the hotel focuses on a modern style of furniture with boutique details. Here, you have the opportunity to stay at cottages or apartments as well.
Hotel Du Nord: Staying at Hotel Du Nord is a great value for money since it is one of the most expensive hotels in Interlaken. To enjoy the whole property, you can get a bike or bicycle on rent and ride in the area. The hotel offers complimentary breakfast and free parking as well as transport tickets to roam around in the local area. Its rooms are simple and cozy with whitewash and an upgraded balcony.
Hotel Berghof Amaranth: The hotel provides a complete mountain view from the window of every room. There is a heated outdoor pool and a beautiful garden with different variety of plants and flowers. The hotel is located just 10 minutes away from the charming Wilderswil village. You have to book the rooms in advance as the hotel stands at the top of the list of travelers.
Jungfrau Hotel: The hotel is situated 3 km from the central Interlaken. You will experience a stunning mountain view with a homely feeling in the cozy rooms of the hotel. The hotel has a chalet-style decor in addition to polished rooms and complimentary breakfasts. Moreover, the train station is just two minutes away from the Jungfrau Hotel.
Hotel Krebs Interlaken: It is a four-star hotel situated within walking distance from the market that hosts branded food in its restaurant. One of them is a Swiss restaurant where you can enjoy authentic local food with a continental touch. The hotel offers posh but simple rooms and a warm bar that has modern and traditional mixed decor. The rooms have minimalist furnishings that make your stay relaxing.
Hotel Interlaken: It was built in 1332 as a public hospital. Over the years, it has become one of the most luxurious hotels to stay and ranks high on the list of celebrity guests. Hotel Interlaken offers beautiful rooms with up-to-date services and an Alpine atmosphere. There is a rustic bar along with pine-clad walls and a stroll.
Hotel Beausite: It is six minutes walk away from the Interlaken-West train station. To enjoy a pleasant stay, the hotel provides everything you need. Its rooms are equipped with mini-fridges, coffee machines, and an onsite bar in addition to bistro cafes. The hotel could be an excellent option for those traveling on a budget and want most of the money. International restaurants and bus stops are just a few minutes walk away from the hotel.
Interlaken Culture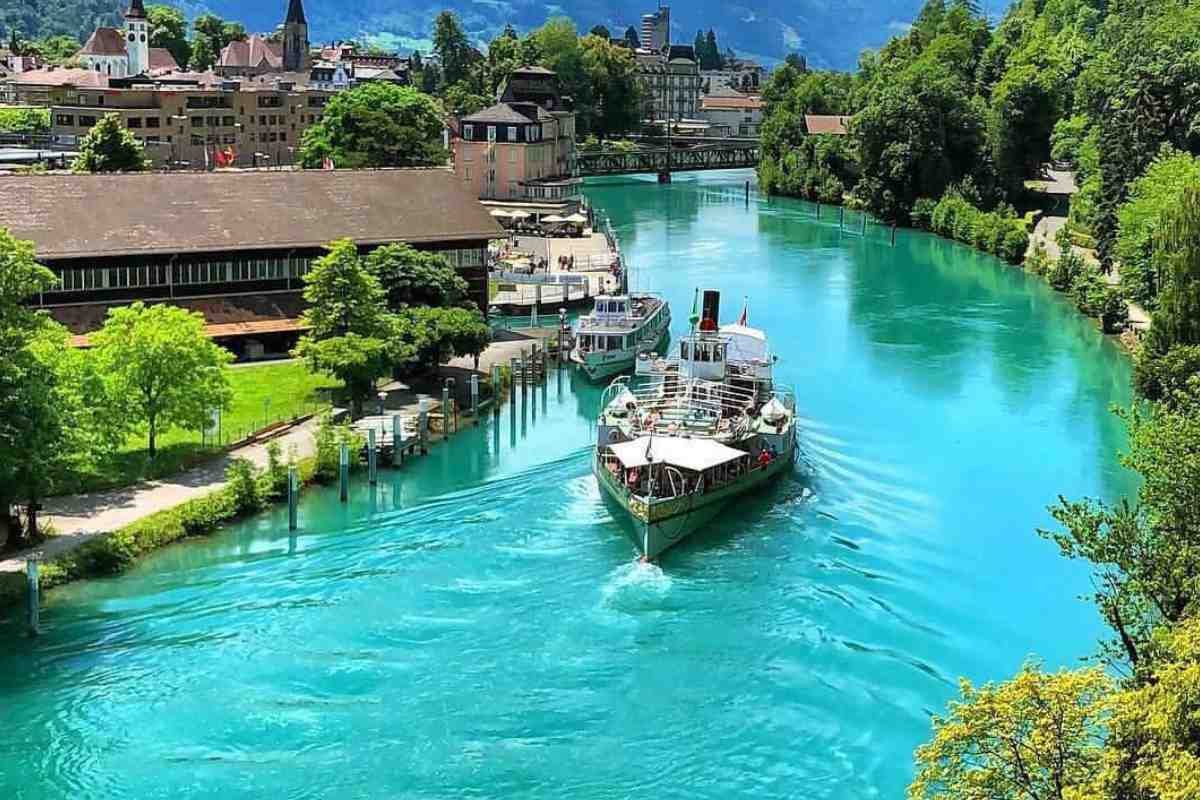 (sources: bojanreisen)
Interlaken is a modern tourism-centric town with a strong identity in Swiss culture. You will notice music events in all seasons of the year including Snowpenair, a concert at the foot of the triple peaks of Eiger, Monch, and Jungfrau. Interlaken celebrates New Year which mentions spectacular views of fireworks. Furthermore, there is a worldwide famous International Street Artist Festival in Interlaken. It observes a vibrant mix of artists, who come from different countries over the world to showcase their talent.
Interlaken hosts International Jungfrau Marathon held around September. The famous Unspunnen Festival is a major attraction for international tourists and a great way to know about Swiss culture by being a part of it. It is a golden opportunity for traditional vocations to represent their talent in front of an international audience.
In conclusion, Interlaken in Switzerland is a truly remarkable destination that offers an interesting combination of nature and adventure. It is the best playground for adventure-loving tourists who will love to experience thrilling activities. The destination will capture every tourist's attention. So pack your bags, make a list of things to carry, book your tickets and let the Interlaken weave its magic on your soul.