Have you ever heard of this phrase, "Good vibes happen on tides"? This is the exact reason why you should take a day out to visit an island and spice up your mood. Your vacation list may include historic places, mountains, forests, etc. But we know your wandering soul craves a lavish stay on the islands.
Sicily in Italy is surrounded by a luxurious aura that casts a magical spell for travelers. It offers exotic flora and fauna in addition to mesmerizing sunset views and moonlit walks on the beach. In this article, you will explore every basic detail about Sicily in Italy to help you plan your next vacation.
Fascinating Historical Background
Being one of the largest islands of Italy, Sicily is located in the heart of the Mediterranean Sea. It has always been welcoming new cultures due to its strategic position that enriched the history of the island. Greek and Roman Eras are the most iconic parts of the history of Sicily. The island was deeply influenced by Greek settlements and left a special mark on its commerce and architecture.
(Source-thethinkingtraveller)
During that period, commerce was blooming and architectural pieces were impeccable examples in the world. Some of them are in Agrigento's Valle di Templi and the rise of the Roman Empire enhanced the existing architectural beauty of the island. Sicily was the center of a slave rebellion in its ancient period and Christianity first appeared here.
A few years later, Arabs and Saracens made significant changes to upgrade the society of Sicily. During the Norman dynasty, European interference and governance became part of it and the Catholic Church gained supremacy over Sicily. All above mentioned foreign invasions in Sicily led to the addition of something new in Sicily and despite all the disturbances the island emerged strong.
Things to explore in Sicily
There is so much to see and do in Sicily in Italy. It has the best places to visit in Europe. Here is the bucket list of things you can do in Sicily that will tempt you to have the best adventure there.
Tour the Historical City of Palermo: Being the capital of Sicily in Italy, Palermo is a 2,700-year-old city that is full of architecture and culture to show its visitors. It is famous for street food and you can have a stunning walk in the city during the evening and shop for antique things to decorate your house. You can catch a show at Teatro Massimo and visit the beach of Mondello while wandering in the city.
Hike Mount Etna: It is a volcano in the city, highest in the Europe, and the most active in the world. Mount Etna National Park spans over 220 square miles and 20 towns and you will experience the variety of barren areas made out of lava. Vineyards, woods, volcanic craters, woods, etc. are other places to explore near Mount Etna.
Dinner in Cave: Putia Dell'Ostello is a restaurant in a cave in Catania. Get a table at the center of the restaurant to experience a stream of cold water while having a hot and spicy dinner in the cave. Moreover, you can enjoy your favorite drinks there.
Swim in Alcantara Gorge: It is a quite popular spot among locals during summer. It offers an adventurous climb over the Gorge and enjoy swimming at the bottom of it to feel fresh and energetic. Furthermore, canyoning can give you an adrenaline rush in a few seconds.
Visit the amphitheater in Taormina: The amphitheater in Taormonia is an absolutely interesting place to visit in Sicily. You can take the bus from the metro station and visit some boutique stores there. If possible don't forget to watch a show at the world-famous amphitheatre.
Have a street food tour: If you are looking to taste the best Italian street food then Sicily is the best choice for you. Palermo and Catania provide lip-smacking street food dishes for travelers as well as locals.
Witness the traditional Sicilian puppet theatre: As a part of the UNESCO Intangible Cultural Heritage List, you can witness a traditional Sicilian puppet theatre in a local museum.
Stopover Old Towns: Being an ancient place, Sicily comprises old towns like Noto, Modica, and Ragusa. The Ragusa architecture is stunning, Modica is famous for its raw chocolate, and Val di Noto is a UNESCO world heritage site.
Say hello to the flamingos: Flamingos migrate from Africa to Sicily in winter. In the salt planes of Trapani and Saline di Priolo, you can enjoy the picturesque view of them.
Scuba-diving in the crystal clear waters: If you skipped scuba-diving in Sicily then you did nothing special there. You must enjoy such adventurous sports in the crystal clear and warm waters of Sicily in Italy. The Aegean Islands, Taormina, Naxos, the Aeolian Islands, Lampedusa, and Capo Boeo are waiting for you to have scuba-diving.
A day out in Val di Noto (Noto Valley): It is a collection of lovely late Baroque towns in southern Sicily that are surrounded by the waves of the Ionian and Mediterranean Seas. The lavish late Baroque décor of its palaces is extremely spectacular, and it was designated as an Italian UNESCO monument in 2002.
The region also reveals a more ancient past through theatres, temples, and even necropolis and prehistoric villages from Magna Graecia.
Best Hotels in Sicily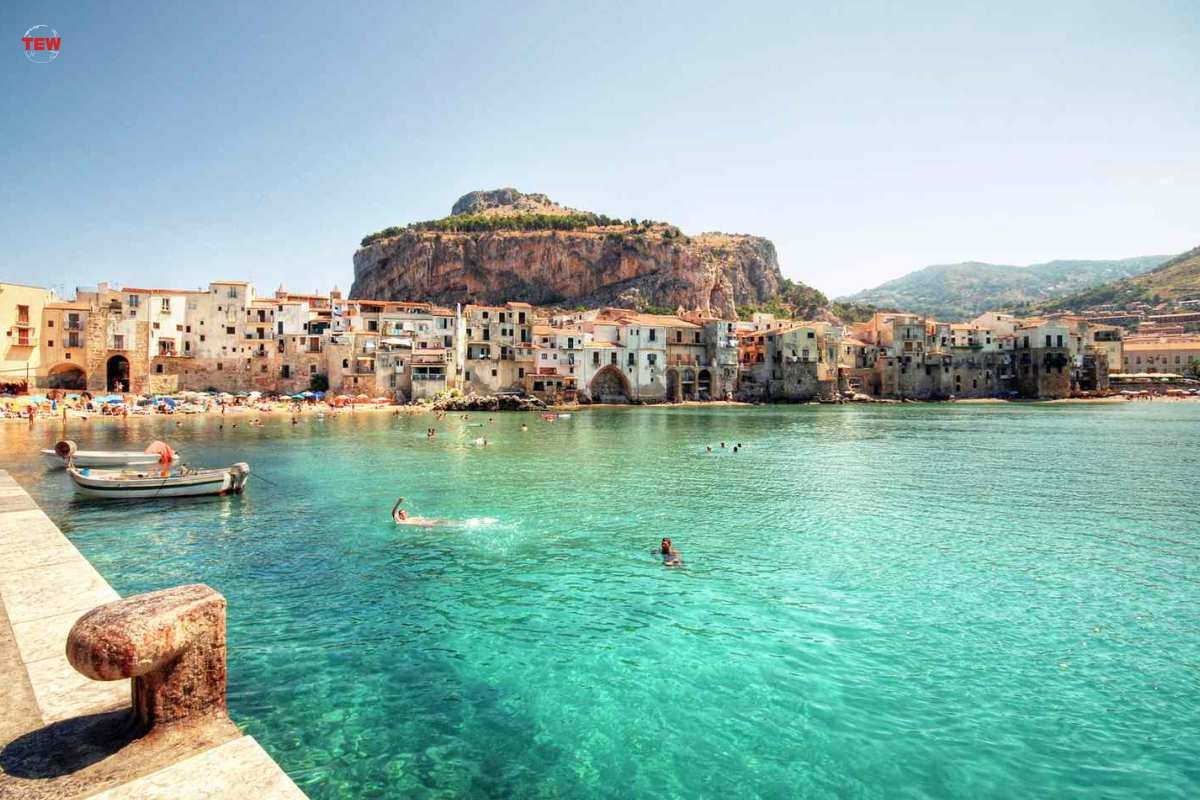 (Source- thoughtco)
As mentioned above there are numerous exciting things to do in Sicily and you can hit inland to explore UNESCO sites. To explore the island, you should be aware of the best places to stay and relax. Here, we have got the list of the best hotels in Sicily where you can enjoy the spectacular scenery of Sicily.
Locanda Don Serafino: You may find Locanda Don Serafino among the labyrinth of narrow alleyways and baroque churches of Ragusa Ibla, a UNESCO World Heritage Site. It is one of the finest restaurants in Sicily and hosts elegant and spacious rooms for guests.
Hotel Villa Athena: It has an astounding location in the area of the magnificent temple of Concordia in Sicily. The hotel is home to a 300-year-old villa which is set in pretty landscaped gardens. It grants an amazing view of the valley of temples.
Sikelia Luxury Hotel: If you want to experience a beautiful combination of simple monastic architecture and a striking modern interior then Silkelia is the right choice. It offers gorgeous palm-lined views while having a stay in sleek suits.
Belmond Villa Sant'andrea: The phrase "piece of paradise on the earth" would have been made for Belmond Villa. It is a five-star property that features 71 elegant rooms and it treats guests with freshly-made Sicilian sweets.
Capofaro Locanda & Malvasia: Here, each room opens onto the sea-facing view. The chefs treat their guests with a sun-filled gastronomic experience which is a charming merger of sweet and salty food dishes.
Mesmerizing Culture of Sicily in Italy
Sicily in Italy is one of the foremost escapes for travelers that can contribute to stunning experiences. It makes you live with the rich culture and history while managing your stay at places surrounded by turquoise waters of paradise. There are a few facts about the culture you will love:
(Source- mucem)
Sicilian Cuisine: Horse is a dish that is more popular than beef and meat and seafood is the most popular choice for locals. Cannoli is a popular sweet dish throughout the island. Ricotta cheese-filled fried pastry is another famous dish.
The Opera dei Pupi: Sicily is home to the 'Opera of Puppets' which is translated as the Opera dei Pupi in the Italian language. It generates romantic poems that belong to the 13th century and Palermo is considered as the greatest hub of theatre tradition.
Festivals: Sicily is acclaimed for its unique culture that majorly involves festivals. Christmas holidays are celebrated with Presepe Vivente where people come together and recreate the birth of Jesus. Open street festivals, New Year celebrations, etc. give the splendid feel of the festive season.
Sicilian language: Sicily in Italy does not have its language however, it is blended with Arabic, Hebrew, Byzantine, and Norman languages. It sounds different from the formal Italian languages with original Roman roots.
The Most Convenient Time to Visit Sicily in Italy
Siciliy has the Mediterranean Climate which is great for travelers all around the year. In the summer, there is high temperature throughout the whole day and it is the most appropriate time to hit the beach. During the autumn months, there is low sunshine and plenty of rainfall which is again a good time to visit Sicily town and explore historic monuments. In winter months, the temperature is mild and happens some occasional rainfall. You can have a quiet getaway to explore Sicily in Italy during winter. In short, April to October is the best season to visit Sicily and have fun with your loved ones.
 (Source- bucketlistly)
Sicily is like no other island you will ever visit. Here, you can hike, swim and enjoy plenty of water sports on the beachside. It has something for everyone as foodies can enjoy pistachios and almonds, and wanderlusts can visit some of the oldest medieval towns in the world. We hope you enjoyed reading our article and received paramount insights about Sicily. They will help you during your journey to Sicily.