Lord Rami Ranger's story is a fascinating one, which is not only interesting but also inspiring. Rami is a posthumous child who was born two months after the assassination of his illustrious father, Shaheed Nanak Singh (www.shaheednanaksingh.com ) who was against the breakup of India based on religion. He said, "India's diversity was like the colors of a rainbow, its charm and beauty would diminish if one were removed."
Unfortunately, the fanatics could not appreciate his vision of a united India, free from rivalry and he was assassinated whilst trying to save 600 students at DAV School, Multan who were caught up in communal riots. The students' lives were saved at the loss of his own. He was martyred for the sake of Hindu Muslim unity and religious tolerance in India.
Lord Rami Ranger, having lost his ancestral home and breadwinner started life in a refugee camp in Patiala, India with his mother and seven siblings. He was brought up by his remarkable mother who was a teacher. She could not give him much financial support but instilled the right values in him which became the bedrock of his success. As they say, the rest is history.
In 2005, Rami was made a Member of the Most Excellent Order of the British Empire for his services to British Business and the Asian Community. His continued contribution and achievements in business, community affairs, and philanthropy were further recognized when H.M. The Queen elevated his Queen's honor from an MBE to a CBE (Commander of the Most Excellent Order of the British Empire) in 2016 New Year's Honours List. He is a man of vision and works tirelessly to raise the profile of Asians in Britain and he has launched many groundbreaking initiatives to strengthen democracy and social cohesion in Britain.
Lord Rami Ranger has been awarded two honorary doctorates including a Doctor of Letters (D.Litt) which is highly regarded in the UK from the University of West London in July 2016. His first was awarded by Preston University in the USA for his contribution to the business.
Lord Rami Ranger co-founded the British Asian Conservative Link, www.bacl.net, to make Asians more publicly and politically spirited and to encourage them to take part in the decision-making process in Britain. Due to the BACL's hard work, the Conservative Party, which previously had no Asian representation in the House of Commons, now has 3 Secretary of State and a number of MPs of Asian origin.
Rami, along with the other members, organized hundreds of high-profile events to bring Tory leaders to face to face with the Asians and the Asians face to face with the Tory leaders so that their perceptions of each other could be corrected. The Asian perception was that the Conservative Party was the Party for the rich and elite and many in the Party were unaware of the importance of the Asian vote.
Lord Rami Ranger's Business
Today, Rami is the Chairman of Sun Mark Ltd and Sea, Air & Land Forwarding Ltd, two of Britain's fastest-growing companies. They both sustain thousands of British jobs with their export activities. Both of his companies have received prestigious awards from Her Majesty the Queen. These include The Queen's Award for Export Achievement in 1999 and the Queen's Award for Enterprise in International Trade for an unprecedented 5 consecutive years; 2009, 2010, 2011, 2012 & 2013.
No other company in Britain has received this accolade to date and Sun Mark has set a new British business record. The then Prime Minister of the United Kingdom, the Rt. Hon. David Cameron MP presented the 5th Queen's Award to Rami personally at his offices. Overall, Rami has been recognized by Her Majesty the Queen eight times; six times for business and twice personally for community service.
Lord Rami Ranger's company— Sun Mark Ltd, has won an unprecedented five consecutive Queens Awards for Enterprise in International Trade in competition with Britain's best. No other British company has this accolade to date. The company sustains thousands of British jobs with its export activities to over 130 countries, and consequently, supports thousands of British jobs.
Serving the Community
Lord Rami Ranger actively fought against the usage of pictures of Hindu deities on t-shirts, carrier bags, and toilet seats by hosting the first-ever Hindu Ball to raise awareness among the government about the harm caused to the Hindu community by the frivolous representation of their deities. Each government department now has a Hindu advisor who advises the government on Hindu values.
He also made history by bringing British Indians and Pakistanis together for the first time in history to celebrate their shared 60th Independence Day in harmony in order to enhance social cohesion in the United Kingdom. His slogan was that we now have a single country and a single Queen, and as a result, we have united. This is a topic that he is passionate about, and he says he will continue to look for methods to bridge the gap between the two groups.
Lord Rami Ranger founded the British Sikh Association in order to increase the visibility of Sikhs in the United Kingdom and to prevent extremists from distorting our Gurus. The Khalsa Brotherhood was founded to unify Indians in their battle against the Mughal Emperor Aurangzeb's oppression and injustice, not to split apart India. Sikh Gurus emphasized the need of accepting, respecting, and, if necessary, defending variety.
Additionally, Lord Rami Ranger is a Fellow of The Prince's Trust and served on the Prime Minister's Apprenticeship Delivery Board as an Apprenticeship Ambassador for the Food and Drink Industry. Also, he is a Patron of Combat Stress which supports the mental health of members of the illustrious Armed Forces and supports many other community initiatives.
The Hindu Forum Britain
Lord Rami Ranger is also a founder member of the Hindu Forum Britain, www.hfb.org.uk, which was set up to unite all the different Hindu Organisations in Britain under one umbrella so that they could project a cohesive voice to British government departments. He felt that it was essential for the public to know about the Hindu religion otherwise they would continue to portray Hindu deities in derogatory ways such as on carrier bags, shoes, t-shirts, etc.
This would also damage the self-esteem of Hindus. He organized the first-ever prestigious Hindu Ball at The Hilton Hotel, Park Lane in London to celebrate Hindu culture and its contribution to enriching British society. The Ball helped the local population understand more about this peace-loving community and helped prevent people from using images of Hindu deities frivolously.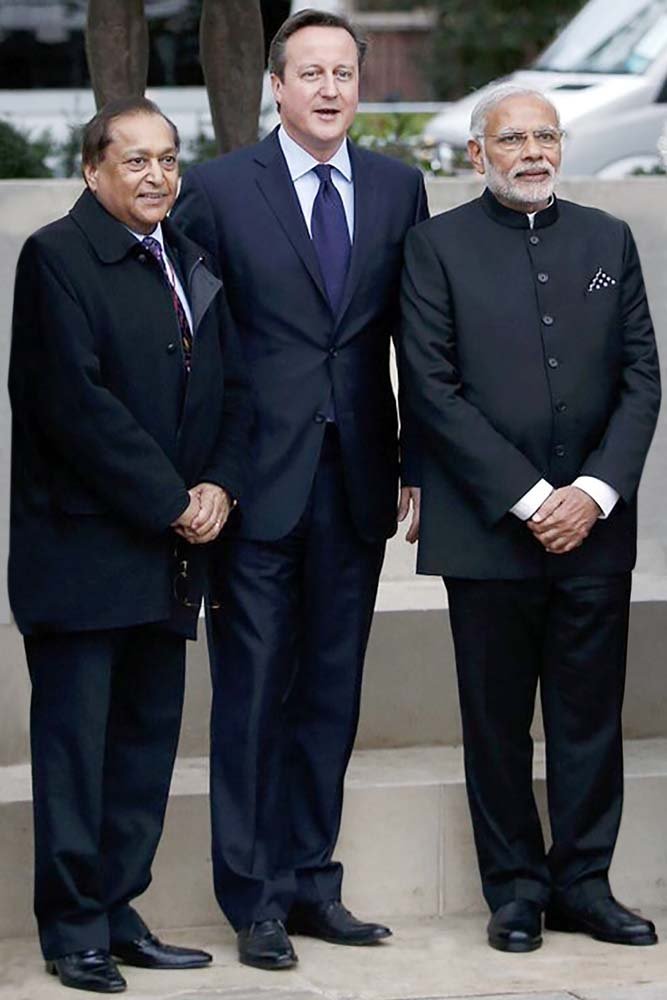 The Pakistan, India & UK Friendship Forum
Rami set up the Pakistan, India & UK Friendship Forum, (www.pakindiafriendship.com), soon after the 7/7 and 21/7 bombings of the London Underground by British citizens of Pakistani origin. He realized that we have to make a conscious effort to build bridges with the Muslim community which was feeling isolated and dejected. He realized that Britain could not move forward by leaving any section of her population behind.
Lord Rami Ranger recruited prominent Pakistanis in Britain and launched the Pakistan, India & UK Friendship Forum. The Forum proved to be an instant success and thousands of Pakistanis and Indians are now celebrating what unites them in Britain. He organized, for the first time ever anywhere in the world, the joint Independence Day celebrations of India and Pakistan in London, and the process made history. This proved to be a watershed in the relationship between the people of India and Pakistan and now they are openly talking about peace between their two countries which they had not experienced since their Independence in 1947. The result can be seen in initiatives such as the opening of the Kartarpur Corridor in 2019.
Lord Rami Ranger's Donations
Lord Rami Ranger believes in supporting education and helping to provide better facilities for students. He has a clear message on this and says that if his mother had not been educated, he would not be where he is today. To support his notion, he donated £250,000 to The London South Bank University to set up a fund for Entrepreneur Excellence and to establish the Lord Rami Ranger CBE Centre for Graduate Entrepreneurship which provides a hub and workspace for students and graduates on enterprise programs. The center was opened by The Rt. Hon. Theresa Villiers, Secretary of State for Northern Ireland. Please click on the link to view the video: https://www.youtube.com/watch?v=qziYI5dcuDA.
Lord Rami Ranger has also donated £200,000 to the University of West London towards a new group pavilion in its campus library to enhance facilities for students and to develop student accommodation.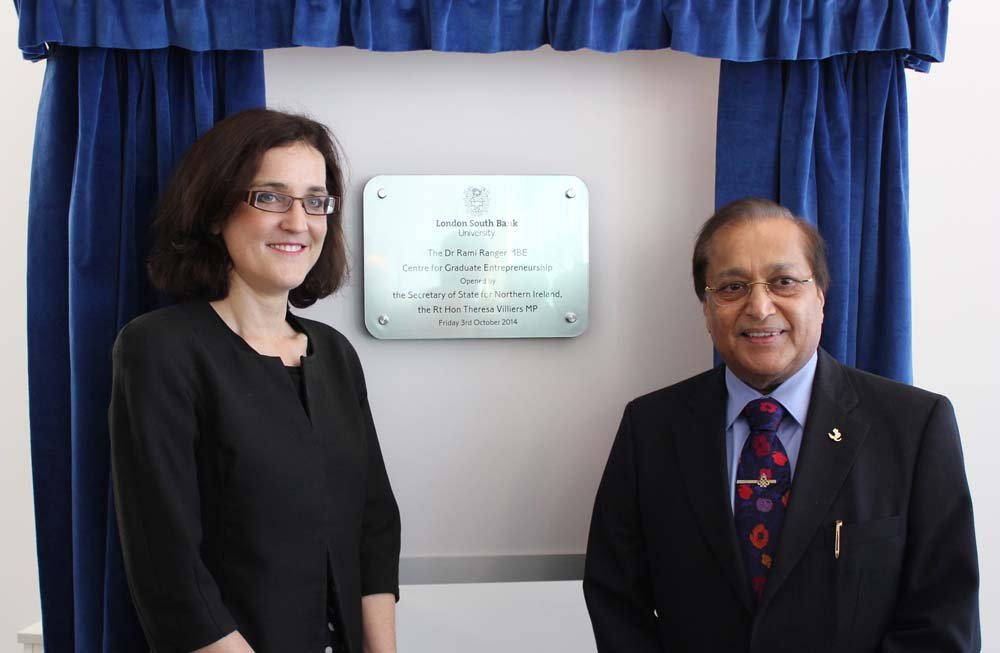 Lord Rami Ranger donated £100,000 to the Gandhi Memorial Foundation Trust which erected a statue of Mahatma Gandhi in Parliament Square, London. Rami was quoted as saying "The world owes Gandhi Ji a huge debt of gratitude for liberating one-fifth of mankind through non-violence, thereby creating a better world". Apart from this, Rami supports many other worthy causes.
As a Patron of the 'Great Walk' undertaken by the Chairman of the India Association UK, he helped raise £100,000 for research into the cure for AIDS and cancer at the Northwick Park and St. Mark's hospitals in Harrow. He donated £100,000 to Thames Hospice in Maidenhead, £150,000 to The Prince's Trust, £50,000 to Cancer Research UK, £25,000 to Combat Stress, helped raise £25,000 for Help the Heroes along with £20,000 through organizing a walk for the heart and stroke campaign at Northwick Park Hospital, Harrow. He has further donated £125,000 to the Indian Gymkhana to build accommodation for athletes.