The Micro, Small, and Medium Enterprises (MSMEs) sector is the most dynamic sector which is contributing to the growth in GDP, as well as it is also providing a huge amount of employment. Due to the Corona Virus pandemic, this sector is running through its hardship and fighting for its survival. Our Govt of India has initiated the MSME sector to be within the purview of the Atma-Nirbhar Bharat Abhiyan to survive its most contributed sector.
In this scenario, Mr. Ashok Mittal (CEO & Founder), Prest Loans is supporting this movement by providing customized solutions to support the MSME sector by understanding their financial needs which can help the businesses to sustain in this difficult time.
In a talk with him, let's discover more about 'Prest Loans' and his thoughts on the current industry scenario.
Tell us about Prest Loans
'Prest Loans' is a non-Banking Finance Company registered with RBI as Lord Krishna Financial Services Ltd. We are a new-age FinTech company with the mission of providing fast, flexible, and transparent loan products to the business and MSME sector in India. Prest Loans provides easy access to credit to small businesses into the trading, manufacturing, or services sector including wholesaler (B2B) and retailers (B2C) units. We are the first "M" of "MSME".
What were the initial challenges you faced? 
Prest Loans offer loans to MSME Sector i.e. shopkeepers, retailers, wholesalers who have no banking habit, and not maintaining proper financial documents. For these profiles, we have our expert credit team who understand alternate data and assess the MSME on a cash flow basis to help in finding them.
Also, being a digital player, we expect the maximum process to be done through technology, but the initial challenge was that our clients are not tech-savvy hence we needed to support them and assist them in completing the process. We had to put extra effort to make the process easy for them by providing training and assistance to provide quick and easy services from application till disbursement of the loan.
Which was that point that triggered the growth of Prest Loans?
"Loan disbursement in 3 days" is a trigger point in our growth where we beat our competitors on TAT and better services supported by our experienced sales team. Our approach is to services dense commercial hubs that are not serviced by other banks and NBFCs.
How have Prest Loans graphs changed since the foundation? Can you share a few statistics?
Portfolio growth

Customer Reach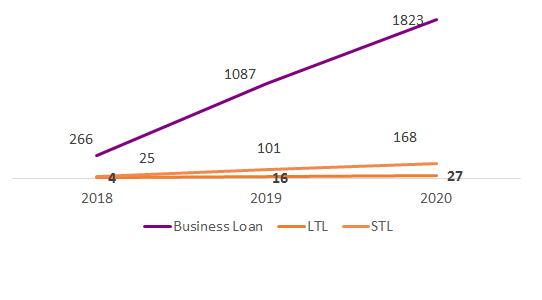 Cumulative Disbursement

What is the reason behind your company's long-standing success?
Our success stands at an easy process with minimum documents and the fastest approvals. Our quick processing and flexible repayment options make us unique in this segment.
Another important strength is analyzing the ability to pay and the intention to pay off clients without proper documents and financial history is a long-standing success for us. We have created an algorithm-based credit score called "Prest Score" which is a proprietary software tool for us.
What are the products/services Prest Loans focuses on? How are your services different from those in the market?
Our products are designed with the requirement of the clients with flexibility in the loan amount, tenure, and repayment are best featured.
Our loan products are:
Unsecured Business Loan- Upto 5 Lakh/ 3years
Short-Term Secured business loan- up to 10 Lakh/ 5 Years
Long-Term Secured Business Loan- Upto 25 Lakh/ 10 Years
How do you decide to take Prest Loans a step further in terms of your products/services?
Prest Loans team has been very innovative, they keep going to customers to understand the customer's needs and create new products from time to time based on customer requirements.
We have built tech strength to offer various kinds of products with a lot of flexibility in tenure, repayment method, interest rate applicability, etc. The idea is to create an impact with the help of tech.
Is there any new addition to the list of products/services? Anything exciting you would like to share?
To make our services easier, we have launched Prest loans mobile Application (APP) where It allows sourcing directly by the customer, sales executives, fintech partners, or any of the channel partners. The underwriter can capture a photo, audio, and video in the same app which makes decision-making instant with the help of the PREST score algorithm. The disbursements are also done digitally.
How has technology transformed the traditional way of business?
Technology-enabled more transparency and fast processing at all levels:
Each client has a unique user ID and password which enables them to check the loan status, ledger, and every information online anytime during the process and even after the disbursement throughout the loan life cycle. Everyone at Prest Loans also can access everything on the go, through a mobile APP.
Prest Loans can do most things on the go with help of various tools available to sourcing the customers and do various verifications on the applicant.
What do you think are the responsibilities of an entrepreneur?
An entrepreneur is not only responsible for planning and directing the operations of a company, but also to build a team that supports your vision through success. He is a leader with the best management skills to manage all areas of a company.
Can you please brief us about your professional experience?
I have been in the financial industry for more than 3 decades of experience in Banking, Capital Markets, and Financial Services.
Previously I was as CEO of an Agri NBFC and leadership position of various large companies in the financial services sector supported by large marquee investors. I have met and experienced most businesses very closely across the country.
Business is business, that is, you must do everything promptly; delay and shuffling won't do.

Swami Vivekanand Ji
What are the key achievements of your entrepreneurial journey?
During this time, being a media-savvy person has been regularly featured in all the business channels for the last 15 years, conducted over 200 public seminars, and received various awards. I have been on the jury for Best Market Analyst Awards conducted by Zee Business from 2012 to 2014 and got awarded by personalities like Mr. Narendara Modi and Mr. Pranab Mukherjee etc.
Prest Loans also got awarded in "NBFC 100 Tech Summit" for our contribution to the MSME segment and also got an Excellence award from Micro Finance Institution Network.
How do you look after your employees? What makes your team unique?
Our employees are family members and I do not believe in the typically employer-employee relationship. Like any family, we genuinely care about them and back them up in all situations.
Professional experience and deep industry knowledge make our team unique. Their ultimate goal to work as a team and provide the best services is an add-on.
Not only market-linked compensation and performance-based incentives but we have also offered company ESOPs to top-performing team members.
Is there any special experience with your clients you would like to highlight?
In my recent interaction with a few of our borrowers, I got to know the impact being created by us while providing financial assistance to them. These borrowers further increased their business and employed more people. I was very pleased to know this.
Prest Loans have also faced some difficult customers who delay or default in repayment of the loan.
According to you, what are the basic factors that businesses in the digital landscape should focus on to get better results?
Every business should focus on customer services and should adopt a 'customer first' approach for the successful implementation of a digital platform or mobile App. The digital platform should be very user-friendly.
One person who you admire the most?
I was inspired by Swamy Vivekanand Ji for his life journey and inspiring thoughts. Other than religion he also has given very deep views on business as well.
Whose business story do you find the most inspiring?
I find the story of Mr. Uday Kotak very inspiring, the way he has built a very strong organization.
Constant vigilance- a need or a strategy? Please share your views.
Constant Vigilance is a Need of the business as we are in the business dealing with money directly. We conduct more than 30 audits in a month to keep a close watch on the processes of each department. We also get our accounts and financials audited from a third-party audit firm.
It's a rat race out there. How do you cope with that?
I don't believe that it's a rat race; the business is done because of the passion of the founder entrepreneur. I do what I love doing. Being passionate about creating an impact in society by technology, gives me extra energy and positive vibes. I enjoy talking to my team members and customers. It's more about passion than rat-race.