THE BEST OF 5 RECOMMENDED EDTECH SOLUTION PROVIDERS IN 2021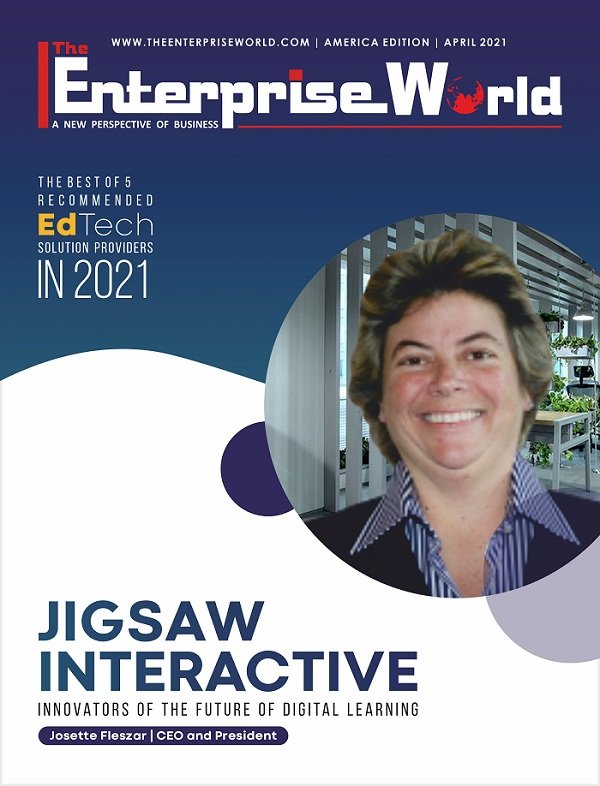 THE BEST OF 5 RECOMMENDED EDTECH SOLUTION PROVIDERS IN 2021 features,
The cover story of this feature highlights the fascinating and innovative services of Jigsaw. Jigsaw Interactive is a technology company that specializes in virtual training, education, and learning through its intuitively advanced platform.
Their technology optimizes the learning experience by providing multiple ways through which the participants can engage during learning sessions. Jigsaw's multi-dimensional platform allows every individual to actively look at the information in the way they learn and work.
It offers many immersive and engaging opportunities so, as the facilitator manages the session, they can easily engage participants on either an individual or group level.
This issue of The Enterprise World, The Best of 5 Recommended EdTech Solution Providers in 2021. Read the riveting conversation with the CEO of mYngle, Marina Tognetti. mYngle offers customized language training programs through video conferencing in 45 different languages anytime, anywhere. Find yourself getting clung to the services and the story of EesySoft
EesySoft was founded in 2010 with the vision to help customers to improve the adoption of enterprise applications like CRM and ERP systems.
The company pivoted its focus into the education sector when the founders, Michel Visser and Jan Henrik Ejme met Willem van Valkenburg from the Technical University of Delft in the Netherlands.
Another grossing conversation with the CEO of OfCourseMe, Davide Conforti. OfCourseMe is transforming learning culture and behavior.
As trusted partners in employee learning and development, they work with learning and development managers to change the way their teams learn, whether it's upskilling, retraining, or simply gaining a new perspective.
A thorough talk and discussion with the President and CEO of eTutorWorld, Mukul Agrawal. eTutorWorld offers world-class one-to-one online tutoring and test preparation services for students in grades K-12.
Our goal is to support parents and offer what students need to be successful as an individual, in a welcoming and supportive community.