THE BEST OF 5 RECOMMENDED STOCK MARKET ADVISORS FOR 2021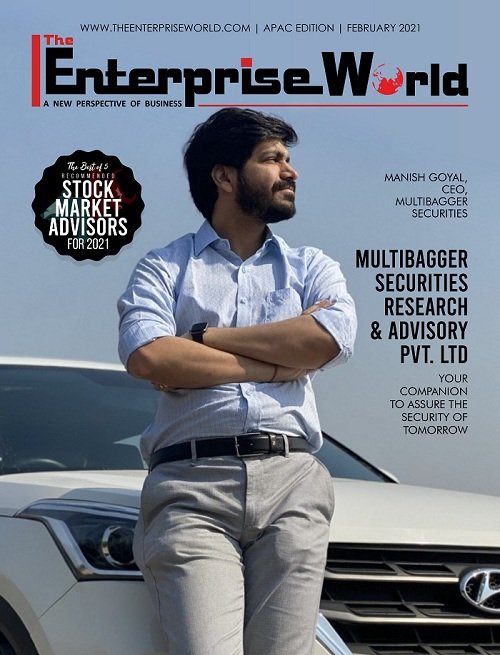 THE BEST OF 5 RECOMMENDED STOCK MARKET ADVISORS FOR 2021 features,
Featuring for the cover story is Multibagger Securities Research & Advisory Pvt. ltd was incorporated in Feb 2017 to bring quality in the equity research and advisory field. 
It is a SEBI Registered and ISO 9001 Registered Investment Company incorporated mainly for quality research & advisory in Indian equity markets with a special focus on identifying Multibagger Stocks.
After its inception, the company is growing very well and has both domestic and international clients.
Mr. Manish Goyal, CEO at the firm and his team of expert professionals is striving hard to transform their client's portfolio.
Incepted by Mr Abhijit Talukdar, Attainix Consulting provides Stock Investment Advisory, Mutual Fund Advisory, and Financial Planning services for Retail Investors.
Stock investment Advisory is provided for both Indian and US markets. They also provide fundraising services for qualified businesses.
To bridge the gap between people unaware of investments and growth, Mr. Nikhil Deshpande incepted Falcoy Financial in 2017.
Falcoy Financial provides comprehensive Wealth Management & Financial Planning solutions to cater to the financial needs of people.
Within a short period, Falcoy Financial has made a unique position with top-notched offerings.
Piper Serica provides Portfolio Management Service (PMS) to High-Net-worth Investors. It also manages Piper Serica India Numero Uno Fund that is based in Mauritius.
In addition, it has tied up with smallcase.com to host 3 different model portfolios where retail investors can also benefit from the sophisticated portfolios that are otherwise available only to HNIs.
 Read out an interview with Mr. Abhay Agarwal, Managing Director at Piper Serica Advisors Pvt. Ltd, in which we discussed about the current industry scenario and how the company is empowering its clients.