Beyond being just a household name, Microsoft has today firmly established its identity across every industry. Microsoft is now dominating the development, manufacturing, and many other sectors of industry. Having a Microsoft partner onboard gives you multiple benefits, as they offer you more than just IT services. They help you grow your business with quality services and easy accessibility.
Featuring in The Enterprise World's this issue of The Best of 5 Recommended Microsoft Partners for 2022 is sa.global, a company that is helping clients enhance their project performance and business agility with tailored solutions for the Professional Services industry.
The Company-
sa.global is a leading Microsoft Gold Partner providing industry-focused Microsoft Dynamics 365-based ERP, CRM, HCM, and business intelligence solutions. Having been in the business applications space for over 30 years, the company has helped more than 600,000 Microsoft Dynamics users across 80 countries to deliver operational excellence and financial performance for their organizations.
"An 11-time winner of the coveted Microsoft Dynamics Partner of the Year Award, we have also been a member of Microsoft's elite Inner Circle for 10 years in a row. These achievements make us a globally recognized, trusted, and accredited Microsoft Gold partner."
With a presence in 25 countries, sa.global is a community of diverse social and cultural backgrounds, experiences, ideas, and opinions. The company's global team is 100% focused on the Microsoft technology stack and they look to deliver enhanced experiences and business efficiency for their clients, building integrations leveraging the Microsoft platform.
sa.global is focused on the Professional Services industry, helping firms in key vertical markets like IT Services, AEC, Legal, Accounting, Advertising and Marketing, Management Consulting, Manufacturing, CROs, and non-profits.
"We enable our clients to leverage technology to solve business problems, improve efficiency, and build a stronger digital foundation."
They do all this by putting their clients at the center of everything they do and by envisioning the end outcomes they want to achieve. The sa.global team has gone beyond the core Microsoft Dynamics platform through investments in their IP. "evergreen" for professional services which aims to help in the rapid transformation of their clients' businesses enabling them to become more resilient, adaptable, and intelligent and be able to meet their client's needs.
With a strong workforce of 900 Microsoft Dynamics professionals across 25 countries, sa.global caters to global organizations as a quality partner.
"Our commitment to incorporating our Global Service Centers (GSCs) into all our service estimates provides our clients with the best team for the engagement."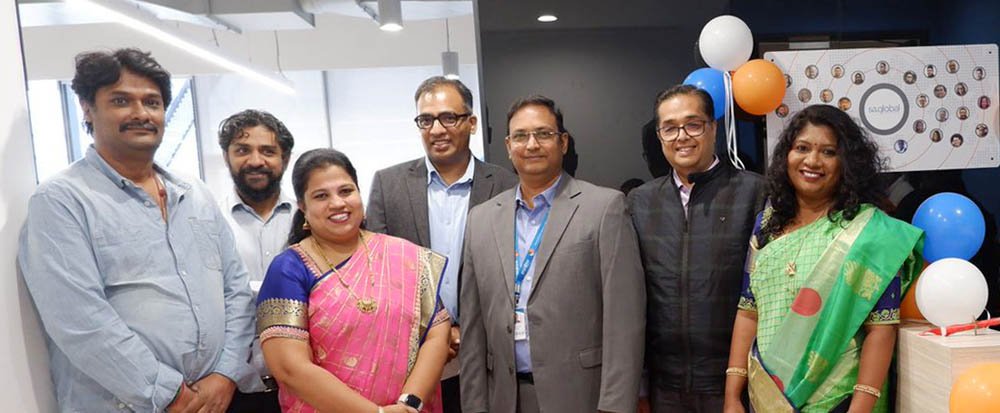 Operating 24x7x365, sa.global's GSCs are strategically located in a follow-the-sun pattern – in all major time zones. While other partners offer offshore services in an ad-hoc manner, sa.global gives the advantages of the GSCs in APAC (India), EMEA (Serbia), and Americas (Colombia) operating with the consistency of skill sets, methodology, and business processes.
This is then put into practice through their proven delivery methodology – ACCelerate – which provides the much-needed framework, toolsets, IPs, and enablers for teams to work along with the clients – more like an integrated team than an external partner, to be a part of the end success.
The Products and Services-
"At sa.global, we appreciate the need to work with globally distributed workforces and the urgency to innovate, to keep the competitive edge."
sa.global's expertise in Microsoft technologies and their experience from working with clients globally allows the team to invest in IPs that integrate seamlessly with the Microsoft platform and bring custom solutions to Professional Services Organizations (PSOs) with a much quicker time-to-market.
sa.global's strategic focus is to serve the value chain of its clients with an emphasis on:
Establishing Foundation platforms: Implementation of Microsoft Dynamics 365 business solutions across the ERP and CRM space to create a digital backbone of a modern business.
Enabling business Insights for differentiation: Leveraging Microsoft Azure, the Power Platform, and integration technologies, sa.global brings together relevant and accurate real-time information to business users.
Fostering Collaboration in global firms: The company provides collaborative work environments for different personas in their client organizations. This is driven by a customized set of built-in tools like Microsoft Teams within Microsoft 365, and Power Automate and Power Apps, within Microsoft Dynamics.
Driving sustained realization of investments through Managed Services: sa.global provides global clients with 24×7 support that works with them to continually adapt and improve their existing technology and leverage it for business growth.
In addition, sa.global's consulting workforce provides assessments and guidance across creating Resilient businesses. The Advisory Services across financial and digital transformation help them work alongside their clients in their transformation journeys.
"Throwing light on our products, we offer evergreen + empower, our next-generation, cloud-based solutions for Professional Services Organizations and other project-based businesses."
evergreen + empower built on Microsoft 365, Dynamics 365, Power Platform, and Azure is a true-cloud solution designed to change the way project-based firms work and operate. By connecting the firm's employees, clients, and business processes, the solution drives greater efficiency, better insights, and enhanced client service.
sa.global's Future Roadmap-
In January this year, sa.global secured $50 million in growth financing from Kartesia, an independent and privately-owned provider of credit and capital solutions with a pan-European presence. This funding will support the company's business transformation, expansion, and growth initiatives.
"Our strategy for the future is to be the client and employee-centric partner of the future to create a healthy and sustainable business."
From a business perspective, the team's vision is to be a boutique global systems integrator specializing in the accelerated adoption of the Microsoft cloud business platform and catering to Professional Services Organizations within key vertical markets. Simply put, the future of sa.global is to be a professional services industry partner.
"We aim to remain aligned with Microsoft business solutions as a platform of choice."
With this, the team is aiming to bring their global expertise to the Indian client base rapidly and help them prepare their businesses for global operations at a faster pace.
Through all of this, their priority is to upskill the workforce by identifying critical areas and skills based on their goals, vision, and client demands. The company understands its clients' need for skilled resources to drive their business transformation programs, and therefore, upskills and prepares teams by providing them opportunities to work on multi-country and complex projects.
sa.global has also created Centers of Excellence for core skills such as Data Analytics and Automation to enhance their expertise in these areas, standardize best practices for wide-scale adoption, provide direction and thought leadership, and cater to high-demand capabilities for rapid execution.
For recent and latest updates regarding business news, industry trends, etc. Please subscribe Newsletter from "The Enterprise World" at "Subscribe"