In an ever-evolving world of finance, the accessibility of online trading platforms has revolutionized the way individuals and investors engage with the global market. These digital arenas offer unparalleled convenience and empowerment, enabling users to take control of their financial destinies from the comfort of their homes. As the digital trading landscape continues to expand, one dynamic platform will be explored in this SkyMt review, revealing all the key offerings.
SkyMt combines cutting-edge technology with a user-friendly interface and has emerged as a formidable player in the fiercely competitive market. Powered by advanced algorithms and an intuitive design, this platform opens the door to a world of opportunities for both seasoned traders and novices seeking to dip their toes into the financial markets.
SkyMt Review: A Playground of Diverse Markets
SkyMt boasts an impressive array of markets, catering to the diverse interests and investment preferences of its users. From stocks to cryptocurrencies, commodities to forex, the platform offers a comprehensive selection of financial instruments, empowering traders to capitalize on various opportunities.
Stocks
When it comes to stocks, SkyMt Review truly opens the doors to a world of possibilities. Investors seeking to engage with the Canadian market can easily explore companies listed on the Toronto Stock Exchange (TSX), while those eyeing the tech giants of the United States can venture into stocks listed on NASDAQ. For those with a penchant for international opportunities, the London Stock Exchange (LSE) is also at their fingertips.
With this access, users have the freedom to invest in companies that align with their interests and strategies, broadening their horizons like never before.
Crypto
Crypto enthusiasts will find themselves right at home on SkyMt's platform. By offering Contract for Difference (CFD) trading on prominent cryptocurrencies like Bitcoin and Litecoin, as well as a host of other altcoins, the broker caters to the ever-growing fascination with the digital currency world.
This flexibility allows users to speculate on the price movements of these cryptocurrencies without owning the underlying assets, presenting an appealing option for those seeking to diversify their investment portfolios.
Indices
For traders who prefer the excitement of market indices, SkyMt Review delivers a robust selection. Whether you're interested in well-established and widely followed indices or keen on exploring emerging ones, the platform's tools and resources empower users to seize control of their investments. This broad market exposure presents a wealth of opportunities for traders to capitalize on both local and global market trends.
Commodities
Commodities have always been a popular asset class for diversifying investment portfolios, and SkyMt Review facilitates seamless trading with CFDs on agriculture, forestry, and mineral commodities. Whether it's the fluctuating prices of agricultural goods or the dynamics of precious metals, traders can easily participate in these markets, enabling them to benefit from the unique movements of commodities.
Forex
SkyMt also offers an extensive range of currency pairs for forex traders to explore. The platform allows users to engage in the dynamic foreign exchange market with CFDs on over 45 currencies, including major pairs like GBP, EUR, and USD. This diverse selection enables traders to capitalize on currency fluctuations and global economic trends, adding an additional layer of depth to their trading strategies.
Overall, SkyMt's markets encompass a wide spectrum of opportunities, catering to the aspirations of traders across various financial instruments. Whether investors wish to dabble in the stock market, embrace the potential of cryptocurrencies, delve into commodities, or engage in forex trading, SkyMt Review stands ready to provide the essential tools and resources for a rewarding trading experience.
SkyMt Review: A Refined and Seamless Trading Experience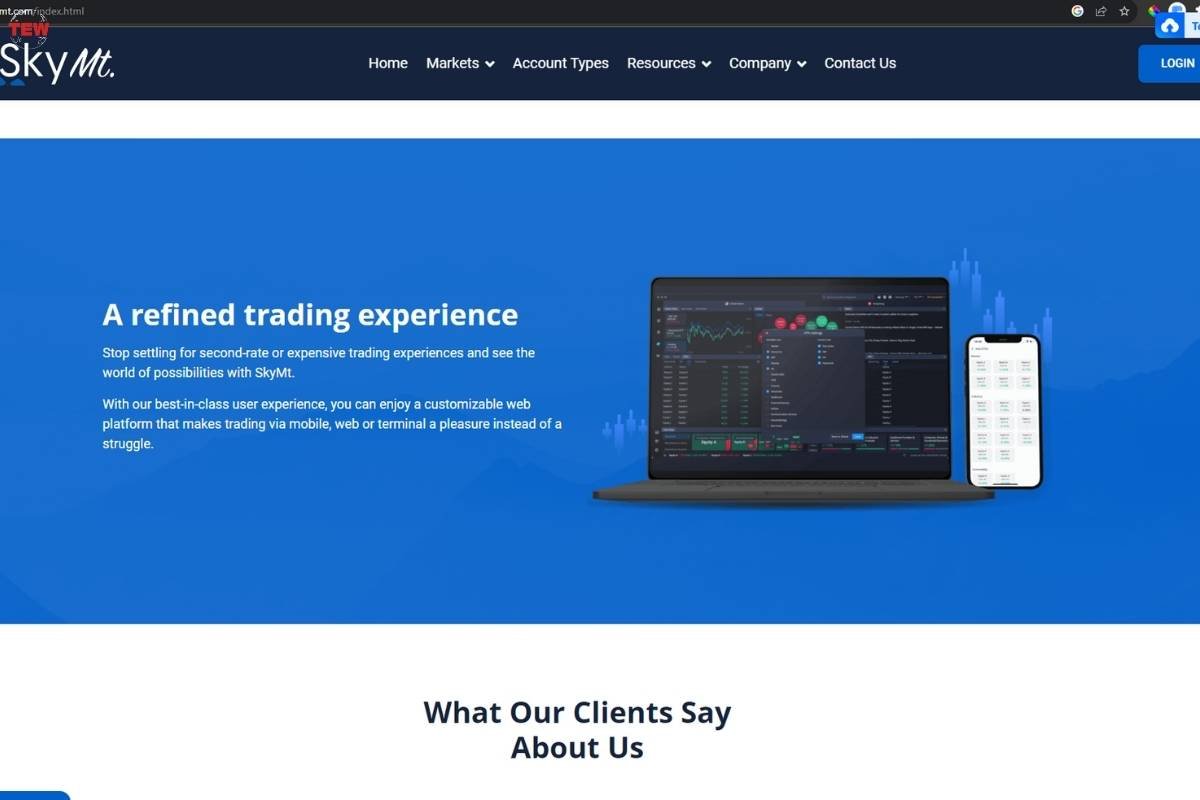 SkyMt offers a modern trading platform which provides a refined and seamless trading experience due to its features.
An Intuitive and Customizable Web Platform
SkyMt prides itself on delivering a best-in-class user experience that ensures trading becomes a pleasure rather than a struggle. Their intuitive and customizable web platform is designed to cater to traders of all levels, from seasoned investors to newcomers stepping into the financial landscape for the first time.
Unleash Your Trading Potential Across Devices
With SkyMt, you are not restricted to a single device. Whether you prefer the convenience of mobile trading, the comfort of web-based access, or the power of a terminal, the broker offers a consistent and cohesive experience across all devices. Trade at your convenience and take advantage of every opportunity, regardless of your location or the device at your disposal.
Personalization for Tailored Trading
The broker's platform empowers users with a high degree of personalization, allowing you to configure your trading environment to match your preferences and needs. Tailor charts, layouts, and trading tools to suit your unique trading style, ensuring you have all the essential information at your fingertips for quick and informed decision-making.
A Wealth of Analytical Tools
Recognizing the significance of data-driven decisions, SkyMt Review equips traders with a comprehensive suite of analytical tools. Dive deep into market trends, technical indicators, and real-time data to enhance your understanding of the financial landscape. Make informed choices, optimize your strategies, and increase your chances of successful trades.
SkyMt Review: A World of Low Spreads, High Leverage, and Lightning-Fast Execution
When it comes to choosing a brokerage, trading conditions play a pivotal role in determining the success and profitability of your trading ventures. SkyMt Review excels in providing traders with an environment designed to enhance their potential for success, with low spreads, high leverage, and ultra-fast execution speed at the heart of their offerings.
Spreads as Low as 0.1 Pips
SkyMt understands the significance of tight spreads in minimizing trading costs and maximizing profit potential. With spreads as low as 0.1 pips, you can optimize your trading strategies by entering and exiting positions with minimal price differences. This competitive advantage enables you to seize opportunities in fast-moving markets, ensuring your trades start on the right foot.
Leverage Up to 1:500
The power of leverage can amplify your trading capabilities, enabling you to control larger positions with a fraction of the required capital. SkyMt offers leverage of up to 1:500, granting you access to a world of opportunities that may have been out of reach otherwise. While leverage can enhance your profits, it's essential to use it judiciously and understand the associated risks fully.
Execution Speed in Less Than a Second
In the dynamic world of financial markets, time is of the essence. SkyMt Review recognizes this and places a strong emphasis on lightning-fast execution speed. With execution times in less than a second, you can swiftly seize opportunities as they arise, execute trades promptly, and capitalize on market movements without delay. The advantage of rapid execution ensures that your trades are executed at the best available prices, enhancing your potential for favorable outcomes.
SkyMt Review: A Dedicated Customer Support Team
SkyMt's customer support team is available to serve you diligently from Monday to Friday. Understanding the importance of timely assistance, their representatives are committed to providing you with prompt responses during these weekdays. Whether you have a pressing question or need guidance on any aspect of the platform, SkyMt's team stands ready to lend a helping hand.
To cater to different preferences and ensure ease of access, SkyMt Review offers multiple communication channels to reach their customer support team:
1. Phone Support
You can contact SkyMt's customer support via phone for direct and real-time assistance. Speaking to a knowledgeable representative allows you to get immediate answers to your questions or seek resolution for any concerns.
2. Email Support
For less urgent inquiries or those requiring more detailed explanations, you can email SkyMt's customer support team. Their prompt responses ensure that your queries receive the attention they deserve, even when a phone call may not be possible.
3. Online Form
SkyMt Review also provides a convenient online form allowing you to submit your inquiries through their website. You can streamline the process by providing essential details and receiving accurate and timely responses to your questions.
SkyMt Review: Conclusion
In conclusion, SkyMt Review emerges as an online broker that shines with its comprehensive offerings and dedication to providing a top-notch trading experience. With a user-friendly platform offering an impressive range of markets, traders can explore new horizons and unleash their full potential. The platform's low spreads, high leverage, and lightning-fast execution speed enhance profitability and efficiency, empowering traders to navigate the markets confidently.
Beyond cutting-edge technology, SkyMt's commitment to personalized support creates a strong sense of partnership on each trader's journey. With their accessible and responsive customer support team, available Monday to Friday via multiple communication channels, traders can find reassurance that their inquiries will be addressed promptly and accurately.