An implant is a medical device that is used to replace the missing biological structure in the body. When an organ fails to perform the natural biological function it is supposed to, people turn to implants. It is important that these medical devices are of the highest quality, because your bodily functions depend on them. Finding a company that promises the best quality medical devices can be an issue for some people.
But not anymore! Featuring for the Cover Story of The Enterprise World's The Most Disruptive MedTech Solution Providers in 2020 is Suzhou Innomed Medical Device Co., Ltd.
Innomed is an innovative medical device company headquartered in Suzhou, China with a research and development center in Irvine, California and many other operations in various cities in China.
The Journey-
When a team of veterans with extensive experience in medical device development and discovery, advanced implantable materials, product design and evaluation, manufacturing process optimization, and regulatory implementation comes together, what you get out of them is no less than a miracle.
The company was established in 2013 by Xiaoyan Gong, PhD, CEO and President and ever since has been able to design, develop, and complete the functional and biocompatibility testing required to launch various interventional cardiovascular and peripheral products.
We have extensive expertise and experience in designing and processing various Nitinol-based products with a focus on wire braided stent to address unmet clinical needs.
But before designing the products that are today providing superb life caring to humanity, it is important to understand the set of challenges the team had to overcome before becoming the trusted partner they are today.
From choices of products, development of a solid business plan, creation of working initial device models, establishment of a strong technical and clinical advisory teams and fund raising were just some of the challenges in their journey of success.
Subsequently, Innomed expanded the business by developing functional testing methods and apparatuses, strengthening quality/regulatory team, and transitioning from R&D and testing services into massive product manufacturing.
Innomed is a company that was persuaded by the fast growing China medical device market and the economy globalization. The angel investor and venture capital firms provided enough fund for company to transit from a value added OEM manufacturer into a R&D driving medical device manufacturer in late 2014. Ever since, Innomed has developed several innovative Endovascular devices made from braided Nitinol with unique delivery system and outstanding clinical performance.
In the meanwhile, InnoMed developed several special guide wires that received both FDA and CFDA approval competing with the best in class in the market today. Their new manufacturing facility in Wuxi is under construction and will help the company to market these guide wires globally. In addition, their diversified R&D pipeline will help the company to grow its business into this large market both in China and globally.
The chart below perfectly sums up the company's milestones: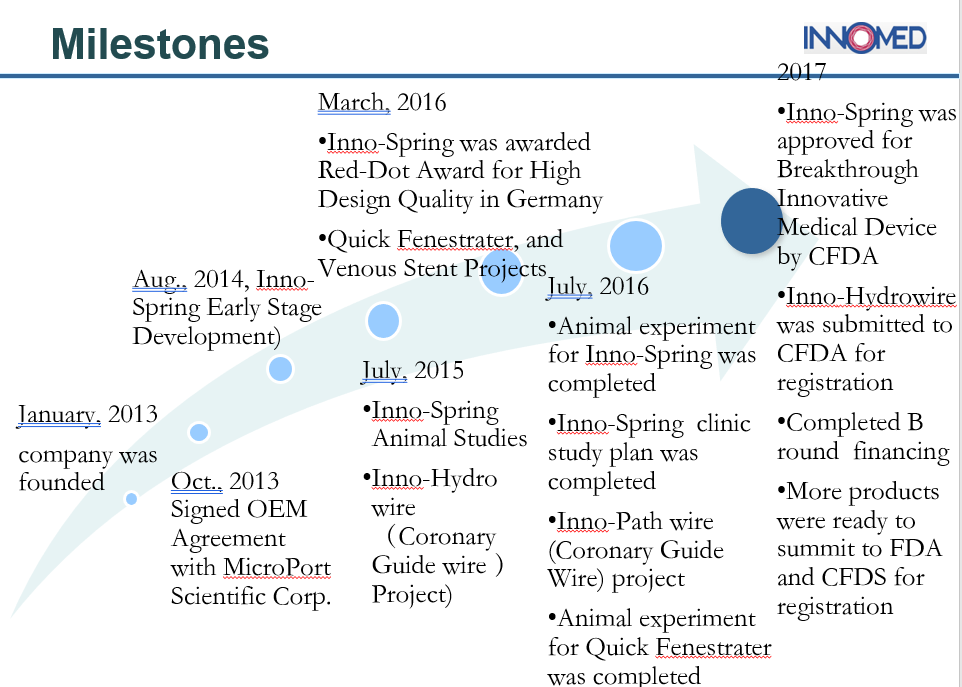 Success is something that cannot be measured, it is something that reflects. The hard work put behind it, the continuous mind-scratching to deliver the best and sustain even when things seem a little off the hook is what reflects success. And the leaders of Innomed would more than agree to this, because their path to success was somewhat similar.
The management leadership of Innomed believed in transparency, creativity, quality of work, patient safety and efficacy in mind, hardworking while having fun and helping each other. Their interaction with the frontline practicing doctors helped them understand their need, their analysis of the market need and continuous improvement of the product pushed them to achieve their desired results.
The Products and Services-
Let us now understand the product range of Innomed, how their products are changing the lives of people.
Innomed offers a family of guide wires and other products including braided self-expanding stent systems for the treatment of occlusive arterial diseases.
Innomed's guide wire products have received regulatory approval in both U.S. and China. If these guide wires receive positive feedbacks from front line physicians it is expected that they will provide cash flow in the very near future for company growth. Meanwhile, several other uniquely designed guide wires for trans-catheter aortic valve replacement and neuro applications are under development and being tested for regulatory approvals.
Innomed'sInno-Spring stent system has won the Red Dot Award for Product Design in 2016, due to its "graceful appearance, simple and reasonable structure, and optimum material fit along with its flexibility, bending and corrosion resistance, durability, and a wire throughout the Inno-Spring stent is clearly visible in a radiograph. Same platform has born a venous stent aiming for iliac vein with a new innovative delivery system that can redeploy the stent during operation.
Furthermore, Innomed offers a Quick Fenestrater device to address in-situ fenestration for complex aortic arch aneurysm, a severe vascular condition that entails a high risk of rupture and serious complication to patient safety. The stent can be accurately positioned during penetration and ensures that the puncture hole is in the center of the branch vessel. The device's flexible hollow needle can also be adjusted to adapt to different lumen and vessels, such as the common carotid artery and the subclavian arteries.
Quick Fenestrator device was firstly used in a case of a 46-year-old female patient, who was diagnosed with a rare aortic arch aneurysm combined with coarctation that posed a high risk of rupturing. Dr.Lefeng Qu and his team from Shanghai Changzheng Hospital performed a percutaneous balloon angioplasty and thoracic endovascular aortic repair to exclude the aneurysm with the help of Innomed's novel in-situ fenestration device to revascularize the covered left common carotid artery. The patient was safely released shortly after the operation and remained healthy.
High-quality products are vital to Innomed as this is what distinguishes the company from its competitors. In fact, this is the company's unswerving goal. Committed to continuous improvement, Innomed continues to develop innovative interventional and implantable medical practice devices, which help save lives. To date, Innomed has filed more than 70 patents, with over 30 has been issued.
In addition to InnoMed's OEM services, InnoMed's Suzhou Medical Implant Mechanics Co. Ltd. provides a third party independent technical services focus on durability assessment and product evaluation. Innomed has a strong pipeline of products based on their unique braided Nitinol stent system platform, various guide wires range from coronary, neuro, structural heart, and other unique OEM products, alone with strong processing and testing capabilities.
The market responses to the guide wires are very positive internationally that their current focus keens on building and qualifying a large volume manufacturing facility of 30,000 sqft in Wuxi, China. Their stent systems have very positive follow-ups from earlier research clinical studies.The team will continue their clinical studies on their SFA-Popliteal stent, Inno-Spring, and the venous stent Inno-Xmart.
We are confident that all these products will be of great benefits to our patients and physicians.
The company's quality policy includes:
We produce high quality products to patients and provide high quality services to customers for saving and sustaining lives
High quality products and services are vital to Innomed as this is what distinguishes us from others. In fact, sustaining a high standard of excellence across all our products and services is the unswerving goal of our company.
A firm commitment to continuous improvement:
In today's competitive business environment, perseverance and quality are necessary factors for success. These attributes are upheld and preached by the management team at Innomed.
Dr. Gong- Leading the Way
Dr. Gong entered medical device industry in 1998 as a senior design analyst for a Swiss prosthetic heart valve company in Austin, Texas, Sulzer Carbomedics. He applied the concept of "Design by Analysis" into the fast design screening and helped design engineers to make the fastest decision at the best knowledge through quantitative evaluations either from mechanical principal based analytical solutions or computations.
Later in October 2000, he was invited to join Nitinol Device and Components, A Johnson and Johnson Company (J&J). Where he helped launched many Nitinol based interventional medical devices such as Vena Cava filters, first generation peripheral stents and stented graft systems and worked his way up to principal engineer. After departure from J&J, he started to build companies from founding the Medical Implant Mechanics LLC in August 2000 in San Francisco Bay Area to launch Suzhou InnoMed Medical Device Co. Ltd. InJanuary2013. Today, InnoMed has a few affiliated companies operating in both China and in USA.
The top 5 management team members at Innomed each have more than twenty 20 years experiences in medical devices combine of basic research, product development, and quality. 3 of top management teams' own doctorate technical degrees from the prestige universities in US and more than ten (10) engineers with master degrees from top technical universities in China.
Dr. Gong started a consulting firm, "Medical Implant Mechanics LLC" in August 2006 to address the industrial need of durability based product design optimization, material fatigue and device durability testing and fatigue safety computations. It was welcomed by both industry giants and many start-ups. Quickly he was exposed to many new products and innovative teams to learn the trends of the industry and the processes of how to launch the products from concepts. Innomedhas helped them to launch the products in US and benefited from the consulting business to-date that their visions are widened and the goals are clearer than ever.
Our key achievements are that of building a competitive team to successfully execute our mission as "Produce high quality products for excellent life care", built aliens with universities, front-line doctors and hospitals for innovative product development.
The Team-
"Provide clarity and vision to the entire organization as how we all can work together to bring success and growth to our short and long-term business."
It is the duty of the leader to build a successful and growing organization, do the best to hire employees with the right chemistry, attitude, and be able to accept responsibilities and accountability for their work and actions. Dr. Gong makes sure to encourage the team to constantly think out of the box to both improve their product innovations as well as improving their own skills and experiences. He has also encouragedthem to constantly improve their project management skills to be more effective and productive in their daily activities with a stress-free working environment.
Our philosophy is to develop innovative medical devices and OEM and other services to drive the market with strict quality assurance, high-quality services, and high-tech products for the benefits of our patients and customers.