THE 10 TRANSFORMATIONAL BUSINESS LEADERS TO LOOK OUT 2021- VOL. 2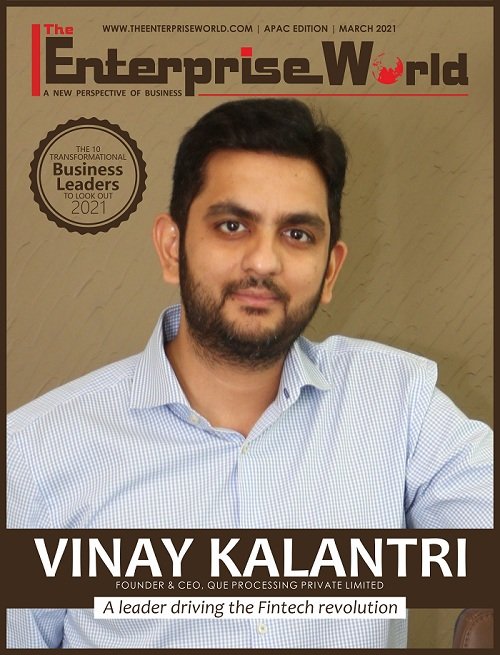 THE 10 TRANSFORMATIONAL BUSINESS LEADERS TO LOOK OUT 2021 features,
Featuring for the cover story is Mr. Vinay Kalantri, Founder and CEO at QPS. QPS is a secure open API issuer processing platform, which focuses on powering payment innovators.
QPS aims at providing Flexibility to design the programme you want, build card programmes, and run test transactions which enables you to launch as quickly as you can develop without dependencies on QPS.
QPS is a platform to help Fintech and Banks to address Credit and manage their Cash flow management.

Robolab is your very own, on campus, Centre of Excellence in Robotics, Internet of Things (IoT), Artificial Intelligence (AI), Rapid Prototyping (RP) and Industrial Automation, tailor-made for you. It is an advanced, state of the art platform to explore, learn and build robots and related technologies. Cofounders, Mr Pratik Deshmukh, Mr Ajit Pawar and Mr. Amol Gulhane are the backbones behind Robolab's long standing success.
Read out and conversation with Mr Amol Gulhane, where we discussed current industry scenario and how Robolab is transforming businesses.
IFI Techsolutions is a born-in-cloud Microsoft Gold Partner and a Cloud Solutions Provider (CSP) setup by ex-Microsoft employees to help global customers ranging from Enterprises to SMBs and Startups with their digital transformation journey.
Readout an interview with Mr. Puneet Bajaj, Partner at IFI Techsolutions, where he shared his
journey throughout and discussed the current industry scenario.
PalC Networks is a high-end services company providing services in the area of Data Networking, Analytics, Cloud Computing, Edge Computing, etc.
The key focus area of PalC Networks is Whitebox Networking, Converged Packet Optical Networks, 5G, Edge Computing, IoT, and Network Analytics Mr. S. Kingston Smiler, & Mr. Santosh Danegoudar, Co-Founders of PalC Networks and the team of more than 100 experts are making hard and smart efforts to transform their client's businesses and accelerate their growth.
Additti Jain, Founder, and CEO of IKI CHIC, the made-in-India brand presenting the best of both worlds – international drift with a taste of Indian fashion. Additti is a Pearl graduate, serial entrepreneur, and fashion enthusiast, enabling the new-age India women to express their vibrancy through a wide range of High Street Fashion options.
IKI CHIC focuses on comfort, style, and fabric quality, the brand offers a jaw-dropping wardrobe collection fit for all occasions.
Knowledge Lens is an Indian & US-based technology trendsetter providing its clients with actionable business insights, leveraging our expertise in Artificial Intelligence (AI), Industrial IoT & Big Data Analytics.
An ace leader Mr. Sudheesh Narayanan, CEO at Knowledge Lens, is the backbone behind the company's longstanding success. Under his innovative and 360-degrees futuristic vision, the highly skilled team of professionals at the knowledge lens is striving hard and smart to transform their client's businesses.
Mr. Chintan P Mehta is one of the top names in the insurance sector that accelerated the revolution in the same sector.
As CEO of AHI (Auto Hangar India) Insurance Brokers, Chintan along with his team is a master of innovation and disruption for mass & class of society. He places his every situation right with in-depth insurance business analysis, claims management, reinsurance, and customer retention.