THE BEST OF 5 AUDIO VISUAL SOLUTION PROVIDERS 2021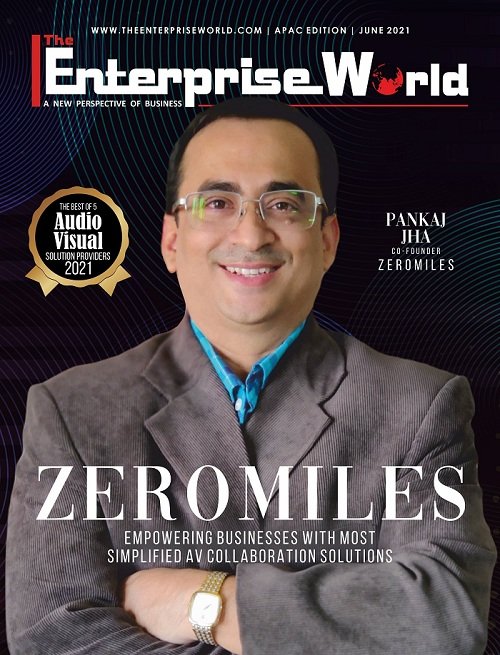 THE BEST OF 5 AUDIO VISUAL SOLUTION PROVIDERS 2021 features,
Featuring for the cover story is ZeroMiles. To cater to the AV communication needs of businesses across the globe, ZeroMiles is offering comprehensive and most innovative AV solutions.
Under the innovative vision of Co-founder, Mr. Pankaj Jha, ZeroMiles' team of passionate and multi-skilled professionals is striving smartly to empower their clients and make them future-ready.
With dedication and strong will to deliver the utmost innovative solutions, ZeroMiles has marked its firm footing in the Indian as well as global AV landscape within a short span.
Readout a conversation with Mr. Kuldip Kamat, Managing Director at AllWave, in which he shared what AllWave is all about and how they are transforming different industry verticals. AllWave AV Systems is an industry-leading AV solutions provider that delivers custom-built & innovative collaborative, digital media, broadcasting, and electronic security solutions to a clientele spread across PAN INDIA.
Their team of technical experts works side-by-side with Industry Specialists, AV/IT consultants, Project management consultants, end-users, and Space Designers to devise custom solutions that enhance your operations, improve collaboration, increase productivity, and drive ROI.
Business Octane, a leading and pioneer video collaboration and collaborative learning solutions providing company is catering to various AV needs of businesses by offering a comprehensive plethora of most advanced and cognitively ahead solutions.
Readout a conversation with Mr. Sanjay Bansal, of the Business Octane, in which he shared what Business Octane is all about and how they are transforming the different business verticals with their innovative offerings.
Ceeco Technologies Pvt. Ltd. was established in 1986 as "Cinesonic Electronic Equipment Pvt. Ltd" to address the Cinema & Sound opportunities which existed during that time.
Ceeco, a trusted name in the AV & IT System Integration industry has set new benchmarks in design quality, technological expertise, and project management in diverse segments like Auditoriums, Conference Rooms, Board Rooms, Seminar Rooms, Broadcast and Post Production Studios, Network Operating Centers, Digital Signage Applications, Distance Learning, etc.
Read an interview with Mr. Sanjeev Bhasin – Founder and Managing Director and Mr. Rahul Bhasin – Director at Ceeco Technologies, in which they shared the company's journey and how are they transforming the sector.