THE MOST DILIGENT BUSINESSWOMEN TO WATCH IN 2021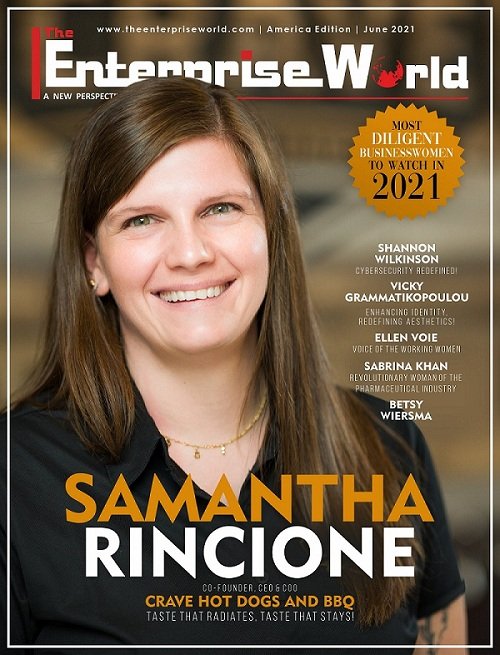 The Most Diligent Businesswomen to Watch in 2021 features,
Featuring for the cover story is Samantha Rincione, Co-founder, CEO and COO of Crave Hot Dogs and BBQ. Crave Hot Dogs and BBQ is a Hot Dog and BBQ restaurant franchise, with some of the best dishes when looking for a Hot Dog or BBQ.
They not only deliver one of the most exquisite BBQ and Hot Dog menus, but also their trademark taste and service is highly popular among their loyal customers and talked about highly whenever Hot Dogs and/or BBQ comes up in a conversation.
Crave is rising to be one of the most popular and fast growing franchises in its category. They are offering various mouth-watering dishes as well as their most distinctive feature, a self-serve beer walls, featuring anywhere from 18-42 taps of local crafts.
Read an interview with Betsy Wiersma, Founder of Wiersma Experience Marketing and Creator at CampExperience™ Network, in which she shared her journey throughout and her views on current business scenarios across the world.
Betsy Wiersma is visionary leader on a mission to transform the lives of many through her businesses and is the true motivation for budding entrepreneurs.
Aptorum Group Limited is a clinical-stage biopharmaceutical company, working to provide medical treatments, extensively in the domain of oncology and infectious diseases.
They are one of the leading companies, taking the innovation curve ahead, dedicated to discovering, developing, and finally commercializing the medical treatments for such diseases which are not only infectious but as they are not given proper and adequate attention, can pose a serious threat to the survival of mankind.
In conversation with the CFO of Aptorum Group, Sabrina Khan know more about the company, its products/services, and the CFOs professional journey.
Tego Cyber Inc. is one of the most sought-after companies when looking for solutions related to cyber threats and protection.
They are not only of the most innovative and highly trained, experienced personnel with decades of combined experience, producing services that are not only efficient, foolproof, providing impeccable safety services and security net to their client's data and systems.
Shannon Wilkinson, Director, CEO, and CFO of Tego Cyber Inc. is a visionary, a successful businesswoman, and a true inspiration to all those aspiring women entrepreneurs.
Vie aesthetics is a leading name in the market and one of the most trusted brands in the aesthetic treatment industry and the hearts of its loyal and highly satisfied customers.
Vicky's sincerity, affection for the clients, and unmatched leadership not only make Vie Aesthetic and its services as the best-in-class but also a mile ahead of the competition in the market.
In conversation with the Founder and CEO of Vie Aesthetics, Vicky Grammatikopoulou. Discover more about the company, its service, and the CEO's professional journey.
Women in Trucking is a not-for-profit association, aimed at encouraging employment in women, building a strong community on their way through, so they all can enjoy and achieve success, along with uplifting the sentiments and perceptions of those around them about women in work.
Organization are a breakthrough for what they have achieved and the number of members that are like a strong-knit family, sharing each milestone of their journey and their success.
Read an interview with the President and CEO of Women in Trucking, Ellen Voie to discover more about the company.