Recommended Insurance Tech Solution Providers For 2020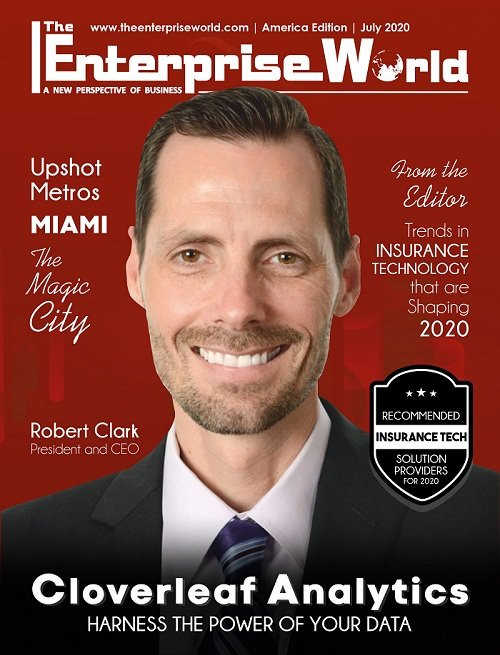 Recommended Insurance Tech Solution Providers For 2020 features,
Featuring for the Cover Story is Cloverleaf Analytics. Cloverleaf Analytics (Cloverleaf) delivers a comprehensive business intelligence (BI) solution which reduces risk and improves profitability and performance for P&C insurance companies.
Cloverleaf consolidates enterprise data for real-time analytics and visualizations which drive underwriting efficiency, claims optimization, and better enterprise performance management through machine learning with pre-built and ad hoc reporting capabilities.
Pentation Analytics is an InsurTech and Big Data Analytics company with offices at Hartford, CT, US, Mumbai, India and the UAE.
The Company was founded in Aug 2015, with a vision to – 'measure and address risk using advanced analytics for the insurance value chain'.
The company was founded by seasoned professionals from the Insurance & Financial Services industry. Pentation was selected for the inaugural cohort of the Hartford InsurTech Hub accelerator.
As an InsurTech, Pentation Analytics enables insurers and intermediaries maximize value of and for their customers via proprietary insurance-specific platform – Insurance Analytics Suite™.
Catering to both the industries, One Two One Advisor was formed in 2010.
Over the past 10 years the company has implemented online solutions for Referral Management with Marketing Automation, Mobile Point of Sales, Online Direct Selling, Online Claims, Agency Distribution, Online Customer Service Portals, Corporate Websites, Multi-lingual Chatbots & Robo Advisors and AI based Predictive Analytics for New Products, Lapsation & Fraudulent Claims.
In Interview with The Enterprise World, read about-
Amodo
Amodo helps insurance companies address new market trends and opportunities by enabling innovative and quick to market smartphone-based insurance products.
The platform gathers behavioural data from different data sources, consolidates and analyses them; presents them in a very user friendly and actionable way. 
Insurance Technology Services
Founded in 1988, ITS (Insurance Technology Services) is a Dallas-based insurance consulting and services firm specializing in the design, implementation, and utilization of technology to optimize critical business processes and achieve exceptional results.
Catering To All Your Digital Needs
Measure & Address Risk Across Insurance Value Chain
Insurance Telematics Applied
Insurance Technology Services
Your Partner In System Implementation Success
Schrodinger's Cat And Marketing Strategy
Elon Musk's '5 Minute Rule' – The Key To Utilize Your Day Fully!