THE MOST CREATIVE ARCHITECTURE FIRMS TO LOOKOUT 2021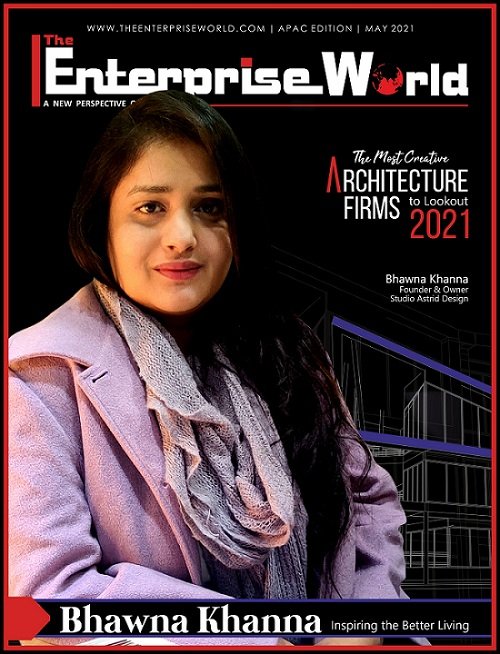 The Best of 5 GPS Tracking Solution Providers in 2021 features,
The cover story of this feature highlights and showcases the leadership, vision, and expertise of Ms Bhawna Khanna, Founder and Owner of Studio Astrid India.
She is not only a leading architecture designer but an entrepreneur providing immaculate and topnotch services to her customers, based on their demands and requirements with the latest industry trends and knowledge packed in a powerful combination of foolproof standards and practices.
She is an inspiration and a successful leading businesswoman. Find out what makes Studio Astrid India creative and always ahead with time and deliver one of the best architectural services.
Grab the conversation with Mr Pranav Iyer, design Principle at Ground 11. Ground 11 is a full service architecture and urban design resource that concentrates on the built narrative – architecture, urban design, and landscape – to make vital, exciting destinations out of clients' tangible and intangible requirements.  
Get inspired by the work and design of Studio Symbiosis which is an award-winning multidisciplinary Architecture and design studio based out of Stuttgart and New Delhi.
Learn the shared journey of Amit Gupta and Britta Knobel, founders at Studio Symbiosis, and what Studio Symbiosis is all about.
Read the scintillating story and dynamic vision of Ms Suchi Vora, Founder and Owner of SVAC. SVAC is a young and intimate team of dynamic professionals driven by the same passion, to create something unique, always.
Everyone's ideas on the team are to be heard, that's how they grow, as a company and as a designer.
Crafting The Future Of Architecture With The Most Unique Designs And International Collaborations.