THE 10 MOST INSPIRING BUSINESS LEADERS TO WATCH OUT 2021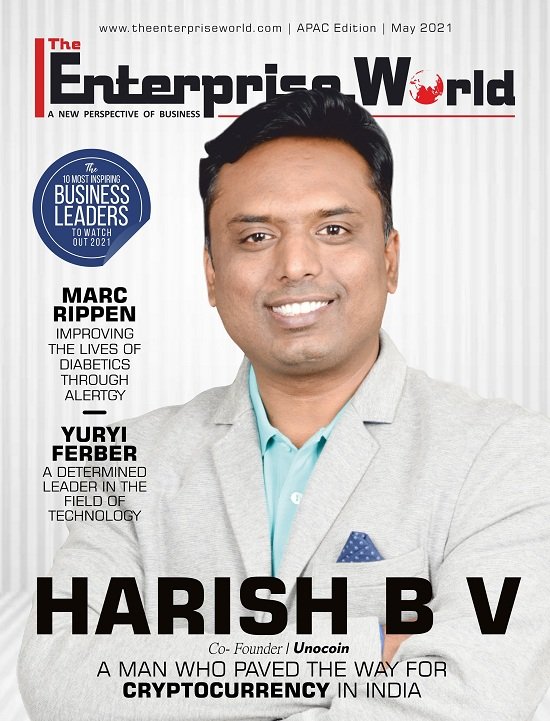 THE 10 MOST INSPIRING BUSINESS LEADERS TO WATCH OUT 2021 features,
A cover story of Harish B V who is the Co-Founder of Unocoin. He is also the Chief Financial and Compliance Officer.
Unocoin offers a unique blend of customer-centric support and user-friendly features on its platform. It understands the relationship between crypto trading concepts and user's issues.
Hence it acts as a perfect bridge between these to help the Indians do trading and exchanges on its platform. The applications and website is designed in such a way that it gives services beyond the wants of the customers.
The auto-sell, SBP, earn interest are some of the most unparalleled features of Unocoin, which makes it a pioneer in the Indian market's trading platform.
A profile of Abhishek Tyagi— CEO of AnyTechTrial. The company reckons that its platform is the first of its kind across the globe which offers all the SAAS applications on a single platform.
Moreover, it enables the users to experience working on the software with a free trial before they make any purchasing decision.
Aniruddh Singh— Founder and CEO of SygiTech. SygiTech designs customized business solutions to make businesses easier to work thereby, increasing the time to focus on critical decision-making.
The company also creates robust, cost-effective, and reliable solutions using the latest tech stack introducing a high-performance-driven service model. Sygitech is DIPP certified startup.
Also, Mr. Krishna Kumar—Founder and CEO of Cropin. The data-driven farming solutions offered by Cropin, enable agri-enterprises and growers to 'maximize per-acre value'. Its farm data and agronomy management platform, SmartFarm, empowers stakeholders to improve efficiency, productivity, predictability, and sustainability of their crop value-chains.
SmartFarm enables agri-enterprises to adhere to food safety standards thereby ensuring farm-to-fork traceability.
Marc Rippen—CEO of Alertgy. Alertgy is renowned for providing the first non-invasive wearable continuous glucose monitor and alert system to measure true blood glucose.
It sets diabetics free from having to think about taking glucose measurements by allowing for fully automated, continuous monitoring with pre-set alerts for low or high glucose levels, as set by the user.
And Yuryi Ferber—Founder and CEO of BRITech. BRITech is a FinTech that offers solutions for the Investment Management ecosystem with a SaaS business model.
The company deals in state-of-the-art and cutting-edge software and technology that helps asset managers, brokers, fund managers, wealth & family offices.