THE 10 MOST RECOMMENDED CONSULTING COMPANIES FOR 2021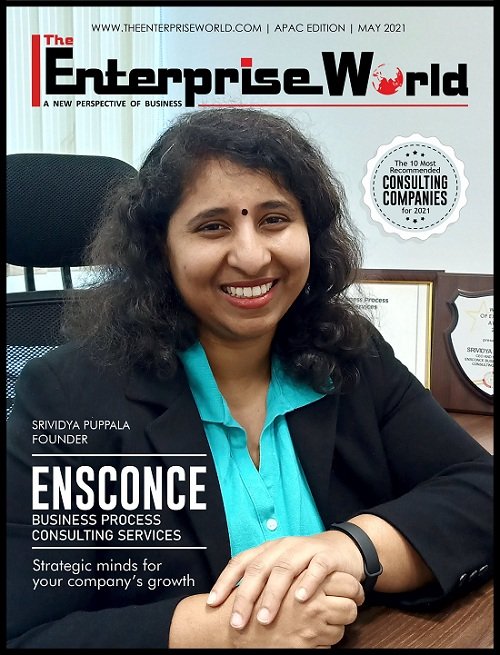 THE 10 MOST RECOMMENDED CONSULTING COMPANIES FOR 2021 features,
Featuring for the cover story is ENSCONCE BUSINESS PROCESS CONSULTING SERVICES. ENSCONCE is one of the trusted SME Service Advisors helping businesses leap in their transformational journey.
Under the exemplary leadership of founder, Ms. Srividya Puppala, ENSCONCE is charting new paths of success every day and transforming businesses with top-notched offerings. 
Metamorphosis Unlimited offers top-notched solutions that transform them with deep studied and specialized HR strategies. 
Mr. Ajay Bakshi, the highly experienced leader in the field of HR and talent management incepted Metamorphosis Unlimited in 2016 with a vision to offer his expertise in areas of executive coaching, leadership development, and executive search i.e. hiring people and developing people, and so on.
Chatur Ideas was started back in 2015. It's a startup enabling platform that helps entrepreneurs to grow and support their businesses.
Right from raising funds, mentoring founders, planning pitch decks, and enhancing their business plan, the platform enables the entrepreneurs to get acquainted with various networks that can help them in scaling up their operations.
Readout a conversation with Mr. Devesh Chawla, a leader, Innovator, mentor, and Founder and CEO of Chatur Ideas, in which he shared his vision, the journey of the company, and what Chatur Ideas is all about.
For companies today, IT skills have become the most bankable asset for a competitive edge. And so, one needs to upgrade the IT skills to stay relevant. QUANTUM GROUP – INFOTRAINERS AND CONSULTANTS PVT. LTD. offers various high-end technology training programs.
These programs across IT platforms are designed to leverage professionals with the knowledge to upgrade their IT skills. Pratik P. Surana, Chief Mentor & Founder is the backbone behind the company's long-standing success.
Sagacious IP is award-winning Intellectual Property research and consulting firm which offers innovative solutions and services to the global innovator community.
The company has been successfully solving business challenges for Fortune 500 companies, IP Law firms globally, start-ups, investors, universities, and patent licensing agencies. It has customers in over 45 countries and has completed over 12,500 projects in more than six languages.
Mr. Tarun Kumar Bansal, the President, is a master brain behind the company that is fast emerging as a trustworthy partner for its IP clientele worldwide and is one of the front runners in the Intellectual Property service providers' community.
In a world full of rush, Digitization made many things simpler and more productive. To improve productivity, every business needs a digital transformation, mastered processes, and proper strategic planning.
3nayan founded by Mr. Suhas Dutta and Mr. Govindaraj Kozhipurath, is a niche consulting company that provides Strategy Advisory, Transformation, and Execution services primarily through Digital Transformation (DX), Process Automation (RPA), and Process Engineering to enable Growth Sustenance, Organizational Effectiveness, and Business Transformation