In the era of digitization, with every new dawn, there is a new technology that opens new opportunities for businesses. In this fast-paced and boosted digital economy businesses are spreading their wings to accelerate their growth. While businesses are developing, the size of data is also increasing. And it is getting strenuous to manage, maintain and get appropriate data.
In this scenario, the PiLog Group is transforming businesses and making them future-ready with top-notched Enterprise Asset Management and Cataloguing Solutions. PiLog Group is a leading provider of Data Management solutions, Solving the Master, Meta, Analytical Data challenges and processes, supporting multiple domains in various industries.
PiLog solutions are state of the art, focused on creating a common business language and managing the rules for creating high-quality, multilingual master data for organizations. PiLog provides exclusive technical dictionaries, libraries, repositories, industry-proven processes that are the culmination of research, development, and execution over the past twenty-five years.
In a talk with Mr. Imad Syed: CEO Middle East & APAC, Group CIO & Board Member at PiLog Group, he shared the journey of the PiLog group and his views on the current industry scenario.
Brief us about the company.
Established in 1996, PiLog Group is a global group of independent companies, specializing in Quality Data and Digital Governance & Analytical solutions supporting multiple data domains in a variety of industries all over the globe. The PiLog solutions are state of the art, focused on creating a common business language and managing the rules for the creation of high quality, multilingual terminology using Machine Learning, Artificial Intelligence technologies & human-augmented algorithms for our customers who are eager to transform their businesses digitally.
PiLog provides exclusive technical dictionaries, industrial libraries with content repositories that are the culmination of research, development, and execution over the past twenty years embedded into the platform of PiLog – Data Quality HUB. All our methodologies, processes, solutions are compliant with international standards for delivering seamless systematic integration of content into various platforms, operational systems and ERPs such as SAP, S4 HANA, Oracle ERP Cloud, Maximo & MS Dynamics, etc, our offering has been around the following themes
End to End Supply Chain Optimization
Optimization of Asset Life Cycle Management
Business partnership Evolution
Seamless Data Migration
Digital Transformation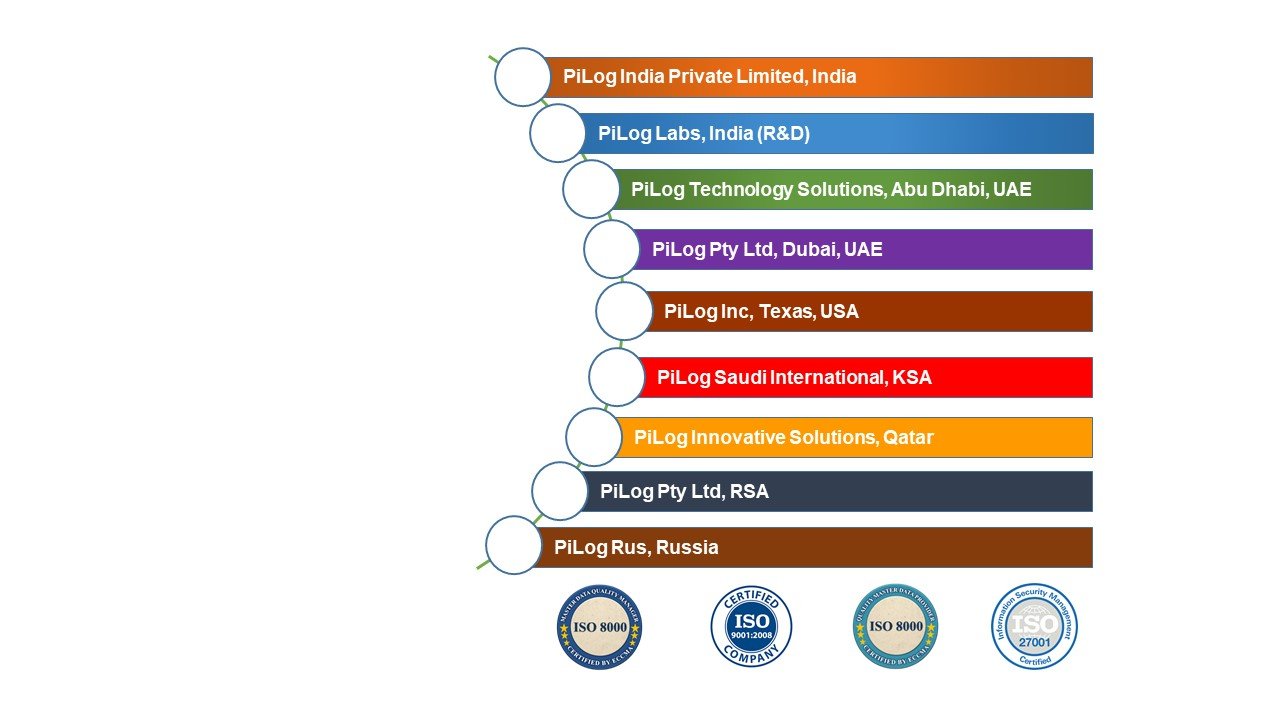 What were the initial challenges you faced? 
Key challenges faced by our company is a reflection of our change management
Rebranding of our company with associated products and services
Price war from low cost competition
Market lookout on data quality management products and services
Industry trends and investment
Which was that point that triggered the growth of the company?
Triggering point for growth initiated with our strategic and out of box thought process:
Enablement of Digital Marketing, Flexible and adaptive sales forecasting models, Partnership with likeminded for geographic and industry sector deeper penetration, Product and Services Strategy with Earn Value and Business Metrics Focus, Constant recognition by Gartner and Industry Leading Analyst and of course our long-standing customers.
What is the reason behind your company's long-standing success?
PiLog's easy to follow value-system for employees and unique value proposition for customers are the two strong pillars for us when it comes to sustainability even during COVID 19 crisis
Being sustainable, reliable, and transparent in operations, Right and timely investment in people, process, and technology, Having like-minded people from the Leadership team who believe in Zeal to learn, unlearn, perform and go that extra mile every time!!! More than 40 percent of revenue is generated from existing customers showcasing their confidence, early adoption, innovation, and business process focus applications, products, and service lines
What are the products/services the company focuses on? How are your services different from those in the market?
PiLog's Key Products and Services:
Key Products:
DATA Quality HUB which includes Data Acquisition, Data Harmonization, Data Migration, Data Governance & Analytics Solution for multi domain master and meta data objects with impactful tools of Industry Standards (repository, taxonomies, libraries & ontologies), ML & AI driven and IoT enabled
Business Partner Life Cycle Management (Vendors & Customers)
Business Performance Analytics Platform (Spend & Inventory Visibility)
Fixed Asset and eSPIR Solution
Master Data and Process Maturity Assessment Solution with Add On (ECA, MCA, SCMA, ALCMA)
Key Services:
Cleansing Services covering Cleanse, Standardization, Categorization and Enrichment of multi domain master data
Value Engineering Portfolio of Consulting
Business Process Outsourcing (AR/AP, Data Management, S2P, Category Management)
Data Quality Management
Asset and Supply Chain Process Optimization
Enterprise Data Strategy
Enterprise Data Governance, Analytics implementation
Our Competition Advantage against product and services:
Wider market penetration (Very Large Customer References, Geography, Verticals, Products & Services)
Highly Agile frameworks
Higher professional count across geography
More aggressive GTM strategies
Faster time to market
More investment on technology, innovation and reskilling
How do you decide to take the company a step further in terms of your products/services?
Every organization needs the data to survive in this digital world, we would like to design & develop an Enterprise digital strategy by aligning with the organizational goals as per industry benchmarks for one or more of the following streams
Business Process Driven, especially Extended Supply Chain: Source to Pay, Plan to Inventory, Business Partner Collaboration and Asset Life Cycle management driven master, meta data and predictive analytical tools, accelerators and products.
Business and Data Metrics Driven Delivery Outcome Management
More investment on cross skill and upskill of teams and technology to improve per capita income, improved return on investment and overall reduction of customer Total cost of ownership
Is there any new addition to the list of products/services? Anything exciting you would like to share?
Data Orchestration & Consolidation platform is the new product with the subscription model is being launched in the market, the product is named as PiLog's Data Quality HUB – built on IntelliSense Framework & iVision Technology platform with the following new features
Data Acquisition

Pre-built data connectors

Real-time data acquisition & Ingestion

Data discovery, modelling, mining, profiling, assessment, analysis & visualization

Core ETL features + Data streaming

Data Harmonization [AI/ML]

Data cleansing, standardization, normalization, enrichment, auto-corrections/updates from repositories & libraries

Data transformation & Data quality assessment

Data Quality Establishment & Compliance

Data Governance

Batch or record-based data management functions such as Create, Change, Extend, Delete, Undelete, Merge, Split, Match, Validate, Archive, Unarchive, Link, Delink as per the Business rules of the data objects compliant with Target systems

Data Quality establishment: SLAs, KPIs, InfoGraphics

Data Integration

Seamless Data Integration, Synchronization, Distribution, Syndication, Orchestration, Micro-Services (APIs)

Data Analytics

Business performance insights

CXO Dashboards [Spend, Performance, ROI, KPIs, SLAs]

On-demand real-time Infographics & Cockpit Views
What are the key achievements of your entrepreneurial journey?
Key Achievements in progression to be reckoned entrepreneur
Harmony, culture, decentralized governance, zero roadblocks for change, ability to prove & improve every day, non-monotonous with highly professional & competitive business.
Imad's passion for technology changes and adoption as early bird; building business driven technology excellence and Love for Data; knowledge management; employee first notion to build strong and long lasting customer business transformation
Mission and Goals had been very simple for Imad, with his motive to be make organizations efficient and structured to meet dynamic business & technology demand with TOP and BOTTOM line improved by min. 20 percent YoY and Revenue to 200 MUSD by 2025 and 1BUSD by 2030
Key accolades which enabled overall success & progression within the organization:
Transforming Data Management Organization into Digital and Business Process Transformation Organization
Ability to hold large client base for sustained and long term business
Build of NextGen DATA QUALITY HUB on latest & greatest technology platforms
Innovation HUB and high performing team management
Value Management in Delivery Process
How do you look after your employees? What makes your team unique?
We ensure employees enjoy their work and were not dragged to work, we deliver the right compensation for the right people at right time and do not wait just for the appraisal cycle for promotion, equal opportunity to grow.
We practice human touch at the workplace enabling teams to talk about their personal life and problems at ease which is also strengthening PiLog's value system
Mr. Imad Syed: CEO Middle East & APAC, Group CIO & Board Member at PiLog Group
Eighteen plus years of progressive career growth from Sr. Systems Engineer to today's CEO of Middle East & APAC, Group CIO, and Board Member at PiLog Group with overall experience spanning over Twenty years speaks volumes and beyond. 
Led organization initiatives from the front for all value management initiatives for PiLog group development and its esteem customers in go to market, revenue management, innovations, profitability, product development, and corporate advisor
Senior Executive, Digital Advisory, Visionary Leader with vast experience in conceiving & designing business, enterprise information, and data quality HUB strategies for medium to large enterprises; Expertise in designing simple yet powerful strategies for data governance, management, transformation, and analytics of complex system landscapes, proven track record of excelling operational efficiency & effectiveness; revolutionized the product and solution development using innovative frameworks that are agile and sustainable from the perspective of futuristic technology evolutions.
Developing & executing business strategies be it for GTM or Product or Operational management or deep & diversified Value-Engineering solutions has been core strengths over the years; Passionate to nurture, build & lead high-performance teams resulting best of both worlds in the form of Customer & Employee experience is the principle believed and proven several times by Imad Syed.
Conceived, Designed & Built the architecture of Enterprise solutions with state-of-the-art futuristic technologies, Cloud-based content micro-services (web services) with subscription models.
Conceived & Designed the data lifecycle management processes such as data acquisition, iDataHarmonization, data governance, iDataIntegration & iDataAnalytics for on-premise & on-cloud enterprise solutions that can be integrated on-demand across various platforms & operational systems.