A business leader is someone who converts a dream to reality-while doing so he inspires and motivates the people he comes across with. Leaders think of innovative ways to accelerate the growth of the organization by creating visions, values, and blueprints aligned with the present and future times.
Mr. Samir Lodha, founder at QuantArt is a leader who is bringing about transformation in the field of foreign exchange and risk management with the help of his vast experience and team of expertise ex-investment bankers.
In a talk with him, let's discover more about QuantArt and his journey till now.
Brief us about QuantArt.
QuantArt is a fast-growing niche foreign exchange and risk management advisory firm run by ex-investment bankers. The organization brings tangible value addition(s) like cost reduction, risk mitigation, profitability enhancement, knowledge, expertise, and ideas to the corporates. QuantArt is trusted by large banks, by apex bodies like Clearing Corporation of India, and by corporates from large groups like Tata, Reliance, Vedanta, AV Birla, Hero, JK, RPG, and many more. Trust by such large treasuries certifies the value proposition, cutting-edge knowledge, and expertise that QuantArt brings.
Senior advisors in QuantArt are well known and appreciated the industry for their knowledge and skills. They provide hands-on advisory and do not delegate the work to juniors. Being ex-bankers and having worked with top international and Indian banks they know the best possible risk management methodologies.
QuantArt advises on the whole gamut of Fx and risk management. Whether it's basics like cash tom, and forward booking, or advanced stuff like exotic option pricing, value at risk, model calibration, CVA DVA modeling- QuantArtmanages and pieces of advice on all.
QuantArt has also trained over 1000 people from various companies and banks in the area of forex and risk management.
What were the initial challenges you faced? 
There were two key challenges-
First of all, most advisors didn't have the knowledge to handle the complexities found in this area – as a result, many corporates suffered losses and were hence wary of forex advisors.
The second challenge was associated with the first one. Since the knowledge of the advisors was limited, the fee they charged was low and that had become the industry norm. Neither there was good quality work being done nor was there readiness to pay the fees required for quality work.
Which was that point that triggered the growth of QuantArt?
We have been growing consistently since our inception. Within a few years of our starting QuantArt, corporates realized the savings we were doing for them; our business grew through word of mouth. However, we have always prioritized servicing our clients over marketing.
How have QuantArt graphs changed since the foundation? Can you share a few statistics?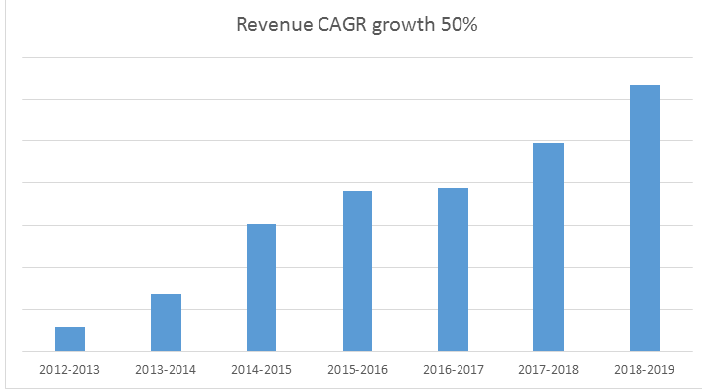 What is the reason behind your company's long-standing success?
We have consistently given results and lived up to our commitments. We have saved costs, brought in transparency with banks, simplified hedging; earned profits for our clients- all this while, protecting them from adverse effects of the market movements Our clients have consistently benefited financially after taking our advice.
Also, all the senior advisors are focused on ethical and sincere client service philosophy. We don't take shortcuts and are very thorough with our work; we ensure long-term gain(s) for the corporates who are our clients. We consider our profession more like that of doctors. Hence we do not delegate our work, keep ourselves updated with research, and diligently focus on adding value.
What are the products/services QuantArt focuses on? How are your services different from those in the market?
There are a few ways how we help corporates:
We have seen in 95% of the corporates that they pay a good amount of unreasonable forex charges to the bank and we invariably can reduce those charges. Surprisingly, this applies to many large corporates as well, including corporates with very smart teams.
For the exporters we can improve their rate of realization which adds straight to their profitability. For example, if export proceeds are realized at 78.00 whereas the market average is around 75.00 then that's a 4% improvement in revenue and a much sharper increase in profitability. 
Importers typically shy away from hedging because the hedge costs are on the higher side. We can reduce the hedge cost consistently for the importers and hence they can save, they can mitigate the risk, and at the same time not pay a very high cost.
Another area where we can help companies invariably is in interest cost reduction. If you have a rupee loan, typically the cost is around 8-9%. If you take a foreign currency loan on a full hedge basis, your cost will come down by 0.50%-1.00%. But if you take a foreign currency loan that is hedged in an optimized manner, your cost will come down by 2-3%, and IRR will be close to 5-6%. That is a significant saving for corporates.
There are many choices for long-term loan hedging. When you have to hedge for long-term loans- you can split the interest rate and forex rate hedge separately. Option structures or even the plain options work beautifully. Then there are different times when different strategies work well. So we keep all these things in mind while advising. Hedge accounting is also another area that is very important when you are hedging for the long term.
How do you decide to take the company a step further in terms of your products/services?
In addition to our experience, we constantly do quantitative and qualitative researches. Having worked with so many corporates, we clearly can see the areas of value addition for an organization, and then we pick up 1 or 2 challenges at a time and sort out the issues and then proactively move to another area of value addition.
Is there any new addition to the list of products/services? Anything exciting you would like to share?
We have started providing a 100% guarantee and assurance of value addition to corporates as we have seen from our experiences we can bring in marked profits. We have also devised a step-up model of fee which makes it easier for the corporates to start working with us and then when they work together for a while, they can judge our quality, and most of the time we form a long term relationship.
What are the key achievements of your entrepreneurial journey?
We have structured our offerings so that corporates across various forex exposures can benefit from our advice. We have partnered with IIMC for training corporates and have trained 1000+ people across organizations. We have clients across all large industry groups. We have clients with USD 10 billion exposure and also a client with INR 5 crores of Fx exposure.
The most important achievement is that we are in the knowledge business and have the top position in the industry. We have been able to add tangible value to clients and at the same time, our revenue has grown at 50% CAGR.
How do you look after your employees? What makes your team unique?
We are a high-performance-driven organization. Our core team is IIM graduates as strong mathematical skills are required in operations. We are happy to recruit dedicated professionals from other institutes if they can blend in with a performance-driven environment. Our current team is extremely close-knit, sincere, and trustworthy.
We believe our employee safety and wellbeing are critical. We were one of the first to mandate work from home in early Feb 2020- much before the lockdown. We offer health insurance covering parents of our employees too amongst other employee benefits.
Is there any special experience with your clients you would like to highlight?
We have saved crores of INR for our clients by advising them on when and how to hedge, using which specific instruments.
While companies suffer forex loss once in a while, we bring consistent forex gain for our clients.
One person who you admire the most?
Ratan Tata and Tata group as a whole -do great business and try to ensure ethical practices; they take care of employees and at the same time channel huge amounts of wealth for social benefits. Other entrepreneurs I admire are Azim Premji andBill Gates for the same reasons.
Arise, awake and stop not till your goal is reached.
Constant vigilance- a need or a strategy? Please share your views.
It's the most basic need in financial markets especially in the domain we operate. However, your strategy has to be such that it insulates you from the stress of constant changes in the environment.
It's a rat race out there. How do you cope with that?
Everyone has their path and destiny- I work on mine while always trying to maintain balance. I do my work, strive, and leave the rest to God.
Mr. Samir Lodha – A visionary leader
Samir founded QuantArt in 2012 January and is running for the last 8 years. QuantArt has advised and trained numerous large organizations during the period on Fx hedging, rates hedging, strategies, algorithms, etc. Samir is an MBA from IIM Calcutta with over 20 years of experience.
He had worked in senior positions with Foreign exchange treasuries of JP Morgan (Executive Director), HSBC (Associate Director), and ICICI Bank wherein he advised large companies across India on risk management and hedging of foreign exchange and interest rates exposures. He has sound experience and understanding of global markets, market economics, hedging strategies, hedge algorithms, price calculation, and risk-return optimization.