In the aftermath of the pandemic, people are understanding the need for emergency funds, insurance, etc. Thus, causing a run towards insurance companies, etc. This has increased the load on insurance companies as they have to cater to enormous crowds now. This requires their platform and system to run and handle all the tasks without any lag or fault.
Insurance Tech solutions are needed more than ever, owing to their precise and efficient solutions, enhancing the functioning and process of Insurance companies, etc. Insurance amongst many industries relies on CRM (Customer Relationship Management). CRM helps companies provide unwavering personalized attention and a focused approach to customers.
CRM is the largest selling product in the enterprise software category. Globally the CRM market is about $40 billion and over 70% of that market is concentrated in the US and Europe.
In industries where sales and service are the make or break factor, CRM is the golden addition to keep the link between customer and company intact and strong!
SimpleCRM is one of the leading Customer Engagement Platforms that powers the digital transformation of organizations by digitizing, decoding, and delivering all aspects of the customer journey; from prospecting to onboarding to account management to servicing to retention.
SimpleCRM has deeper capabilities in Banking, Insurance, and Financial Services sectors than most other Enterprise CRMs operating in our market. Their expertise and client-centric approach make them one of the most recommended insurance tech solution providers to watch in 2021.
The Company, The Story:
SimpleCRM is an ISO 27001:2013 certified company that provides CRM and AI-Based solutions for mid and large-sized enterprises. They started their journey in 2014, and are headquartered in Singapore. Their Indian subsidiary is based in Nagpur and they have Development Centers in Nagpur, Bangalore & Hyderabad. Also, there is Sales & Support presence in Mumbai, Pune, Delhi/NCR, Manila & Colombo.
To give you a background on the sector they operate in – Gartner says that the CRM market in India is about $750 million and growing at about 20%. While almost 90% of the enterprises in the US are using enterprise CRM solutions for quite some time, the enterprise CRM solutions penetration in Asia, and especially in India, would be well under 50%. In India, most organizations have started their digital transformation journey recently.
During the initial stages of their journey, the team of SimpleCRM faced many challenges. One of the biggest challenges they faced in the starting couple of years was managing cash flow. Some of the reasons for managing cash flow were;
Right from the start of SimpleCRM, the team was focused on running a debt-free, profitable company. They wanted to avoid external funding as much as possible, and to achieve the same, they managed with cash generated from operations.
Their initial market focus was Asian customers. While they offered a great value proposition of a comprehensive CRM platform at a great value that appealed to Asian organizations, they were caught by surprise with the payment delays.
After the initial years of tackling stressful close calls, pooling in personal finances, and hustling in a bootstrapped manner, they finally found a solid footing on the cash flow front from the 3rd year onwards. Today SimpleCRM operates with a strong cash position, which has seen them through Covid times without any problems.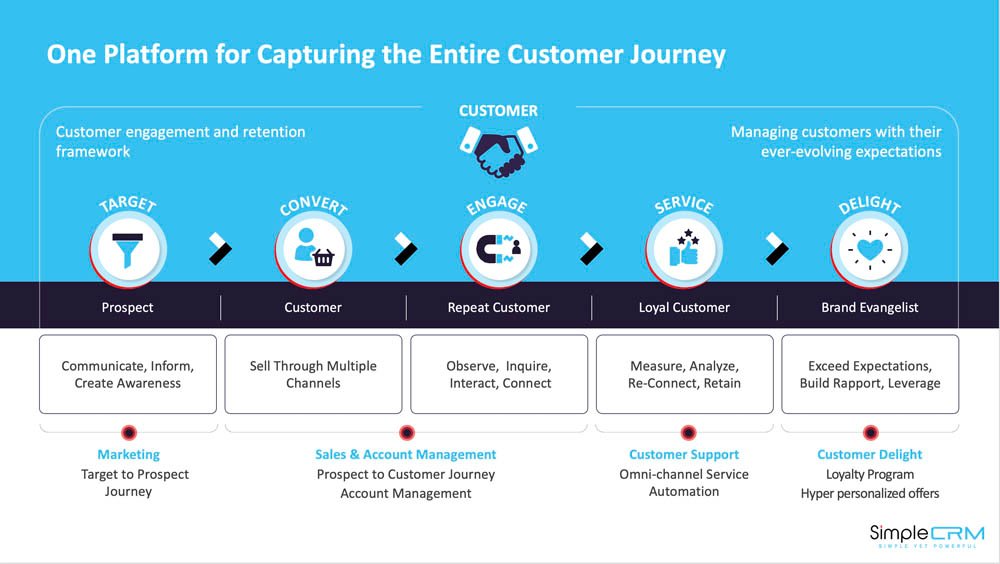 Pillars Establishing SimpleCRM's Long-standing Success and Pushing Their Growth
During their journey for the past 7 years, they have acquired customers in India, Sri Lanka, the Philippines, Singapore, and to a small extent in the UK market as well. They also have marquee partners like IBM, Wipro, Ebixcash Solutions, Conneqt Business Solutions, and others. Over the last 4-5 years, they have seen an average growth of 20-25% per year, and this year they are on track for an 80% growth in revenue. To quote some numbers from the last 12 months, their clients have used the SimpleCRM platform for:
Capturing 30+ Million Customer touch-points.
Servicing 10+ Million Cases & Tickets for their customers.
Managing 3.5+ Million Workflow requests.
Managing $300 million+ worth of opportunities.
Capturing 5,000+ AI insights.
Some of the factors establishing SimpleCRM's long-standing success;
Asia Focus – As 80% of their business comes from this region. Thus, their product orientation, localization capabilities, and understanding of the needs of the local organizations are quite developed. This enabled them to better meet the requirements of Asian clients, and thus, capture the market capably and effectively.
Deployment Flexibility – Today features and functionality, CRM has become commoditized. So while many CRM players offer similar features, SimpleCRM's differentiation is deployment flexibility. Their platform can be deployed across all the clouds and also supports on-premise deployment. Very few global established players can claim that!
Experienced Team – Some of the earliest employees of SimpleCRM are still with them. They have experience in delivering 350+ CRM projects within Asia as part of SimpleCRM and their prior organizations. The team's solid experience in large-scale enterprise software projects, razor-sharp customer focus, and commitment make SimpleCRM one of the best digital customer engagement platforms.
As a company, they are proud of being a bootstrapped, profitable start-up that is helping mid-sized and large organizations across Asia in their digital transformation journey.
Services Offered by SimpleCRM and what Sets Them Apart
Their platform is a flagship CRM & Intelligent Automation low-code / no-code platforms. Their platform offers exceptional value and helps organizations build stronger relationships with their customers. The platform caters to the entire customer lifecycle journey through an automated and dynamic customer engagement and retention framework.
They enable organizations to target, convert, engage, serve, and provide customer delight. As a result, their clients can grow revenue and keep customers in the longer run. Many banking, insurance, and financial services organizations across Asia are using SimpleCRM's solutions.
Looking at the changing needs of the digital space, SimpleCRM focuses on advanced tools to deliver solutions in:
– Customer 360 & Service Management
– Sales Management
– Digital Marketing
– Field Sales & Service Mobility Solutions
– Artificial Intelligence Plugins
– Enterprise Chatbot Platform
– Digital Customer Onboarding Platform
What sets them apart is the strategic focus on identifying a very clear need gap amongst mid to large-sized Asian enterprises which were not catered to well. They entered this space by bringing unique strengths to the table and changing the way Asian organizations work!
SimpleCRM also delivers solutions leveraging its low-code platform that allows rapid implementations. The solution platform is available on SimpleCRM's SaaS cloud and can also be deployed on the client's premises or private clouds. Also, the core CRM platform supports both open-source and Microsoft stacks, offering organizations tremendous deployment flexibility.
Their exceptional platform capabilities and offerings, make them one of the most dominant players in the CRM field, always ahead of the competition with an unwavering focus on enabling and helping their clients!
You only compete with yourself. As someone said, every morning is the first day of the rest of your life, and you need to focus on being a little bit better than you were yesterday!

Indraneel's Take on the Competition in the Market
Leadership at SimpleCRM
SimpleCRM with its wide range of offerings, and unmatched service standards is unique and one of the best insurance tech solution providers. What makes the company and its team unrivaled is the leadership, handling, and managing the company, and taking the services and the team ahead!
Indraneel Fuke is the Founder & CEO of SimpleCRM. He is an effervescent, charismatic, and visionary leader, providing expert mentorship to the team and the company.
For the first 7 years of his career, Indraneel worked in a product company in the US where he gained experience in building large-scale enterprise custom software products like ERP, HRMS, Vendor Management Systems, etc.
Later, he migrated to India in 2007, to begin a 1 year-full time PGPx program at IIM-A (Indian Institute of Management, Ahmedabad). It was during his time at IIM-A seeds of entrepreneurship were nurtured within him.
He joined Tata Communications via campus placement. After a year there, he resigned and joined a small CRM company as a co-founder. Leveraging his experience in the enterprise software space and Asian market learning over the years, founded SimpleCRM in Nov 2014.
The Team and Work Culture of SimpleCRM
As mentioned before, some of the earliest employees of SimpleCRM are still with them. They are experts in the field with 350+ CRM projects delivered within Asia. The team always strives to achieve the best for their clients with a dedicated client-centric approach and a resolution to make SimpleCRM one of the best digital customer engagement platforms.
Indraneel and the management team strives to engage with the team members at both professional and personal levels. Even as a start-up, they have implemented various employee benefit schemes like health insurance, interest-free loans, mental wellness consultations, project opportunities to learn new technologies, paid training programs, and others.
They also run periodic anonymous surveys among the team members where they can voice what the company is doing well and what it needs to do better.
This makes the environment of SimpleCRM a healthy space where opinions, ideas, and innovation can grow without any hesitation. This not only results in a team that is one with the company's goals and vision but also in the creation of breakthrough and leading CRM services.
How SimpleCRM Goes Ahead with the Changing Times and Trends
They aim to become the #1 Digital Customer Onboarding, Engagement, and Retention platform. They leverage their strengths in the CRM and intelligent automation space, incorporating the latest technology such as AI and Machine Learning into their platform. They have achieved a lot of work in this direction and continue to build the same, heading into the foreseeable future, with an arsenal of unmatched services.