While the global economy is facing a major slowdown, hospitality, restaurant, and franchisee businesses have the guts to provide employment as well as a boost to the economy. SQuare Consulting is a name that made its unique position in the market by providing comprehensive solutions to transform businesses.
SQuare Consulting was initiated as an enabler of sorts with benefits for businesses and the industry at its core, they started in 2007 intending to help and develop businesses scale up, expand and develop in the best possible way. Providing expert assistance and advisory services for brands and businesses who want to excel at what they do but are limited to the means and methodology of book-based knowledge and age-old practices.
They also kept working towards building new business models and brands to give solutions to businesses to develop at a better pace than the industry. The key strategy for success at SQuare Consulting is to convert vision to reality by making Problems meet Solutions!
In an interview with Mr. Rohan Bhatt, Founder, and CEO at SQuare Consulting, let's get known about their cutting-edge offerings and their journey since inception.
What were the initial challenges you faced?
We had begun our journey back in 2007 in a market where business families doing their traditional businesses were primarily of dominance and it was extremely difficult in explaining the whole idea of an external consultant pointing out ways and strategies to fuel the growth and value addition to their business by doing things that were set on being done in a way. That part was a majority of the struggle in the initial days.
Beyond that, SQuare Consulting saw that finding our core competency or expertise was the key to being successful in the consulting field where a lot of consultants focused on pointing out the problems and dodging the questions, we started finding effective solutions and answering all the questions that the market posed.
Which was that point that triggered the growth of SQuare Consulting?
It was the first generation of start-ups and the whole economic transition from manufacturing and industrial project to the rise of the middle class which gave a retail boom around 2014-2018 that fuelled the steady rise of SQuare Consulting INDIA as a Business Consulting and Solutions providing the company with a major focus on Hospitality, Franchising, and Retail.
How have SQuare Consulting graphs changed since the foundation? Can you share a few statistics?
What is the reason behind SQuare Consulting's long-standing success?
We wouldn't call ourselves a success but we are surely on the path to success and the sole reason that we feel is driving this journey for us is the fact that our focus is on our customers and creating value. It is difficult to be able to define one significant achievement as greatest but the fact that in the last 12 years, we have managed to serve around 1,93,000 customers across our 60+ projects is something that we would consider a great milestone on a professional level.
We have managed to help more than 50 clients across different industries ranging from small start-ups to national and international clients with large turnovers, we have managed to assist businesses to grow and realize their true potential.
What are the products/services SQuare Consulting focuses on? How are your services different from those in the market?
SQuare Consulting deals in 3 major verticals; Hospitality Consulting – Setup and operations of new and existing projects in the Hospitality and Restaurant Business, Franchise Consulting – Assisting new and existing businesses and people become brands in themselves and try and convert them into sellable, sustainable franchises, Retail Consulting – Helping businesses understand the dynamics of Retailing or Sales where selling a product/service becomes a smooth and streamlined process.
How do you decide to take SQuare Consulting a step further in terms of your products/services?
We also undertake start-ups under our start-up incubation packages where we do pro-bono consulting for them till the time they kick off. So, we kind of become their angel consultants for the time till they can sustain flight on their own. We are working for the industry and the economy at large; thinking about SQuare Consulting and its growth is not going to be healthy in the long run. We are looking to empower our industry and then the industry will take care of our needs.
Is there any new addition to the list of products/services? Anything exciting you would like to share?
We have recently started taking existing brands or models that show potential for growth under our wing and helping them out with the best out of the right kind of business models. We are also working on developing a collaborative fund that will invest in good quality start-ups and will be funded by traditional investors' money which will grow and deliver results without the hassle of choosing the right kind of start-ups to fund and operational monitoring of the money to ensure the smooth operational usage of the same.
What do you think are the responsibilities of an entrepreneur?
In my opinion, the only responsibility of any entrepreneur is to be able to distinguish between the necessary evils and the unnecessary devils that one comes across during the journey towards excellence.
Can you please brief us about your professional experience?
I have been a sales and marketing guy for the better part of my journey, I jokingly say this a lot but once a salesman, always a salesman. I was 13 when I accidentally sold my first insurance policy when I was taken by my father who is now retired at work with him during school vacation.
So that became the turning point for me when my love for sales started showing first. I have sold many things over the years, from software, IT and ITES, Branded SMSs, Club Mahindra Memberships, Tour and Travel Packages, Wooden Flooring, Lights, Elevators, Franchise Businesses, Real Estate and a brief stint with the Outsourcing industry as well. Now we sell dreams of owning and growing a business.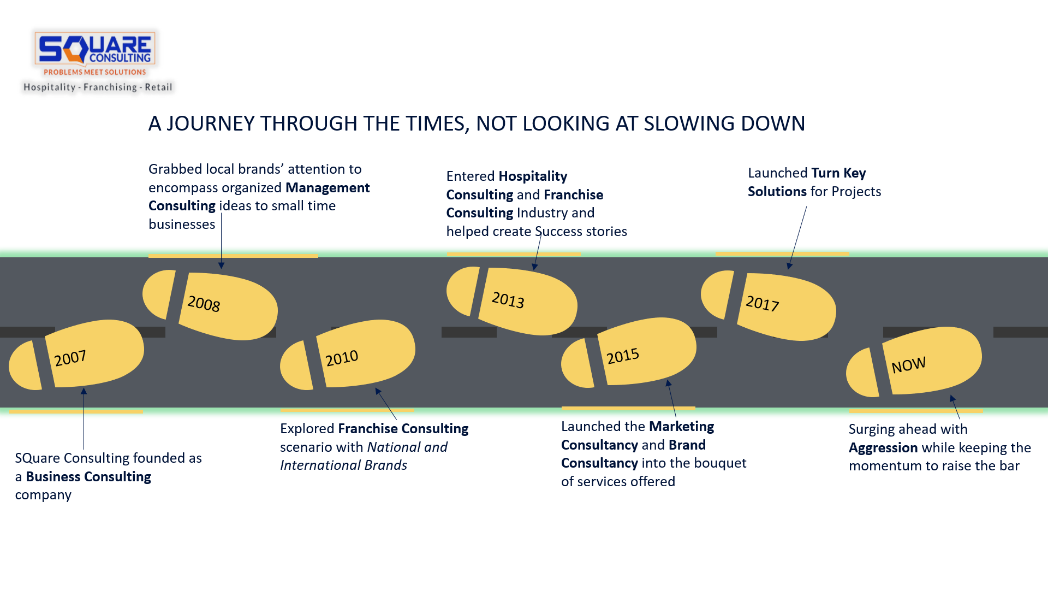 How do you look after your employees? What makes your team unique?
SQuare Consulting does not have a fixed team, to begin with, each project has a set of requirements and skill set that needs to be in place. So, we target the kind of employees we want for each of our projects by hand-picking talent from various parts of the country and various sources. We try and bring them on board with the pre-joining training programs and workshops that help them in understanding what we expect out of them and what needs they have in terms of their training program.
This creates commanding loyalty and enormous support to the system. We work for our team growth, which includes both our clients and employees.
Is there any special experience with your clients you would like to highlight?
A client that had worked with us in 2013 (name cannot be disclosed due to our consultant-client confidentiality clause) had a model that needed assistance from our end. We helped the brand out and even opened up 2 franchise units for them. Then for almost 5 years, the band went on its growth trajectory and managed to open as many as 25 units on their own. A lot of these units shut down due to the common issues between franchisees and franchisor brands.
Later, the brand reproached us and made sure that SQuare Consulting hands over all of the control over the administration and operations to SQuare Consulting (INDIA). This confidence of the client in our capabilities as a company to help them in the worst possible time for any brand is what makes us happy about what we do. We help people in trouble and that is who we are and shall remain.
Whether you think you can, or you think you can't, you're probably right.

Henry Ford
One person, who you admire the most?
I truly admire Bill Gates the most as in my opinion he is the perfect example of what makes a great businessman. He has to be a resourceful, shrewd, competitive, eternal learner, profit-oriented and after all of that, he has achieved he is still active with the Bill and Melinda Gates Foundation to eradicate some of the deadliest diseases from the face of the planet. So never losing sight of the purpose and never stopping is a virtue that makes me admire him the most.
Whose business story do you find the most inspiring?
A business story that is most inspiring to me is the story of Ray Kroc and the Mc Donald's brothers where a milkshake mixer salesman sees an opportunity in helping a duo of brothers do something about their amazing business model and wants to grow with them to face multiple issues of hostile behavior from the very same duo who later have to give up against the legendary man behind Mc Donald's as we know it.
It is inspirational for 2 reasons; first, that Ray tried to help the good guys but in most of the stories it is the good guys that turn bad first, and becoming the bad guy might be a better way around in the long run.
Constant vigilance- a need or a strategy? Please share your views.
A strategy that has all the variables in order will remove the need for constant vigilance. But nothing can compare to awareness of what is right or wrong that goes on at your business. Staying oblivious to your flaws is what will often lead to doom.
It's a rat race out there. How do you cope with that?
SQuare Consulting has always stayed above the level of the rat race by taking efforts to work hard enough to become the soaring eagle that oversees the rat race and swoops in to finish off the finisher who has already eliminated competition by proving its worth.