The Best Of 5 Recommended HR Tech Solution Providers For 2020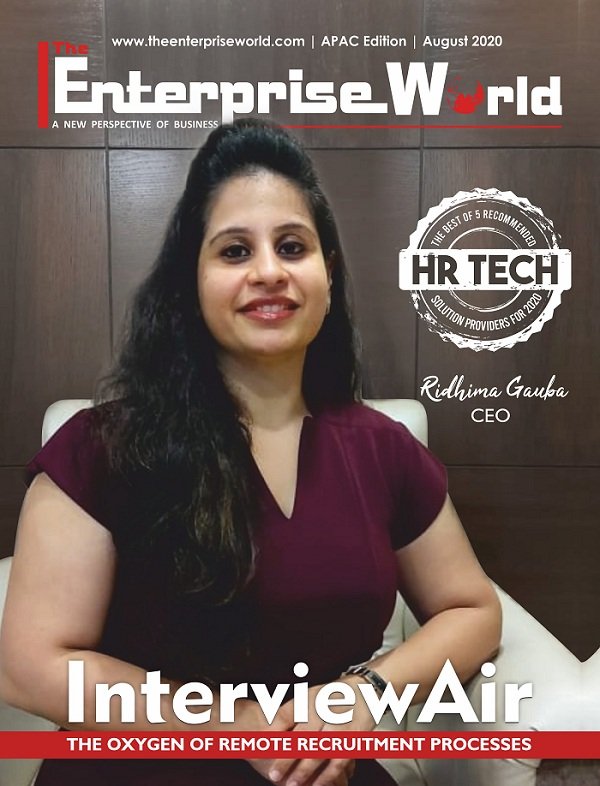 The Best Of 5 Recommended HR Tech Solution Providers For 2020 features,
Featuring for the cover story is Interview Air.  Interview Air is a bunch of young entrepreneurs from IIT and IIM who have come up with an innovative web-based technology called "Video Profiling", a new ecosystem for "Training and Hiring".
Interview Air's remarkable journey started in September 2015 with the motive to bridge the gap between candidates and corporates. Ridhima Gauba, along with Rohit Taneja co-founded InterviewAir.
Adhaan Solution Pvt. Ltd is one of the leading names in the HR solutions landscape that has made a unique position in the market with its comprehensive offerings.
In a talk with Mr. Dheeraj Vanjani, Co-founder, Adhaan Solution, discover more about the company and his thoughts on the current business scenario.
To accelerate the growth of businesses, whether it is a startup or a unicorn, Human Forte is providing comprehensive and innovative HR solutions.
Human Forte's utmost trustworthy HR services have helped them to create a unique position in the HR services landscape.
In a candid talk with Mr. Pritam Shah, Co-Founder & CBO at Human Forte, discover their journey since inception and his thoughts on the current market scenario. 
The Human Resources department should be able to effectively maximize the performance of the employees and also play a critical role for the benefit of the company's aims and objectives.
To help companies grow and help them rise above the hurdles that might stop them, Jim Woods started the Woods Kovalova Group.
The recruitment landscape has changed drastically with the adoption of new technologies. TalentBridge Technologies is a leading name in the recruitment industry with comprehensive and unique offerings.
The company offers the cloud-based assessment platform- CALIBRAT. Mr. Gauravendra Shukla (CEO) and Mr. Sandip Yuwanati (COO) are the backbones behind Talentbridge's longstanding success.
Shaping The Future Of Enterprises!
Helping Businesses To Grow!
An Innovative Initiative By Emerging Leaders Towards The Technological Revolution
TalentBridge Technologies
CALIBRAT- Assessment Simplified
Rise above everything that stops you