The 10 Transformational Business Leaders To Look Out 2020- Vol. 2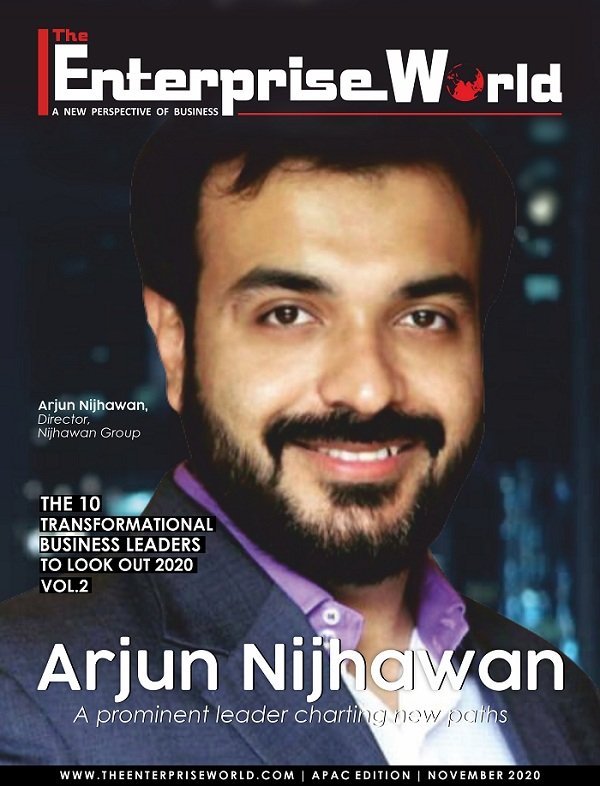 The 10 Transformational Business Leaders To Look Out 2020 features,
Featuring for the cover story is Mr Arjun Nijhawan. With over 40 years of experience in India, Nijhawan Group is one of the leading travel conglomerates and has vastly diversified entities within the Travel Industry. Nijhawan Group has a history of successful business partnerships with leading airlines and hotels.
Mr. Ashok Mittal (CEO & Founder), PrestLoans is supporting this movement by providing customized solutions to support the MSME sector by understanding their financial needs which can help the businesses to sustain in this difficult time. Readout an interview with him and discover more about 'PrestLoans' and know his thoughts on the current industry scenario.
Jay Storage Solutions' is a market leader in the storage solutions area in India. Based in Mumbai, the company is a reliable name in providing intelligent storage solutions. Mr. Premal Karelia, MD at Jay Storage solution is transforming his client's businesses with cutting-edge storage solutions.
Mr. Graham Bright is on a mission to empower businesses globally with smart trade finance services as well as comprehensive banking solutions through Euro Exim Bank. Read an interview with him in which we have talked about the current industry scenario and what Euro Exim Bank offers to its customers.
Mr. Imad A Syed is the CEO APAC & ME, Group CIO & Board Member at PiLog Group. PiLog Group is a global group of associated companies that is bringing technology and business change through their innovative & agile solutions.
In a talk with Dr. Rahul Mirchandani, Chairman and Managing Director at Aries, spoke at length about Aries strengths and his thoughts on the current agri business industry scenario. ARIES is 50. Evolving from a dream of two individuals to a thriving globalized organization of over a thousand people, the metamorphosis of Aries has been phenomenal.
Marching Sheep was founded in the year 2013, by HR veteran Ms Sonica Aron. An alumnus of XLRI Jamshedpur, having worked with companies like Pepsico, Roche Diagnostics, Vodafone, and AkzoNobel, She was heading HR for Philips Consumer Lifestyle business in 2012.
Mr. Sudhir Panditrao and Mr. Mangesh Wagh founded Enggenious, a strategic business unit at SAN Techno Mentors Pvt Ltd (STMPL). STMPL is a part of the SAN Group. Established in 1990 and has 6 companies in product design, electronic manufacturing, industrial automation, data connectivity solutions, instrumentation, and value engineering domains.
Mr. Uma Shankar Bhardwaj emanated iAvatarZ Digital in 2008 with a vision to transform clients' businesses with top-notched digital advertising services. Today, the company has created a unique place in the market with the smart efforts of a high expertise team.
Providing a cutting edge in the immigration services is XIPHIAS Immigration Pvt. Ltd. Led by Mr. Varun Singh, XIPHIAS Immigration is one of the leading Immigration companies providing solutions to clients who intend to relocate to other parts of the world.
Businesses are in continuous search of the digital marketing services provider that can accelerate their growth. To cater to the digital needs of businesses, a leader Ms. Ashmita Dhingra is offering innovative and comprehensive digital marketing services through Digifish3.
Shaping The Future Of Businesses With Easy Credit Offerings
Creating Future Of Businesses With Financial Acumen
Innovations & Agility Transforming Digital Business!!!
Transforming India's Logistic Industry With Intelligent Storage Solutions
A Leader On A Mission To Transform Farming In India!
Creating The Way Of Growth For Businesses Through Marching Sheep
Sudhi Panditrao & Mangesh Wagh
A Duo Setting Up The New Benchmarks In The Knowledge Sector
Creating, Rejuvenating, And Repositioning Brands
Paving Immigration for all from decades
Immortalizing ideas, digitally!